Highridge wins Most Improved British Blue Herd
12th August 2013
The Highridge herd, owned by Jeff and Lorraine Dunn, of South Tawton near Okehampton, has been recognised by EBLEX as the Most Improved Herd of British Blue cattle in England for 2013.
The award is presented by the EBLEX Beef Better Returns Programme (BRP) to the recorded herd that shows the greatest genetic gain for commercial characteristics over a 12-month period. There is a separate award for each of 10 UK breeds.
Jeff and Lorraine Dunn, together with their two daughters, have lived at West Nymph farm since 2003, having previously farmed the land in partnership with Jeff's brothers. The farm is situated on the edge of Dartmoor, standing around over 1,000 feet above sea level on heavy soil.
For many years they used pedigree blue bulls on their large commercial suckler herd, before taking the decision to cut back on commercial cattle and spend more time developing a small herd of pedigree blues.
"The temperament and docility of the British Blues makes them a pleasure to work with," Lorraine said.
"They aren't as easily available as many of the other beef breeds, therefore we felt there was a place in the market for us to become pedigree breeders."
They purchased Pawton Wisteria, who they consider to be their foundation cow, as an in-calf heifer in September 2006. Her bloodline has since had a significant input into the Highridge herd. The herd now consists of 15 pedigree British Blue females, as keeping the numbers small allows the Dunns to be more selective about the animals they keep and make improvements within the herd more quickly. They also have 70 Blue/Simmentals crossed with Friesian/Holsteins, which are used as recipient cows in order to fast track their best genetics and fulfil the increased demand for embryos.
In the past, they have run out of stock to sell before the end of the year, so they now have an agreement with a local dairy farmer to supply them with heifer calves to use as recipient females, the first batch of which will be put into calf later this year.
Aside from the suckler herd, the 186 acre farm also includes 133 acres of cereal crops farmed on a rotation and 10 acres of woodland. Recently they have started the process of diversifying their business further by developing holiday lets.
Production cycle
Calving on West Nymph farm begins in January and is finished by March. However, the Friesian/Holstein cross heifers will introduce Autumn calving to the farm for the first time, in order to ensure a year round supply of stock is available to customers.
In a year of 'normal' weather conditions, the Dunns would aim for the cattle to be brought in at the end of October and to be turned out in March, once the cows have calved. Calves are weaned in September, at between seven and nine months old, and both heifer and bull calves are available for sale straight from weaning if required. They leave all males entire and those that they deem not up to standard for breeding are finished at between 11 and 13 months.
Performance recording
The Dunns were inspired to start performance recording right at the beginning of their pedigree breeding career, after attending a British Blue Meeting and hearing a presentation about the service.
"Recording was completely new to us," said Lorraine.
"Once we began, some of the early pedigree cows we had bought were quickly exposed as having poor figures so had to be sold. However, by keeping the better performing females and buying in new bloodlines, we quickly started to see the figures improve."
A few years ago they began ultrasound scanning, believing this helps identify animals that are well-muscled but don't outwardly show it.
The Dunns are selective about the females they retain within the herd, with the majority being sold to other pedigree breeders as breeding animals. All bull calves are for sale, although they sometimes choose to keep and show particularly promising animals for a year before selling them on.
Ideally, they like to buy in a heifer from a new line every year, ensuring she's from a herd with a high health status and is of the right breed type and temperament with good mobility. EBVs form an important part of the decision-making process, and the performance traits they favour are ease of calving, growth rate and carcase trait EBVs.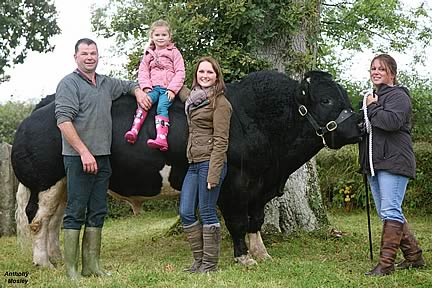 There are two stock bulls currently being used on the Highridge herd, as well as artificial insemination (AI) and embryo transfer (ET). Norbreck Black Beauty, who has been used on the herd for the last five years, is currently in the top two per cent for calving index and is a trait leader in terms of his breeding index. Drift Domino was bought more recently as a second stock bull. He is not recorded himself, but oozes quality with growth, length and mobility. Since 2012 he has consistently produced some fantastic calves, and offspring figures are very good to date.
"We have taken 3,500 straws from him and to date semen sales are going well," Lorraine said
"He's had plenty of showing successes too!
Drift Domino has won ribbons and trophies at numerous shows. Last year he was awarded Breed Champion at the Devon County Show, Supreme Interbreed at the Royal Bath and West Show and Reserve Breed Champion at the Royal Welsh. Showing is very important for the Highridge herd, as the Dunns don't advertise their stock elsewhere.
Increasing sales
With the herd generating a lot of interest, the Dunns are keen to sell more animals. To date the majority have been sold directly off the farm, giving potential customers the opportunity to view the family lines and other related progeny.
"In the future, we're hoping to be able to offer more animals for sale by using an increasing numbers of recipient females," said Lorraine.
"Providing animals with both figures and a high herd status goes a long way to giving potential customers confidence in what they're buying."
Satisfied customers
Phil Halhead, of Norbreck Genetics, has worked with British Blues for the last 25 years. He's keen to support new breeders in order to ensure that the breed flourishes and speaks highly of the contribution that the Dunns have made over the last seven years.
"Jeff and Lorraine Dunn are seriously committed to producing quality British Blues and have made some clever decisions on purchases when putting together their foundation herd," he said.
"They are careful to promote the use of better bulls by combining looks with EBVs. They are also very thorough and know exactly what they want in their mission to continue building and improving their herd and the stock available from it."
New breeder, Philip Heard, bought three heifers from the Highridge herd 18 months ago, including one which was in calf to Drift Domino, who has produced twin heifer calves. Having met the Dunns previously, their approach to their cattle and their attitude encouraged him to contact them when he was in a position to start his own herd.
"Jeff and Lorraine Dunn are lovely people to deal with, 100 per cent honest and extremely committed to producing the best they can," he said.
"As breeders, they are doing the job properly and thoroughly – this gives great confidence as a buyer that what you are investing in will do the correct job for you. They are so genuine and so helpful, it is clear after spending some time with them how well they have looked into the breeding depth in order to improve their own production, mobility and locomotion."
"Overall, I'm really pleased to have some Highridge and Drift Domino blood in my herd!"