A Stress Free Life Produces Quality
The first thing you notice when walking round the cattle yard at Manor Farm, East Torrington, near Market Rasen, Lincolnshire, is how quiet it is, considering the sheds on either side of us currently hold around 800 finishing cattle. The cattle are settled, either eating or lying down. Nothing is bellowing in the background and at the sight of a new face on the yard, they come towards the gates when one could easily have expected them to move to the back of the shed, writes Fiona Sloan. The farm is in a highly productive arable area and lends itself to growing good crops and grass. It is an immaculately tidy place, showing attention to detail right from the farm entrance, which continues throughout the whole enterprise.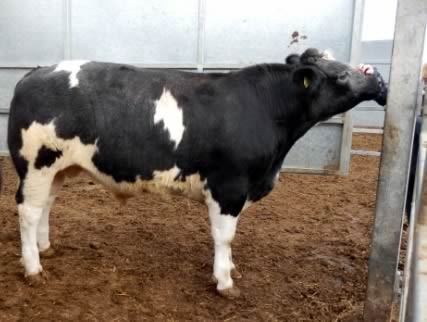 I am walking around this outstanding finishing unit with Louise Todd from D T Todd (Farming) and her stocksman Charlie, who has recently joined Louise and her father David, to help run the cattle at Manor Farm. The farm has 1750 acres of grass and arable, with all of the cattle fodder and bedding being grown on the farm. With the production of good grass and maize silage, protein pellets, yeasac, alkaline and mollases are added. This mixed Beef and arable unit finishes 1000 cattle a year, 60% of which are British Blue cross and runs a suckler herd of 120 cows, which are split evenly between, British Blues, Limousin and South Devon cross cows. The cattle are finished at between 15 and 25 months old and taken to a weights of 650 -750 kilos on average.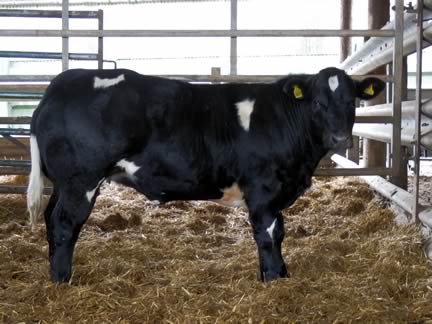 "The basis of our farming system relies on the docility of the animals." explains Louise. "Stress free animals, enable stress free working for a small team like ours. The British Blue gives us the docility but also ensures that we produce a quality animal. The Blue ticks all the boxes." Both David and Louise agree that buying quality animals and making sure that they are produced in a stress free environment, produces better meat at time of slaughter and this keeps the buyers coming back for their cattle. The Manor Farm cattle regularly top the market at Newark, where they are sold on a weekly basis and any cattle which are sent direct to slaughter, are followed through to ensure that quality is maintained. Most kill out as U's and show a high killing out percentage, which results in a premium to seller and buyer alike. Companies such as Woodhead Brothers and Wrights of Boston, are regular buyers of the Todd's cattle and there are often up to seven buyers on any one day looking for them at Newark. "It's Gin and Tonic!" smiles Louise. "I always make sure that my pens of cattle have something for every buyer. Most buyers don't have the customers for a pen of fifteen top end cattle but will take two or three and there will be something in that pen for each of the buyers that are there. You couldn't take straight gin." she explains. "You always need some tonic!"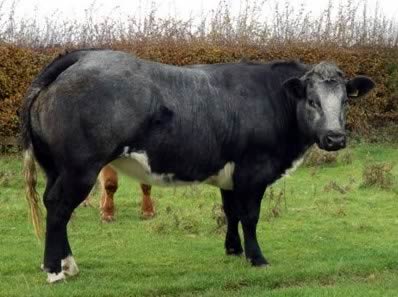 Driving through the suckler herd, it is obvious that they too are a docile bunch of cattle, with calves ignoring us as they wander around the feeder and the cows lying chewing their cud or happily feeding their growing offspring. The cows are currently put to the Limousin bull. "The original reason for using the Limousin," explains Louise, "was to produce smaller calves but we still like some Blue in them and would always buy in Blue cross replacements. The cull cows also make a significant contribution to income and the British Blue is a good cross with either the Limousin or the South Devon. With the improved calving ease of the British Blue and figures available, we are starting to consider using a Blue bull on our suckler herd as well, as we find our Blue cross cows are easy to manage and handle and they also make good milky mothers."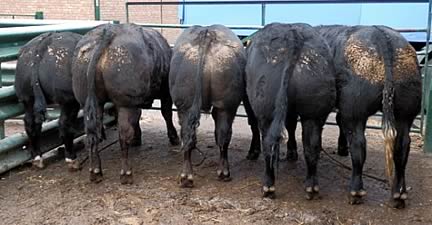 Louise is keen to show me her favourite cows, some of whom have been show cattle in their day and are now the mothers of some show potentials for the future. "I really enjoy showing commercial cattle." she says. "It's my hobby and it is great that it fits in with the business so well. I like to try and breed my own but we also keep an eye out for calves to buy which have potential to do well in the show ring. We buy all of our store cattle out of northern markets such as H. & H. Markets, Hexham, Penrith and Leyburn, to try to avoid any TB issues and that also allows me to look for some show cattle too." It was a British Blue Cross steer, bought from John Hall at Penrith, which she won this year's unhaltered championship at Beef Expo at Newark. Two new baby calves have also been bought in for next year's shows. Louise is also keen on showing her pure British Blue cattle in the commercial ring although she has no intention at this stage of getting too deeply into the pedigree side of things, as she wants to keep everything on a commercial basis. She is currently using semen from the Norbrek Genetics bull, Bluegrass Cyclone and his offspring are proving popular with the judges and we are looking forward to showing at The Winter Fair at Peterborough in December."
When not working on the farm or with the show cattle, David and Louise have a keen interest in breeding and racing National Hunt horses and as I leave her on a clear autumn afternoon, she is planning to ride out before starting again with Charlie to halter train the show team for the Winter Fair!