Pure Ayrshire Dairy Cows and Pedigree British Blues have been the Perfect Match
Three generations of the Armstrong family have strived to maintain a herd of pure Ayrshire cows at Plaskettlands Farm, near Mawbray, Maryport. It was in the 1980s when Blue semen was used on some of the cows that set the seed for the establishment of the Goodyhills herd of British Blues.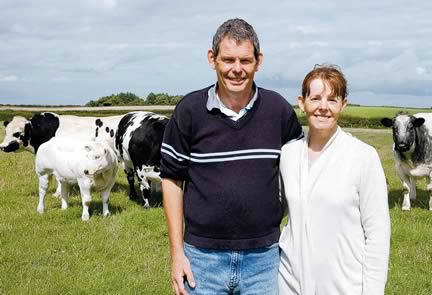 Neil and Irene Armstrong
Pictures: Jennifer Mackenzie
The Armstrong's farm 230 mostly-owned acres. Three generations are at Plaskettlands, the base for the 80 pedigree milking cows – Joe and Kathleen have lived there for more than 50 years, and son Rodney and daughter-in-law Annabel and their family also live there.
At neighbouring High Tarns, Rodney's brother, Neil, and his wife, Irene, and family run their own pedigree herd of British Blues, as well as finishing both pure-bred and crossbred bull beef and rearing the replacement and store heifers.
Neil and Irene have maintained a small, but select herd of Blues which, despite only running to 17 animals in total, eight of which are cows, won the Border British Blue overall herd in the 2012 annual competition, and in three out of the four years the contest has run, have taken the small herds section.
"We were using the Blue on the Ayrshires and the calves were quiet to handle. We had no trouble calving them and they seemed a good complement to the Ayrshire cows," said Neil.
Keen to establish a pedigree beef herd, Neil and Irene bought their first Blue female in 1989, paying 800gns for Great Pineham Francesca at the May sale at Borderway, Carlisle. Soon to follow was probably their most successful cow, Lawns Emerald Isle, bought for 1,400gns and which was unbeaten at ten shows in 1993, including Ayr and the Royal Highland.
When she was purchased, she was in-calf for luck and the resulting bull calf, Goodyhills Hallmark, sold for 2,900gns and went on to work until it was 13 years old. Neil's enthusiasm for the breed led him to be one of the founder members of the Border British Blue Club in the early days of the breed in the UK and the choice has proved to be a big success for the family business.
Neil and Irene have continued to improve their Goodyhills herd of Blues, and bulls, as well as AI bulls, are used on the bottom third of the Ayrshire cows with the remainder AI'd or served naturally with pure pedigree bulls mainly from British and North American bloodlines.
All males are kept entire. They are brought to High Tarns at three to four months and finished at 16 to 18 months on Jim Peet Big Boy rearing mix, barley and big bale silage. The bulls are sold through Hopes of Wigton. Recent batches have seen the Blue crosses making 210-220p a kg and pure-bred Ayrshires 170-180p kg.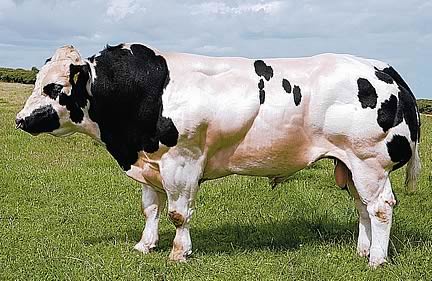 Crossbred females are sold at 18 months through Borderway, Carlisle's store or weaning ring, and regularly make £850 to £900 a head with a proportion selling for breeding. Pure-bred Blue bulls and females not retained for breeding have recently made 244p a kg for a 13-monthold bull, and a 12-month-old heifer sold for £1,260.
"We like to keep our pedigree Blue herd looking right and any animal which we believe is not good enough is sold through the prime ring or store," said Neil. "If females or bulls are not correct we won't breed from them. By using the Blue successfully on the Ayrshires it means that not only do we have the milk income from the dairy cows but we also sell a crossbred finished bull or store heifer."
Two of the cows in the herd are directly descended from Lawns Emerald Isle, but others carry bloodlines going back to her dam, Laverda du pre Rosine, through former stock bull Twining Ash Van Dyke. The show cow, which was all white with a black nose, unfortunately had to be put down on the farm after an accident when she was only seven.
However, in what was advanced technology at the time, involving Wigton vet George Girvan, eggs were taken from her ovaries and subsequent IVF resulted in another show-winning heifer, Goodyhills Molly by Demissionaire De Wilhour. A promising heifer calf in the herd from the family, Goodyhills Ivana, by Norbreck Fairfax, has the same characteristic looks.
Pedigree bulls and females are primarily sold through Border club sales in Carlisle and the best price for a bull so far has been for Goodyhills Cavalier. Females have sold to 3,200gns for Goodyhills Sapphire, a maiden heifer.
New bloodlines are being introduced to the herd by the latest stock bull, Ballyhosset George, bought at the Northern Ireland Club sale in Moira, Co Down, for 5,000gns last year when he was the show's male champion.
His first calves are due in September. Neil and Irene were attracted by his mobility, his temperament, length, height and muscling – as well as his presence. The bull's full brother, Duke, sold in Carlisle for 10,500gns.
"We want to breed cattle for their mobility and ease of calving. In the past 18 months, we have only had one Cesarean and it was a large calf," said Neil. "We have got to keep bulls correct on their legs and feet to ensure the buyers keep coming back. Our bulls are also generally long-lived.
"Our cows live outside all the year round as we have light, gravelly land, although at times plenty of rain from the west. They are fed silage and some concentrate and minerals as they approach calving."
As well as the cattle business, potatoes and vegetables, which have been grown at Plaskettlands for 70 years, are sold by Rodney and Annabel at local markets. Irene has also been running her own successful soft furnishings business from High Tarns for the past three years.