Primestock Show & Sale
Monday 2nd April 2012
At Borderway Mart, Carlisle on Monday 2nd April, The Border British Blue Club held their annual show and sale of primestock in conjunction with Harrison and Hetherington's weekly primestock sale.
A great show of 32 British Blue cattle came forward to be judged by Mr Owain Llyr with 11 outstanding cows that averaged 215p/kg £1802.97.
The Champion was a cow shown by Messrs Graham, The Wreay weighing 789kg 221.5p totalling £1747.64 which was purchased by Charles Kirkpatrick.
Reserve Champion cow came from Sharplaw Farms and was purchased by the Judge Mr Owain Llyr at 809kg, 214.5p £1735.31.
Top price per kg at 227.5p and 3rd in the class came from Messrs Twentyman, Osborne Farm and was purchased by West Scottish Lamb.
Second top price per kg of 223.5p was from Messrs Telfer & Son, Newton High House again purchased by West Scottish Lamb.
Mr T Fox, Elsdonburn sold the overall top priced cow weighing 1029kg at 222.5p totalling £2289 purchased by Mr John Robertson.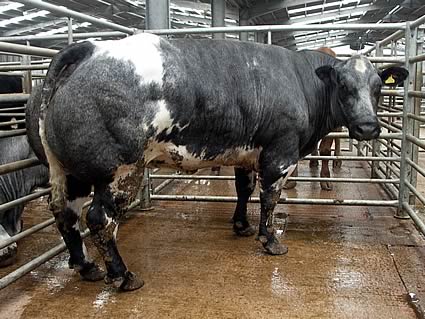 Champion from J P Graham Wreay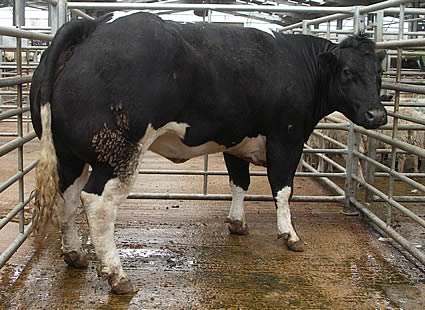 Reserve Champion from Sharplaw Farms
Messrs Dodd, West View sold the 1st prize British Blue heifer at 636 kg, 239.5p £1523 purchased by Jim Mulholland. They also were awarded first prize in the steer section which sold at 227.5p to Pioneer Foods.
The Young Bull Class first prize was won by Messrs Hodgson, Woodend selling at 226.5p/kg to Mr John Robertson.
The top priced Stock Bull and winner of the class was shown by Mr T Fox, Elsdonburn weighing 980kg 195.5p, £1915 purchased by Mr Eric Hall.
Prize list as follows:-
CLASS 1 - Steer
1st –JS & JO Dodd, West View - 664kg 227.5 £1510
2nd – JS & JO Dodd, West View - 611kg 223.5 £1365.59
3rd – JJ Crighton, Loughrigg - 704kg 218.5 £1538.24
CLASS 2 – Heifer
1st – JS & JO Dodd, West View - 636kg 239.5 £1523.22
2nd – JJ Crighton, Loughrigg – 612kg 229.5 £1404.54
3rd – J & N Beattie, Woodfield – 594kg 217.5 1291.95
CLASS 3 – Young Bull
1st – Messrs Hodgson, Woodend – 621kg 226.5 £1406.57
2nd – Messrs Forrester, Down by Rigg – 773kg 209.5 £1619.44
CLASS 4 – Cow
1st – JP Graham Wreay – 789kg 221.5 £1747.64
2nd – Sharplaw Farms 809kg 214.5 £1735.31
3rd – Messrs Twentyman, Osborne Farm 841 kg 227.5 £1913.28
4th - Mr T Fox, Elsdonburn 909kg 218.5 £1986.17
5th - JP Graham Wreay 828kg 214.5 £1776.06
CLASS 5 – Bull
1st - Mr T Fox, Elsdonburn 980kg 195.5 £1915.9
2nd – Pritchard Bros, Anglesey 885kg 149.5 £1323.08
OVERALL CHAMPION
Cow – J P Graham Wreay
RESERVE CHAMPION
Cow – Sharplaw Farms