QUALITY BLUES ATTRACT CROWD AND TRADE TO CHELFORD BLUES SALE
A quality entry, together with continued strong demand for British Blue cattle, fired by strong cull values and enthusiasm amongst breeders for top quality cattle, attracted another huge crowd to Chelford Agricultural Centre, on Saturday 6th March 2010, for the 51st National Show and Sale held by the Auctioneers Frank Marshall and Co, on behalf of the British Blue Cattle Society.

Quality was evident throughout the catalogue and attracted a consistent, strong trade from a huge gathering of breed enthusiasts, many of them new to the breed and keen to buy top quality bloodlines.

Although the headline top prices were not as high as may be expected, many vendors achieved prices way in excess of the expectations for both bulls and females throughout the sale, indicating the consistently high level of demand.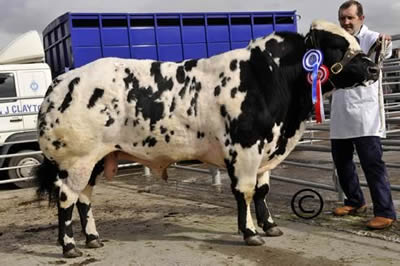 Ballykeel Diesel
Leading the trade was a May 2008 born bull from Northern Ireland breeder Daniel Rogers, from Ballymartin. Ballykeel Diesel a very mobile, well muscled bull, sired by Gitan Du P'Tit Mayeur and out of the As De Trefle daughter Ballykeel Angel, was Reserve Champion at Friday's Show, and made 7,500 gns to well known Reddich based stockmen Messrs Wood.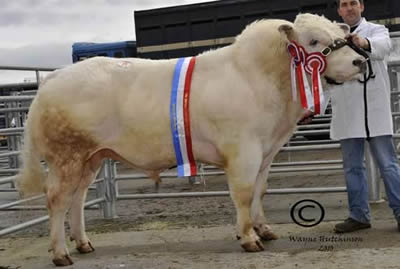 New Close Dictator
The Show Champion, selected by former Society President Jim Barber, was New Close Dictator presented by Staffordshire based Ian and Andrew Wilson. Also sired by Gitan, and out of Bringlee Tandy, he sold for 5,800gns to C R Clayton, Malpas, Cheshire.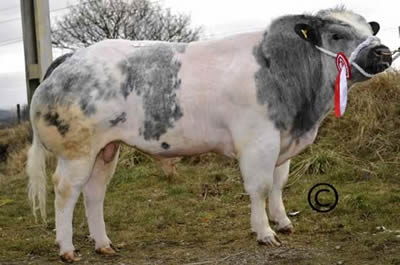 Holirow Cannonball
Several newer breeders were prominent at the Sale, with Mark Hambleton achieving 6,300 gns for his December 2007 born Bull Holirow Cannonball. By Cajoleur De Rettigny and out of Widewath Voluptuous, he made 6,300 gns to S & C Morris, Craven Arms, Shropshire, while Martin Clarke from Brackley, Northampton, sold the Wilodge Ulex son, Whitmanor Designer for 6,100 gns to D Sawris, Boothtown, Halifax.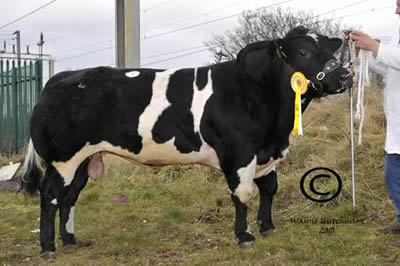 Whitmanor Designer
Michele Wilde from Leighton Buzzard, Bedfordshire, has been a regular consigner to the Chelford sales for over 20 years. Her leading bull, at 5,800 gns, was Ridge Dean Dillon, an Empire D'Ochain son out of Ridge Dean Navette, who also went to Reddich with Messrs Wood.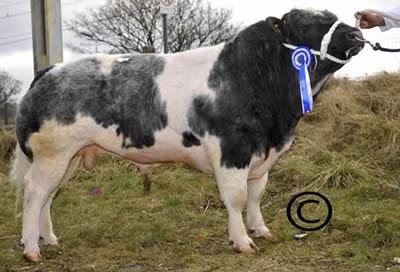 Clayfields Domino
Mark Hambleton struck again, accepting a best call of 5,600 gns for his home bred bull Clayfields Domino, an April 2008 born son of Blak Du Baty, out of the Wreay Odilio side Donnah Tango who went off to Newtown, Powys with G E Davis, whilst Martin Clark saw his second bull, Whitmanor Diplomat, a Wilodge Ulex son, make 5,300 gns to Derek Beal of Malton, North Yorkshire.

Several breeders had made long journeys to Chelford and were well rewarded with prices well above their expectations. Doug Hazel from Chalton, Bedfordshire, selling the first bulls out of his new Hazeldee Herd saw Hazeldee Dan, a son of Savant De Pierrecome make 5,200 gns to D M Thorpe, Bakewell, Derbyshire. Mel and Dianne Lucas again travelled all the way from County Antrim, Northern Ireland, with a trailer full of cattle and achieved a top price of 5,100 gns for their young bull Lukeroyal Dozer. Born in August 2008, sired by Franchi De La Bonne Raie and out of the Freshman sired Lukeroyal Belle, he looked an outstanding prospect and was snapped up by M Howatson, Nantglyn, Denbighshire.
Nicky Davies travelled up with an excellent consignment of bulls from Gwennogle Carmarthen and was well rewarded with an excellent trade, her leading price of 5,000 gns being for Lone Tree Desperado, a Ridge Dean Mahogany son, who went to local prime beef producer George Proctor of Bignall End, Stoke on Trent. The Davies family also had a successful evening in the Show Ring, when daughter Jenny was awarded the Best Handler trophy, in a new competition this year judged by Kath Leivers.

Although there were none of the fireworks seen at previous Chelford sales when the females enter the ring, trade was sound and solid throughout, with, in particular, well bred younger heifers showing great potential being in considerable demand.

Danny and Jane Wyllie, as usual, put forward an excellent selection of stock from their Tamhorn herd and achieved a top price of 4,900 gns for the March 2009 born yearling heifer Tamhorn Ember, by Ballygrange Alex, out of the Cristal De Somme sired Tamhorn Wee Daisy. This smart almost all black heifer was the first of Alex daughters to be offered for sale. She had been much admired by a number of breed enthusiasts, and eventually went home to Faringdon, Oxfordshire, with S Potter. Graham Morgan from Tillington, Herefordshire, another regular supporter of the Chelford sales put forward the first bunch of heifers to be sold from his Almeley Herd for over six years, and was rewarded with the Female Championship, which went to the Almeley Wellington sired Duchess, who is out of a Philipper De Remichampagne bred cow. She made 3,000 gns to W Warren, Gomersal, Bradford, but his top priced heifer, Almeley Dee, by Almeley Bouncer, made 4,600 gns to J & L Dunn, Okehampton, Devon.

Keith and Janet Belfield also put forward another excellent pen of heifers from their Boothlow Herd, based near Buxton, Derbyshire. Their leading price of 4,100 gns was achieved for Boothlow Dollar, a November 2008 born daughter of Affute, out of the Opticien bred Boothlow Tina and went to Messrs Wood of Reddich. The youngest heifer in the sale was Solway View Exstacy, July 2009 born, by Bringlee Volkawagon out of the Balto sired Lochside Wigtown. Put forward by Dumfries breeder Kevin Watret, she made 3,600 gns, sold with her recipient dam, to T D Hough, Pontefract, West Yorkshire.

Grateful thanks must go to Natural Stockcare for their very generous sponsorship of this sale and also Pfizer Animal Health, with special thanks to John & Debbie Madeley, who very generously sponsored the crossbred classes

Within the Blue Crossbred section of the cattle, arguably the best entry, in terms of quality, seen at Chelford for sometime met a blistering trade throughout, with show enthusiasts from all over the UK looking for a potential winner for this year's Shows.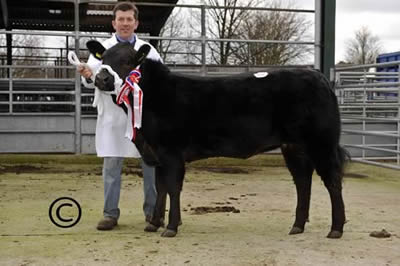 Champion Heifer
Respected showman and primestock producer, Gilbert Brooke from Alfrick Worcestershire had the unenviable task of picking a winner from the catalogued entry of 86. He eventually chose his Champion from a strong class of heifers giving the Rosette to a terrific black heifer from Colin Phillips, Herefordshire. This super little heifer generated plenty of interest and sold for £1,600 to A F Cooke, Ivy Bridge, Devon.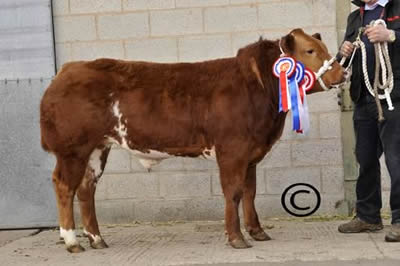 Champion Steer
Reserve Champion ticket went to a showy red steer from Brian Griffiths, Newtown, Powys. Pre-sale interest from as far afield as Northern Ireland illustrated that this was a fancied lot and the steer eventually sold to Sam Madeley of J & D Madleley & Son, Ross-on-Wye for £2850.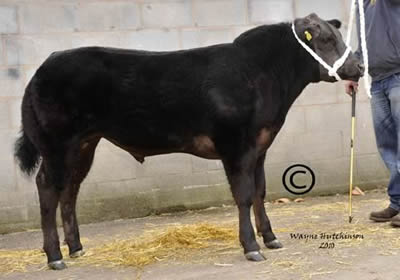 Top Price
Leading the trade for the sale was Tom Burnett from Leominster with a very smart black steer which stood second to the Reserve Champion. Andrew Bishop took the steer back to Gloucestershire at £3100.

Top price heifer went to one of a four strong team from Frank Page, Northampton. Standing just below the Champion in the line-up, she drew more than a few admiring glances and travels to Banffshire with W Watt at £2050.

Trade for show potential cattle was very brisk from start to finish with only one leaving the ring unsold.

The top 10 steers averaged £1718 and the top 10 heifers a creditable £1639.

Averages:

54 Pedigree Bulls £4,070.64
40 Pedigree Females £2,445.88
33 Crossbred Steers £1,148.79
38 Crossbred Heifers £1,075.95

Leading Prices - Bulls
7500 gns Ballykeel Diesel Mr D Rogers
6300 gns Holirow Cannonball Mr M Hambleton
6100 gns Whitmanor Designer Mr M Clarke
5800 gns Ridge Dean Dillon M Wilde
5800 gns New Close Dictator I E & M Wilson
5600 gns Clayfields Domino Mr M Hambleton
5300 gns Whitmanor Diplomat Mr M Clarke
5200 gns Hazeldee Dan Mr D M Hazel
5100 gns Lukeroyal Dozer Mr M J Lucas
5000 gns Lone Tree Desperado Mrs N Davies

Leading Prices - Females
4900 gns Tamhorn Ember Messrs D & J Wyllie
4600 gns Almeley Dee G L Morgan
4100 gns Boothlow Dollar K Belfield
3600 gns Solway View Exstacy Mr K Watret
3500 gns Croftends Diva J Bellas & Son
3450 gns Tamhorn Elma Messrs D & J Wyllie
3000 gns Boothlow Debbie K Belfield
3000 gns Hartley Dora Mr T H Mountford
3000 gns Almeley Duchess G L Morgan
2700 gns Graymar Diva Mr G J Jones

Blue Crossbred Cattle
£3100 British Blue x Steer T Burnett
£2850 Limousin x Steer B Griffiths
£2050 British Blue x Heifer F Page
£1900 British Blue x Heifer A Williams
£1820 Limousin x Heifer C Phillips
£1710 British Blue x Steer T & E Williams
£1700 Limousin x Steer Bowen & Bowen
£1650 British Blue x heifer Mr B L Griffiths
£1600 Limousin x Steer Mr A D Price
£1600 Limousin x Heifer C & W Phillips

Show Results

Pedigree Classes

Class 7 - Pedigree Male born before 6th September 2007
1st Lot 1 Wilodge Breadwinner – L S Driver

Class 8 – Pedigree Male born between 6th September 2007 and 6th March 2008
1st Lot 6 Holirow Cannonball – Mr M Hambleton
2nd Lot 13 Ridge Dean Dillon – Michele Wilde
3rd Lot 9 Whitmanor Designer – Mr Martin Clarke

Class 9 – Pedigree Male born between 7th March 2008 and 30th April 2008
1st Lot 29 New Close Dictator – I E Wilson
2nd Lot 19 Clayfields Domino - Mr M Hambleton
3rd Lot 27 Lone Tree Desperado – Mrs Nicky Davies

Class 10 – Pedigree Male Born between1st May 2008 and 4th June 2008
1st Lot 39 Ballykeel Diesel – Mr Daniel Rogers
2nd Lot 32 Greystone Diplomat – Messrs J & E Coates
3rd Lot 40 Springfield Darron – A J & D A Wilkinson

Class 11 – Pedigree Male Born between 5th June 2008 and 6th September 2008
1st Lot 59 Ridge Dean Demi – Michele Wilde
2nd Lot 48 Greystone Denman - Messrs J & E Coates
3rd Lot 54 Oxcroft Defender - Messrs J & J Green

Class 12 – Pedigree Male born after 7th September 2008
1st Lot 63 Bringlee Dragon Fly – Mr J G Brindley
2nd Lot 65 Bringlee Dougie - Mr J G Brindley
3rd Lot 62 Sharplaw Drum – A Ryder

Class 13 – Pedigree Female born before 6th March 2008
1st Lot 69 Court Ursula – D H Plested
2nd Lot 75 Lukeroyal Calypso - M & D Lucas
3rd Lot 76 Besthorpe Cleopatra – Mr M R Scott

Class 14 – Pedigree Female born between 7th March 2008 and 6th September 2008
1st Lot 85 Almeley Duchess – Mr G L Morgan
2nd Lot 84 Cromwell Dakota - Mr M R Scott
3rd Lot 86 Almeley Dee - Mr G L Morgan

Class 15 – Pedigree Female born between 7th September 2008 and 31st December 2008
1st Lot 92 Graymar Diva – Mr Graham Jones
2nd Lot 93 Croftends Diva - J E Bellas & Son
3rd Lot 95 Graymar Donna - Mr Graham Jones

Class 16 – Pedigree Female born after 1st January 2009
1st Lot 109 Croftends Esmie - J E Bellas & Son
2nd Lot 107 Tamhorn Elma – D & J Wyllie
3rd Lot 108 Tamhorn Ember - D & J Wyllie

Supreme & Male Champion
Lot 29 New Close Dictator – I E Wilson

Reserve Male Champion
Lot 39 Ballykeel Diesel – Mr Daniel Rogers

Reserve Supreme & Female Champion
Lot 85 Almeley Duchess – Mr G L Morgan

Reserve Female Champion
Lot 92 Graymar Diva – Mr Graham Jones

Commercial Classes

Class 1 – Halter led steer of Show Potential
1st Lot 244 B L & J E Griffiths
2nd Lot 233 T Burnett
3rd Lot 255 C & W Phillips
4th Lot 207 K W Ludgate

Class 2 - Halter led heifer of Show Potential
1st Lot 256 C & W Phillips
2nd Lot 262 F Page
3rd Lot 251 Bowen & Bowen
4th Lot 245 B L & J E Griffiths

Class 3 – Haltered steer, judged in pen
1st Lot 264 F Page
2nd Lot 208 K W Ludgate
3rd Lot 270 A Williams

Class 4 – Haltered heifer, judged in pen
1st Lot 247 B L & J E Griffiths
2nd Lot 263 F Page
3rd Lot 273 D & H Williams

Supreme Champion Crossbred & Champion Heifer
Lot 256 C & W Phillips

Reserve Champion Crossbred & Champion Steer
Lot 244 B L & J E Griffiths