Carlisle Wilde about Blues (part 4)
The Ridge Dean herd of Belgian Blues from Michele Wilde of Leighton Buzzard, attracted a large crowd of potential buyers from all parts of the UK.
Ridge Dean Another Bluey sold for 10,500gns.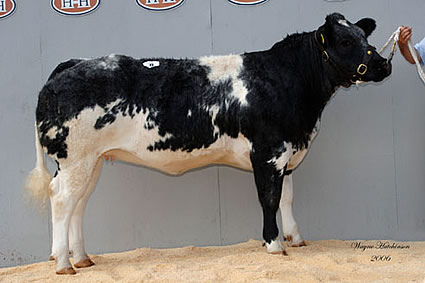 Heading the sale at 10,500gns was a very stylish dark blue heifer Ridge Dean Another Bluey ET born April 2005. A daughter to Tamhorn Sumo and out of a Ridge Dean Navette bred daughter Ridge Dean Vernonique, she was purchased by CR Raine & Sons for their Bluegrass herd based at Barnard Castle, Co.Durham.

Ridge Dean Brandy
- 7500gns

Ridge Dean Soulbury
Princess - 8200gns

Next in line came Ridge Dean Soulbury Princess, again out of that great breeding line Ridge Dean Navette and Ridge Dean Jessie. Princess, a Brutal de st Fontaine sired daughter, sold carrying herd third calf and went for 8,200gns to Paul Walker who was buying on behalf of a client.

In the section of calves with recipient mothers, Ridge Dean Brandy a four month old heifer by the fashionable sire Dafydd D'Ochain and out of a Jessie daughter Ridge Dean Valentine, Brandy was purchased by Northern Ireland enthusiast J Annett of Kilkeel, Co.Down.

Selling for 6,000gns was another calf with her recipient mother. Ridge Dean Bubbles, also bred from Dafydd out of Valentine, attracted strong interest with her style, balance and exceptional length. She was bought by an undisclosed buyer.

The third calf with the same breeding, Dafydd out of Valentine, drew in the next price tag of 5,700gns. Ridge Dean Bodacia, a three month old heifer calf was purchased by Andrew Price for this Bedgebury herd based at Maidstone, Kent.

Leading the recipient carrying embryos was 2,600gns for the mating Dafydd D'Ochain and Ridge Dean Jessie, this being the last opportunity to acquire some of the Jessie line. Successful buyers were AH & H Cole for the Castleton herd in Pembroke.

The sale included two yearling heifers from the Widewath herd for Mark Bousfield of Clifton, Penrith. Widewath Africa, a March 2005 daughter of Nounours de Wihogne and out of Ridge Dean Royal Lady, a Jessie daughter, she sold for 2,100gns to A Geary of the Littlewood herd based at Milton Keynes.

Averages -

Ridge Dean Herd
2 cows served and/or suckling £5,880.00, 10 yearling heifers £3,654.00, 16 recipients with calves £3,635.63, 11 young bulls £2,462.73, 17 recipients carrying embryos £2,186.47.

Widewath Herd
2 yearling heifers £2,152.50.
---