Royal Welsh Show 2011
BRITISH BLUES – Tastiest Beef Steaks at Royal Welsh
British Blues dominated the Asda/ABP Beeflink steak competition to find the tastiest beef steaks in Wales.
A cut from a 16-month-old British Blue-sired heifer, supplied by Welshpool farmer Paul Andrews, won the top accolade in the season's final of the steak competition at the Royal Welsh Show.
Celebrity chef Ainsley Harriot and a taste panel from the crowd gave the thumbs up to the steak, which came from a 338kg carcass consigned to ABP's Shrewsbury abattoir. The heifer graded U+3 after a daily deadweight gain of 0.68kg.
Taking second spot was a steak from Carl Thomas, Trelystan, Welshpool. This one also came from the British Blue cross heifer which had a carcass weight of 386kg and graded U+3.
In third spot was a steak from a Charolais cross heifer from Rob Pugh, who produced a 24-month-old heifer with a carcass weight of 345.8kg and a grade of U3.
Asda's senior meat trader Jim Viggars said: "Nowhere has the quality been higher than here at the Royal Welsh."
SHOW RESULTS
Class 500 British Blue Cattle, Bull, born before 31 December 2008
1 J N & L P Dunn DRIFT DOMINO 3095
2 Adrian Cooke NANTYDERRI DYNAMO 3096
Class 501 British Blue Cattle, Gwili Jones & Sons Award - Best bull born before 31 December 2008
1 J N & L P Dunn DRIFT DOMINO 3095
2 Adrian Cooke NANTYDERRI DYNAMO 3096
Class 502 British Blue Cattle, Bull, born on or between 1 January 2009 and 31 December 2009
1 Redhead & Watson TWEEDDALE EBONY 3100
2 J & S Wareham BOOTHLOW ELVIS 3097
3 Robert Evans EL-BANDITO 3099
4 Robert Huw Williams NYFFRYN ERYRI 3098
5 Ian & Jim Phillips BOCKLETON EARNIE 3101
Class 503 British Blue Cattle, Bull, born after 1 January 2010
1 J N & L P Dunn NORBRECK FERGUS 3102
2 Mr D H Plested CROMWELL FLASH 3103
3 Andrew PriceBEDGEBURY FLAT OUT ET 3113
4 Kevin Watret SOLWAY VIEW FIRE CRACKER 3105
5 Redhead & Watson TWEEDDALE FLASH 3107
6 Mr Nigel Pritchard NORTON FUNTIME FRANKIE 3109
7 Miss Chloe L Dunn HIGHRIDGE BLUES FOREST 3112
8 G R. Jones WHITEROCK FIRESTORM 3106
Class 504 British Blue Cattle, Tithebarn Cup - Highest placed junior bull
1 J N & L P Dunn NORBRECK FERGUS 3102
2 Mr D H Plested CROMWELL FLASH 3103
Class 505 British Blue Cattle, Merial Animal Health Shield - Best male exhibit
1 Redhead & Watson TWEEDDALE EBONY 3100
2 J N & L P Dunn DRIFT DOMINO 3095

Class 506 British Blue Cattle, Female, in calf or maiden, born before 30 June 2008
1 K & J Bodily BLACK 'N' BLUE CLEOPATRA 3118
2 Rhys Millichap RHYMIL BRITNEY 3117
3 Kevin Watret SOLWAY VIEW DRAMBUIE 3120
4 Mr Nigel Pritchard NORTON CARIAD 3115
5 J N & L P Dunn HAWTHORNE BONNIE 3119
Class 507 British Blue Cattle, The King Thomas and Lloyd Jones and Co Trophy - Best female
1 K & J Bodily BLACK 'N' BLUE CLEOPATRA 3118
2 Rhys Millichap RHYMIL BRITNEY 3117
Class 508 British Blue Cattle, Female, in calf or maiden, born on or between 1 July 2008 & 30 April 2009
1 Anna Jones BRINGLEE DESIREE 3123
2 R M Birch BOOMER EUPHORIA 3125
3 Mr D H Plested CHALFORD MANOR ELITE 3124
4 Adrian Cooke NANTYDERRI DEBUT 3122
5 Rhys Millichap RHYMIL DAVINA 3121
6 K & J Bodily BOOMER ENCHANTMENT 3126
7 Redhead & Watson TWEEDDALE ENHANCE 3128
8 Robert Evans ESGAIR 3130
9 Adrian Cooke NANTYDERRI ECHO 3127
Class 509 British Blue Cattle, Female, in calf or maiden, born on or between 1 May 2009 & 28 Feburary 2010
1 Mr Matthew Jones GRAYMAR ELECTRA 3135
2 Kevin Watret SOLWAY VIEW ELEGANCE 3133
3 W R & W W Jones TANAT EBONY 3145
4 P & L Brindley BLUE MIST EDEN 3142
5 Kevin Watret SOLWAY VIEW ETERNAL DATE 3134
6 W R & W W Jones TAMHORNENCHANTED 3139
Class 510 British Blue Cattle, Female, in calf or maiden, born on or after 1 March 2010
1 D W & L E Morgan TY ISAF FRUITY RHIW 3160
2 R M Birch BOOMER FLASHY 3155
3 Mr Matthew Jones GRAYMAR FANTASY 3157
4 Redhead & Watson TWEEDDALE FUSSY 3159
5 Andrew Price BEDGEBURY FANCY PANTS ET 3169
6 D W & L E Morgan TY ISAF FRITZY 3170
Class 511 British Blue Cattle, BBBCS Trophy - Best female exhibit
1 Mr Matthew Jones GRAYMAR ELECTRA 3135
2 K & J Bodily BLACK 'N' BLUE CLEOPATRA 3118
Class 512 British Blue Cattle, RWAS Special Rosettes
1 Kevin Watret SOLWAY VIEW ELEGANCE 3133
1 Kevin Watret SOLWAY VIEW ETERNAL DATE 3134
2 Rhys Millichap RHYMIL BRITNEY 3117
2 Rhys Millichap RHYMIL DAVINA 3121
Class 513 British Blue Cattle, Progen Welshpool Trophy - Exhibitor from Wales
No Results
Class 514 British Blue Cattle, Champion British Blue
1 Mr Matthew Jones GRAYMAR ELECTRA 3135
2 Redhead & Watson TWEEDDALE EBONY 3100
Class 515 British Blue Cattle, The Steven O'Kane Trophy
1 Redhead & Watson TWEEDDALE EBONY 3100
The Ingrid Phillips Trophy for the Best Pair of animals, bred by exhibitor –
1st - Solway View Elegance and Solway View eternal from Kevin Watret
2nd – Rhymil Davina and Rhymil Britney from Rhys Millichap
Colborn Dawes Cup for the Best Junior Female – DW & LE Morgan – Ty Isaf Fruity
The Progen Welshpool Trophy – Exhibitor from WBBBC with most points for Exhibitor Bred Cattle – A Cooke – Nantyderri Herd
Premier Exhibitor Award – Highridge Blues Herd (JN & LP Dunn)
Premier Breeder Award - Solway View Herd (Kevin Watret)
The Natwest Team of Five (Beef Breeds) was won by the British Blues and consisted of: - Drift Domino (JN & LP Dunn); Black 'n' Blue Cleopatra (K & J Bodily); Bringlee Desiree (Anna Jones); Boomer Euphoria (RM Birch); Graymar Electra (Matthew Jones)
The FitzHugh Championship (Beef Breeds)
1st – Limousin
2nd – British Blue: Drift Domino (JN & LP Dunn) and Graymar Electra (Matthew Jones)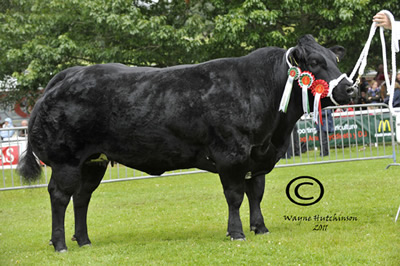 British Blue Champion - Graymar Electra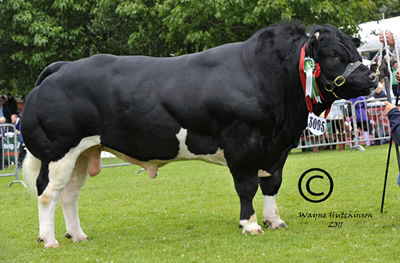 Drift Domino - Res Male Champion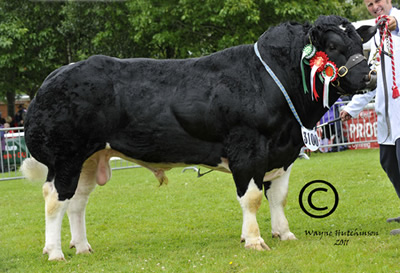 Tweeddale Ebony - Male Champion & Res Overall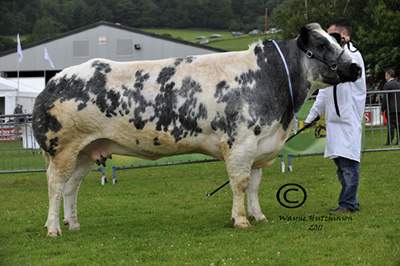 Rhymil Britney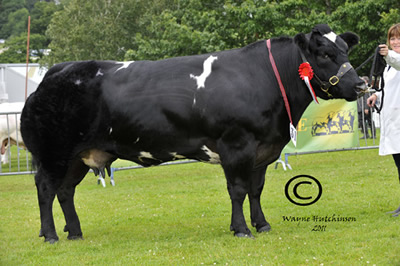 Black n Blue Cleopatra - Res Female British Blue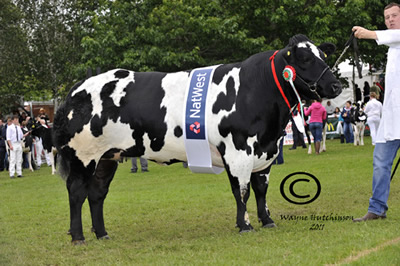 Boomer Euphoria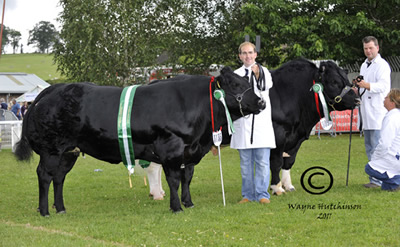 Reserve Interbreed pair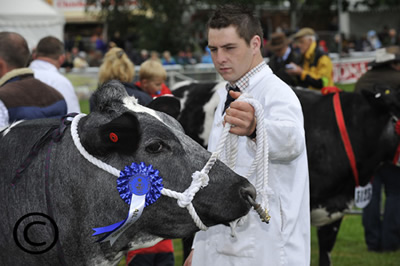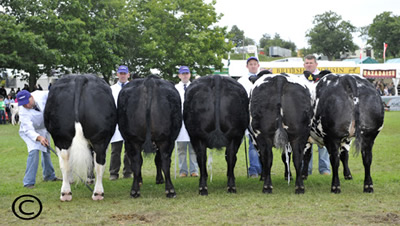 Team of Five winners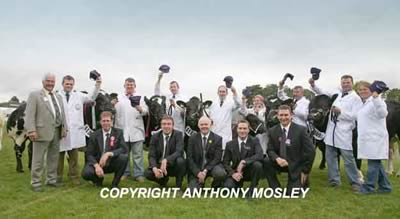 The winning Group of Five team with the Judge and NatWest Sponsors in celebratory mood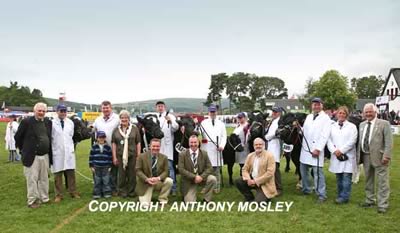 Winning Group of Five with John Fleming (L) and the Judge (R), Gill Evans, Andy Ryder (Society Chairman), Gwyn Williams (Society President) and Pierre Mallieu (Herd Book Blanc-bleu Belge)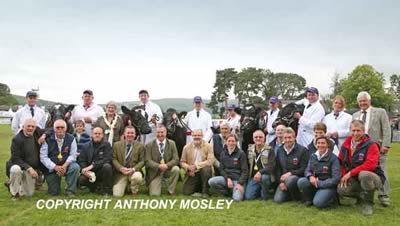 Winning Group of Five with the Judge and international visitors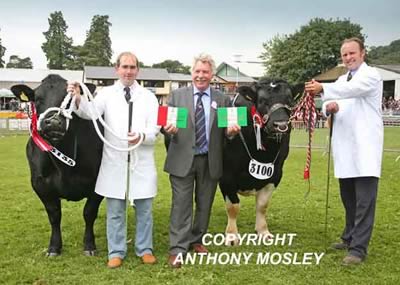 Presentation to Breed Champion and Reserve with judge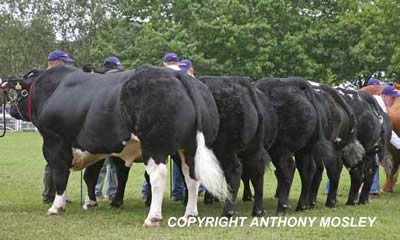 Three-quarter rear view of winning Group of Five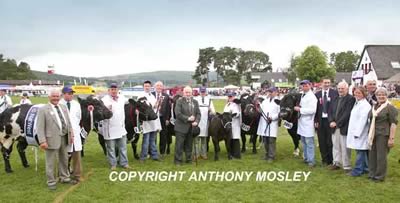 Team shot of winning Group of Five with John Fleming, the Judge, various VIPS, Royal Welsh Show Chairman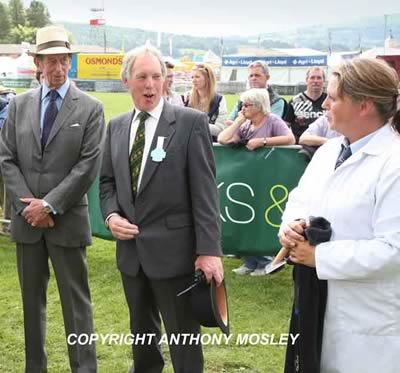 Lorraine Dunn meets HRH The Duke of Kent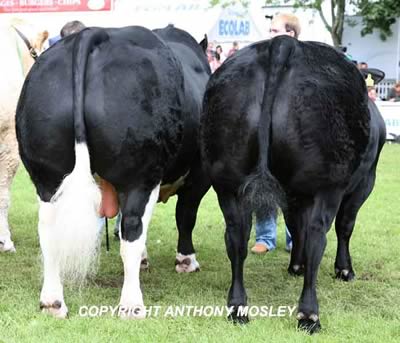 Back ends shot of the Fitzhugh Reserve Champion Pair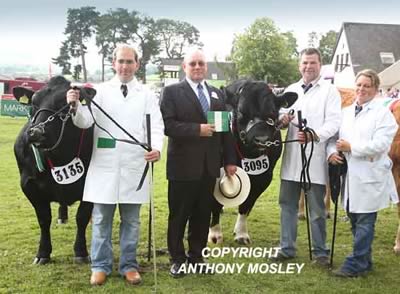 Presentation to Fitzhugh Reserve Champion Pair with Judge