Females in demand but selective trade for bulls at Chelford summer sale
Saturday 3rd July 2010
For the first time, the traditional autumn sale of British Blues at Chelford, for the British Blue cattle Society, was moved forward to July. Held on Saturday 3rd July 2010, Society members put forward an excellent selection of both bulls and females, and the sale was bolstered by the decision of former Breed Society Chairman, Jim Barber, to hold a major reduction sale from his Astbury herd.
Cattle were forward from as far away as Northern Ireland and North of Scotland, with prospective purchasers travelling from all corners of the UK, although it soon became evident that their main interest lay in buying female breeding stock, and in particular potential breed stars of the future.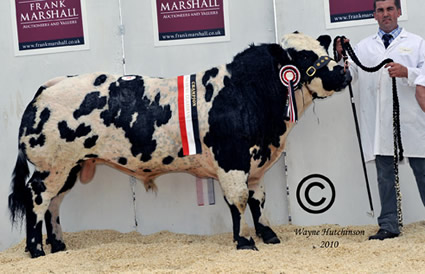 New Close Duncan
Judge for the Friday's Show of pedigree cattle was Alistair MacInnes, from the Isle of Tiree and he chose, as his Champion, New Close Duncan, a December 2008 born bull from the Wilson family, Hollington, Staffordshire, winning the Championship at Chelford for the 2nd successive Show. Duncan, by Empire D'Ochain and out of Hazelwood Waterlilly, has a carcase yield index nearly 3 times the breed average on the Breedplan EBV figures and sold for 3,850 gns to F J Griffin from Beaworthy, Devon.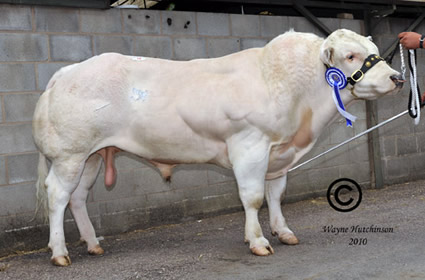 Paulen Dalston
Ernie Hemmings put forward a super pen of bulls from his Paulern herd, in Gloucestershire, and saw his June 2008 born bull, Paulern Dalston, a Cristal de Somme son out of the Lawns Dominic sired Springfield Violet, make 3,050 gns to D G James, Welshpool, Powys.

A number of purchasers were obviously looking for young bulls, with the potential to mature into herd sires, and Messrs Breese and Co, Newtown, Powys, paid 3,000 gns for Newpole Elvis, a January 2009 Empire son from Messrs White & Turner, Wellington, Somerset.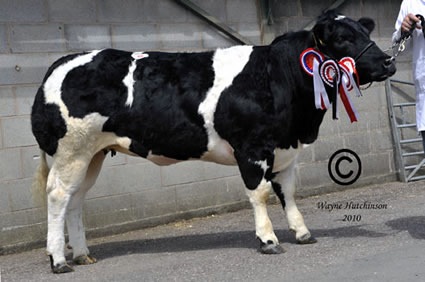 Snowy Ridge Duchess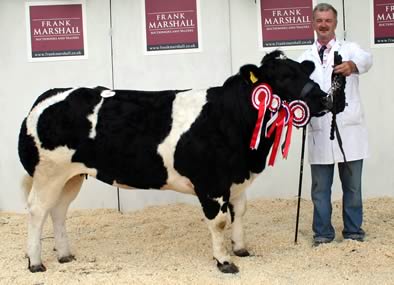 Female Champion – Snowy Ridge Duchess from James and Gloria Annett
Once on to the Females, however, there was a completely different atmosphere and much stronger trade throughout. The Female Champion and Reserve Supreme at Friday's Show was Snowy Ridge Duchess, an October 2008 born heifer from James and Gloria Annett, Co Down, Northern Ireland. By the Baron Du Bois Bauloye son Springbank Blackstar, and out of Ridge Dean Wisdom, this very smart heifer made 3,600 gns &V Bowring, Mansfield, Notts.

Second in the Class behind her at Friday's Show was Carrock Davina, an Empire daughter from Messrs Brough, Dalston, Cumbria, who also made 3,600 gns to well known breeder and showman Frank Page, Northamptonshire.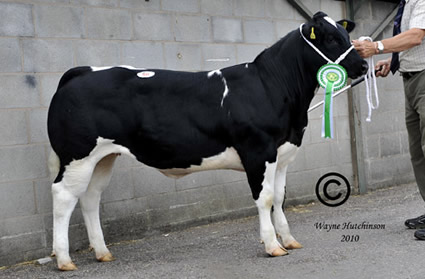 Tamhorn Enchanted
The search for quality genetics for the future was again evident when Danny and Jane Wyllie saw their young 2009 born heifer,Tamhorn Enchanted, make 3,800 gns. She is one of the first heifers by Ballygrange Alex to be offered for sale, and was out of the Tamhorn Ringmaster sired Tamhorn Billy Jean, and she went home to Llanruaeadr, Owestry with W R Jones.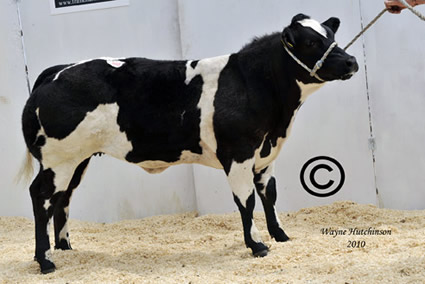 Astbury Emerald
When the sale moved on to the Astbury Herd trade really took off. First in the ring was the January 2007 born cow Glenavy Connie, with her February born heifer calf Astbury Flo at foot, sired by Colos Van Daisel. She had excited considerable interest prior to the sale, and eventually sold on the telephone for 5,000 gns to new breeders Michael & Sarah Potter, Faringdon, Oxford. She was closely followed by two bids at 4,500 gns. First up was the March 2008 born heifer Astbury Duchess, by Cristal de Somme and out of the Sceptre De Bomal sired Astbury Willow, who was sold in calf to Dartagnan du Castillon, to a partnership of two young breeders, Boomer Birch and Adam Neachell. Second at this price of 4,500 gns was the superb November 2009 born heifer calf Astbury Emerald. By Bringlee Blackstar and out of the Gitan Du P'Tit Mayeur sired Annanwater Chantel, she sold to another partnership deal, this time of Society Chairman Andy Ryder and well known show preparation

A number of recipients were forward with pedigree embryos, best of which made 2,800 gns, for a Blue x cow carrying an embryo by Bringlee Blackstar, out of Boomer Armani, put forward by Messrs Brough and purchased by Andrew Bishop, Malvern, Worcestershire.

Averages
Pedigree Bulls £2483.48
Pedigree Heifers £2582.34
Pedigree Cows with calves £3157.50
Recipients with Pedigree Embryos £2520.00
An entry of commercial crossbred and show potential cattle numbering just short of 40 head met a cautious enquiry from showmen and feeders.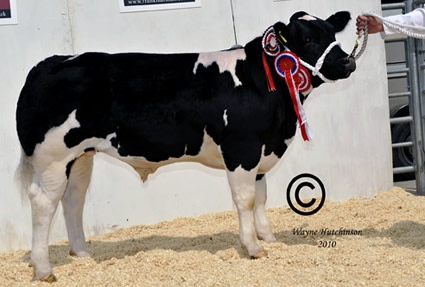 Commercial Champion
Top honours in the show were awarded to John and Denise Davies, Rugby with a very showy black and white steer which was full brother to a previous Chelford Champion.

The Judge, Stephen Hough of Pontefract, backed his judgement despite strong competition from a telephone bidder and the steer sold for £1300.

Reserve Champion and joint top price of £1400 came from Andrew Bishop, Eldersfield in the form of a black steer which was full of meat! There was plenty of interest ring side with the steer eventually going to Mr Kingston from Catcott, Nr Bridgewater.

Close on the money with a superb brace of heifers were Messrs Morgan from Newtown, Powys. Leading their consignment was a very pretty heifer which stood Champion Heifer. Chelford stalwarts John, Debbie and Sam Madeley are taking the heifer back to Herefordshire at £1380. A pedigree heifer from the same stable was top priced heifer and travels to Llandinam, Powys with Messrs Woosnam and Mathias at £1400.
Show class results

Pedigree Classes

Class 7 - Pedigree Male born before 31st December 2007

1st Lot 4 Bringlee Cristo – Mr J G Brindley

Class 8 – Pedigree Male born between 1st January 2008 and 30th June 2008

1st Lot 9 Oxcroft Dryden – Messrs J & J Green
2nd Lot 18 Paulern Dalston - E R Hemmings
3rd Lot 11 Almeley Dougal – Mr G L Morgan
4th Lot 12 Gregmaur Dannyboy - Mr & Mrs D Gregory
5th Lot 13 Lukeroyal Dodger – M J Lucas

Class 9 – Pedigree Male born between 1st July 2008 and 31st August 2008

1st Lot 25 Rhymil Dizzee Rascal – Rhys Millichap
2nd Lot 22 White Farm Dominator - Messrs Baldwin
3rd Lot 26 Rhymil Dumbledore - Rhys Millichap
4th Lot 24 Chancellors Delboy – Mr T D Walwin
5th Lot 27 Snowy Ridge Domino – James & Gloria Annett

Class 10 – Pedigree Male Born between 1st September 2008 and 31st December 2008

1st Lot 39 New Close Duncan – I E Wilson
2nd Lot 32 Boothlow Dougie – K & J Belfield
3rd Lot 33 Paulern Darcy – E R Hemmings
4th Lot 35 Lukeroyal Diplomat - M J Lucas
5th Lot 34 Paulern Darius – E R Hemmings
6th Lot 37 Crackley Bank Dan – Mr Paul Walker

Class 11 – Pedigree Male Born after 1st January 2009

1st Lot 41 Cromwell Eric – Mr J Barber
2nd Lot 42 Boomer Emporio – R M Birch
3rd Lot 40 Newpole Elvis – Mr R J White & Mrs J M Turner

Class 13 – Pedigree Female born before 31st December 2007

1st Lot 44 Ridge Dean Saver – A & K M Barnes
2nd Lot 45 Ridge Dean Tania – A & K M Barnes

Class 14 – Pedigree Female born before 1st January 2008 and 31st December 2008

1st Lot 49 Snowy Ridge Duchess – James & Gloria Annett
2nd Lot 47 Carrock Davina – S J & R R Brough
3rd Lot 51 Boothlow Delilah – K & J Belfield
4th Lot 50 Bringlee Davida – Mr J G Brindley


Class 15 – Pedigree Female born between 1st January 2009 and 31st December 2009

1st Lot 55 Croftends Eva – J E Bellas & Son
2nd Lot 53 Oxcroft Empress – Messrs J & J Green
3rd Lot 59 Tamhorn Eden – D & J Wyllie
4th Lot 60 Tamhorn Enchanted – D & J Wyllie
5th Lot 57 Lone Tree Ellie – Mrs Nicky Davies
6th Lot 56 Oxcroft Ena – J & J Green
7th Lot 58 Lone Tree Evie – Mrs Nicky Davies

Supreme & Male Champion

Lot 39 New Close Duncan – I E Wilson

Reserve Male Champion

Lot 25 Rhymil Dizzee Rascal – Rhys Millichap

Reserve Supreme & Female Champion

Lot 49 Snowy Ridge Duchess – James & Gloria Annett

Reserve Female Champion

Lot 55 Croftends Eva – J E Bellas & Son

Commercial Classes

Class 1 – Halter led steer of Show Potential

1st Lot 223 J L & D A Davies
2nd Lot 215 A Bishop
3rd Lot 225 B L & J E Griffiths
4th Lot 218 G E Davies & Sons
5th Lot 221 G E Davies & Sons
6th Lot 237 J & J Green
7th Lot 232 Bowen & Bowen
8th Lot238 M J Wells & Son

Class 2 - Halter led heifer of Show Potential

1st Lot 205 D W & L E Morgan
2nd Lot 224 J L & D A Davies
3rd Lot 217 A Bishop
4th Lot 231 Bowen & Bowen
5th Lot 206 D W & L E Morgan

Class 3 – Haltered steer, judged in pen

1st Lot 216 Andrew Bishop
2nd Lot 220 G E Davies & Sons
3rd Lot 229 B L & J E Griffiths

Class 4 – Haltered heifer, judged in pen

1st Lot 226 B L & J E Griffiths
2nd Lot 222 G E Davies & Sons
3rd Lot 230 Bowen & Bowen

Supreme Champion Crossbred & Champion Steer

Lot 223 J L & D A Davies

Reserve Champion Crossbred

Lot 215 B L & J E Griffiths

Champion Crossbred Heifer

Lot 205 D W & L E Morgan
Click on images to enlarge

Judging class 1

The Commercial Judge – Mr Stephen Hough

Winner of class 1 – presentation to John Davies by Judge

Judging class 2

Winner of class 2 – presentation to Linda Morgan by Steph Denny of Main Sponsors, Farmers Guardian

Judging the crossbred Championship

Judging the reserve crossbred Championship

Champion crossbred presentation L/R John Davies, Steph Denny and Stephen Hough

Reserve crossbred presentation

Judging class 8

Winner of class 8 – Janet Green with Judge, Alistair MacInnes

Judging class 9

Pedigree Judge – Mr Alistair MacInnes

Winner of class 9 – Rhys Millichap with Alistair MacInnes

Judging class 10

Winner of class 20 – Andrew Wilson with Peter Quigley of sponsors, Pfizer Animal Genetics

Judging class 11

Winner of class 11 – Jim Barber with Steph Denny

Judging the Male Championship

Male championship presentation

Winner of class 13

Judging class 14

Winner of class 14 – James Annett with Steph Denny

Judging class 15

Winner of class 15 – Jonathan Bellas and Steph Denny

Female Champion presentation with James Annett and Alistair MacInnes

Judging the Supreme Championship

The judges decision!

Championship Presentation – L/R Alistair MacInnes, Andrew Wilson, Ian Wilson and Steph Denny