PEDIGREE BRITISH BLUE BULLS AND FEMALES
FRIDAY 19th FEBRUARY 2010
British Blues Top 9,000gns – Twice!
There was a strong consignment of quality cattle presented by breeders, with all animals passing the Society's rigorous pre-sale inspection.
The sale was a resounding success with top price of 9,000gns achieved twice with 4 lots over 7,000gns.
Ridge Dean Dynamo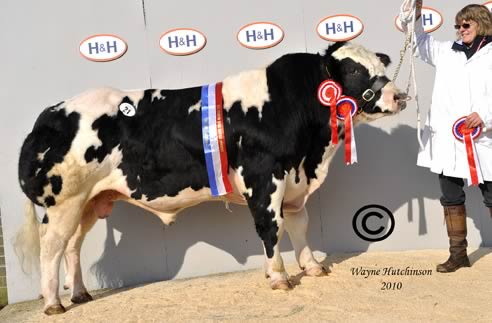 Two ET brothers from Michele Wilde's, Ridge Dean Herd at Leighton Buzzard reached the top spot of 9,000gns. First was Ridge Dean Dynamo, an Empire D'Ochain son out of Michele's famous cow, Ridge Dean Navette. Dynamo was crowned Male and Supreme Champion in the show, kindly judged by Mr. Richard Carter of the Twyning Ash Herd of 'Blues' Taking Dynamo home was Mr. N G Beveridge, Tow Law, Co Durham.
Ridge Dean Delta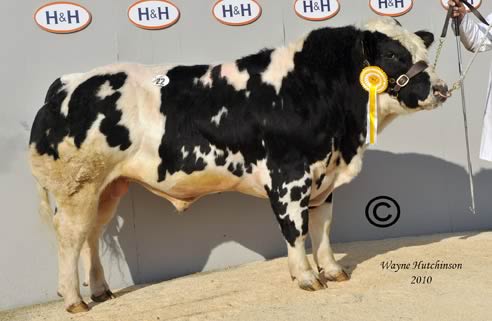 The same genetics were offered in the 3rd prize winning bull, Ridge Dean Delta, who also sold for 9,000gns, to Mr. S G Benson, Pennington, Ulverston.
Clonmore Ben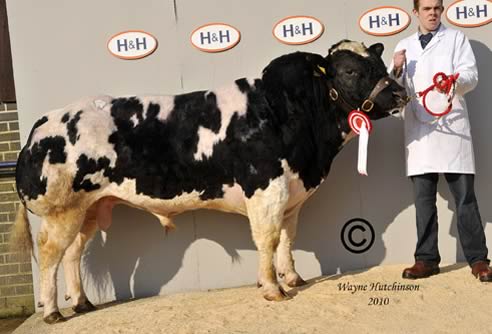 Next at 8,500gns was the first bull through the sale ring, Clonmore Ben from Oliver McGuiness, Co. Londonderry. Ben has had a successful show career in Northern Ireland and added to that by taking first prize in class 1. A Baron Du Bois Bauloye son he sold to Messrs. Metcalfe, Edenhall, Penrith, Cumbria.
Woodview D Best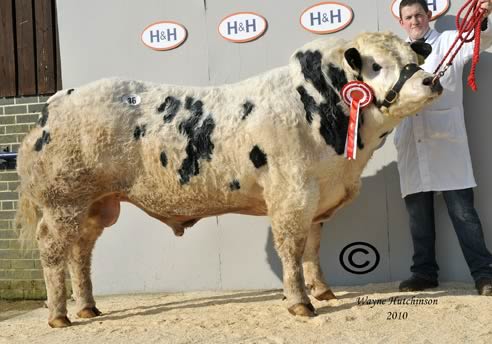 Top of Andrew Craig's, Woodview consignment was Woodview D Best ET at 7,800gns. Another Empire D O'Chain son, who's female line goes back to the heart of Woodview breeding stood 1st in class 5 and later sold, to the judge, Richard Carter, to join his Twyning Ash herd at Dursley, Glous. D Best's full ET brother, Woodview Dave ET was next in line at 6,200gns and sold to H G Blaxell & Sons, Norwich, Norfolk.
Strathearn Cinderella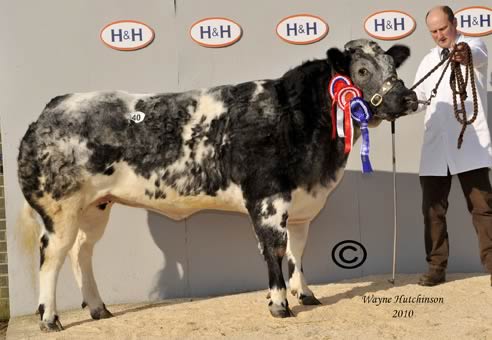 Leading the ladies was the Female and Reserve Supreme Champion maiden heifer, Strathearn Cinderella ET from Dermot & Gareth Small, Kilkeel, Co. Down. A daughter of Ridge Dean Wilful and sired by Tamhorn Sumo she took the eye of Alan Barnes, Great Harwood, to join his 'Cowden' herd at 4,800gns.
Leading the consignment from Mel & Dianne Lucas was Lukeroyal Emerald ET. Sired by Springbank Blackstar and out of the homebred cow, Lukeroyal Blondie, she sold to T A Hughes, Lampeter for 3,100gns.

Selling at 3,000gns was Faughanvale Daisy from Oliver McGuinness. A very mobile heifer, sired by the famous Hazelwood Freshman, she sold to local breeders, P & MR Carruthers, Bampton, Shap to join their 'Valley' Herd.
Averages
21 bulls £4,985.00
2 served heifers £2,073.75
9 maiden heifers £2,753.33
3 recipients with calves £2,922.50

Show Results: -

Class 1 –
1st – Lot 5 - Clonmore Ben
2nd – Lot 9 – Oak Tree Cracker ET
3rd – Lot 7 – Meadowhurst Connoisseur ET
4th – Lot 8 – Bringlee Cristo ET

Class 2 –
1st – Lot 14 – Whitmanor Delinquent ET
2nd – Lot 15 – Whitmanor Delegate ET
3rd – Lot 12 – Whitmanor Defiant ET
4th – Lot 13 – Whitmanor Distinguished ET
5th – Lot 11 – Greenfield Daredevil ET

Class – 3
1st – Lot 21 – Ridge Dean Dynamo ET
2nd –Lot 20 – Ridge Dean Dumbledore ET
3rd – Lot 22 – Ridge Dean Delta ET
4th - Lot 17 – Penrheiol Blues Dynamite ET

Class – 4
1st – Lot 25 – Snowy Ridge Dynamite Jim ET
2nd – Lot 23 – Carrock Dolomite ET
3rd – Lot 27 – Moorsley Duke

Class – 5
1st - Lot 36 – Woodview D Best ET
2nd – Lot 32 – Woodview Dave ET
3rd – Lot 30 – Navac Dynamite
4th – Lot 31 – Woodview Dan ET
5th – Lot 35 – Solway View Danny ET

Class – 6
1st – Lot 38 – Seygorry Cuttie
2nd – Lot 39 – Springhill Dandelion ET

Class 7
1st – Lot 40 – Strathearn Cinderella ET
2nd – Lot 42 – Faughanvale Daisy
3rd – Lot 41 – Omorga Chloe
4th – Lot 45 – Boherard Claudia ET
5th – Lot 43 – Chatham Dandy

Class 8
1st – Lot 48 – Andys Eternity ET
2nd – Lot 53 – Lukeroyal Erin ET
3rd – Lot 52 – Lukeroyal Emerald ET
4th – Lot 51 – Lukeroyal Ella ET
5th – Lot 50 – Lukeroyal Elsa ET

Male Champion - Lot 21 – Ridge Dean Dynamo ET
Female Champion - Lot 40 – Strathearn Cinderella ET
Supreme Champion - Lot 21 – Ridge Dean Dynamo ET
Reserve Supreme Champion - Lot 40 – Strathearn Cinderella ET

Bringlee Production Sale
With guest consignment from the Boomer Herd

Graham Brindley held his 2nd Bringlee Production Sale on 19th February, with guest consignment from Boomer Birch.
Bringlee Desiree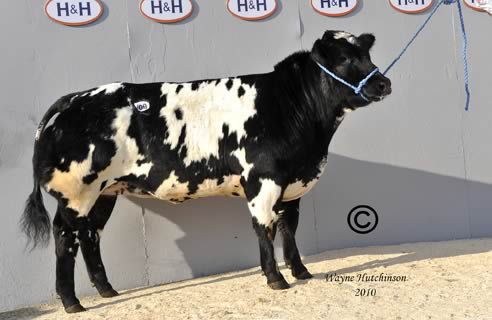 The leading lady at 13,000gns was Bringlee Desiree ET, a beautiful black & white heifer out of the famous brood cow Bringlee Sandy and the Belgian sire Sjaka Zoeloe Van Zwaanhof. Taking her home was Ceirian & Anna Jones, Lampeter, Ceredigion.
Bringlee Dorinda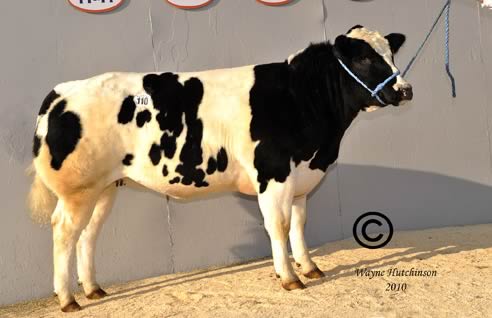 Her full ET sister, Bringlee Dorinda was next in line at 9,000gns and sold to WR & WW Jones, Oswestry, Shropshire, to join their 'Tanat' Herd.
Bringlee Estelle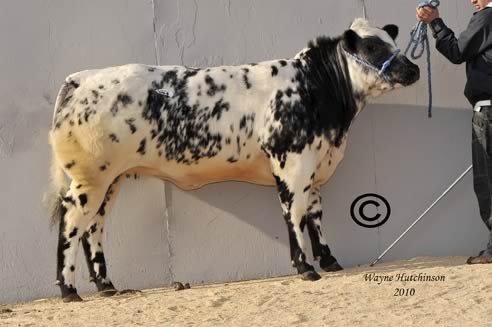 Bringlee Estelle ET sold for 8,500gns to Trevor Ashmore, Co. Wexford. Again, out of the famous "Sandy" but this time sired by Graphite De Dessous La Ville, she had already has a successful show career.

CP Barwood, Fleggburgh, Great Yarmouth paid 6,500gns for Bringlee Electra ET, who looks a great prospect for the 2010 show season. A predominantly black heifer, she was out of the imported cow Cerise 2120 Neuve Cour and sired by Bringlee Blackstar, a bull previously sold to BBG in Belgium.
Bringlee Eesandy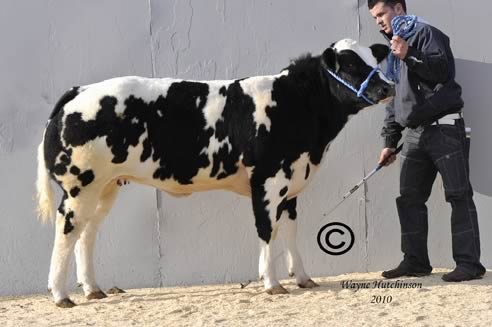 Next in line was Bringlee Eesandy ET, another 'Sandy' daughter but sired by Gamin Des 3 Frontieres. Although only a youngster, Eesandy looks to have a great future with AG Teasdale, Melmerby, Penrith.

Another Graphite De Dessous La Ville/Bringlee Sandy daughter, Bringlee Evadine ET sold to Kevin Watret, Solway View herd and Andy Ryder, Andy's Herd at 5,000gns, a very striking heifer, she looks sure to follow in her mother's footsteps.

Also at 5,000gns was Bringlee Eleanor ET, sold suckling her recipient dam, she looks a very exciting prospect. Another Bringlee Blackstar daughter out of the successful breeding cow, Directive ET De Fooz, Eleanor sold to H Cockburn & Ptrs, Peebleshire.
Boomer Destiny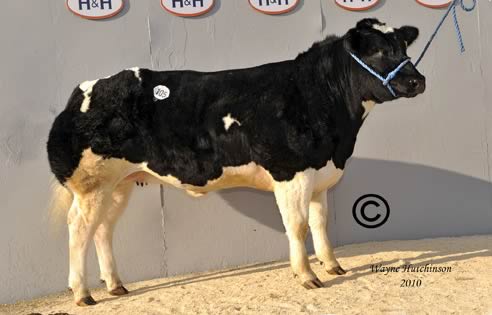 Topping the guest consignment from Boomer Birch was Boomer Destiny ET at 6,200gns. A Bringlee Waldo daughter, out of Gregmaur Abba, with outstanding potential, sold to JC Innes & Sons, Huntly, Aberdeen.

Mr. T C Altham, Kirkby Lonsdale, was the successful purchaser of Boomer Desire ET at 2,800gns. A thick, powerful daughter of Empire D'Ochain out of Cowden Bounty.
Boomer Enchantment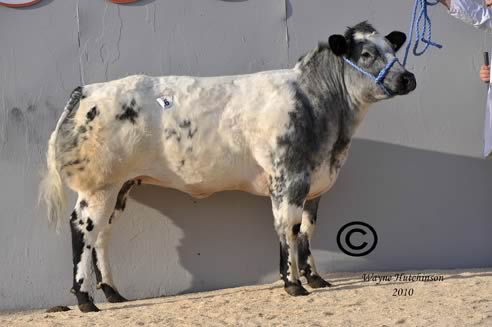 Next in line was Boomer Enchantment ET, a Dafydd D'Ochain daughter out of Cerise 2120 Neuve Cour, who sold to D I Parry, Abergavenny for 2,500gns.

Averages
Bringlee Herd
15 bulling & yearling heifers £4,753.00
2 cows £2,047.50
5 ET calves suckling recip dams £3,528.00
6 recipients carrying embryos £2,187,50
Boomer Herd
4 bulling & yearling heifers £3,491.25
Richard Carter Judging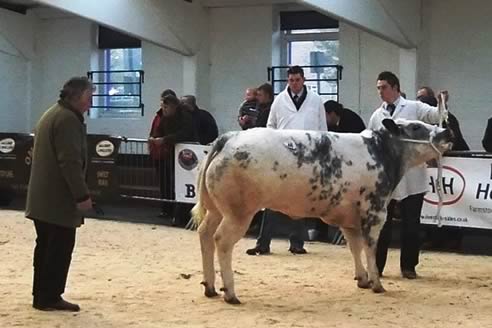 Judging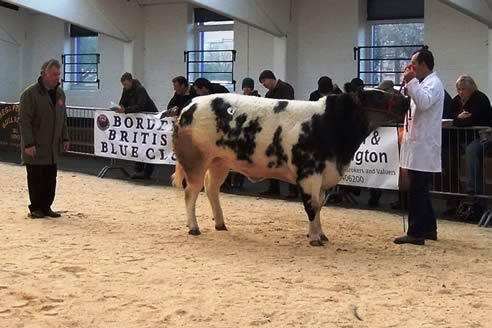 Judging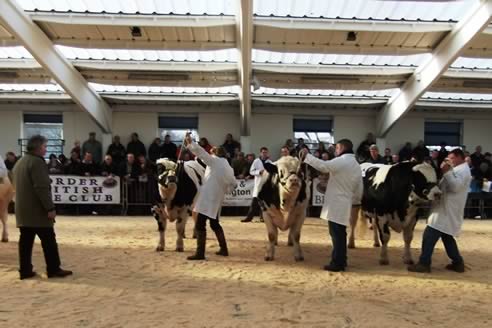 Judging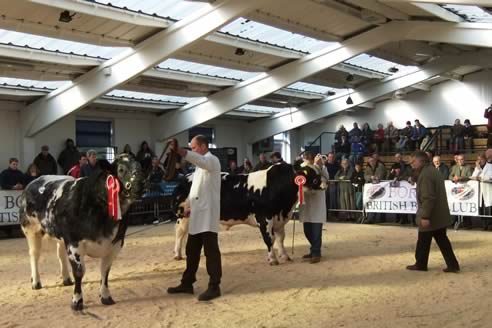 Judging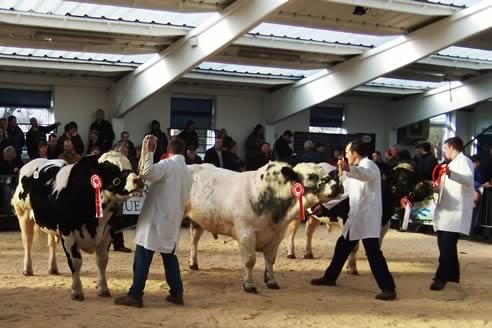 Pete Bodily with the Judge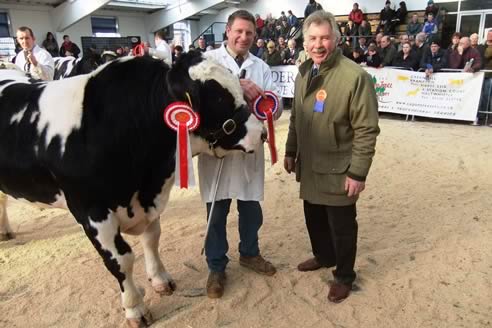 Viewing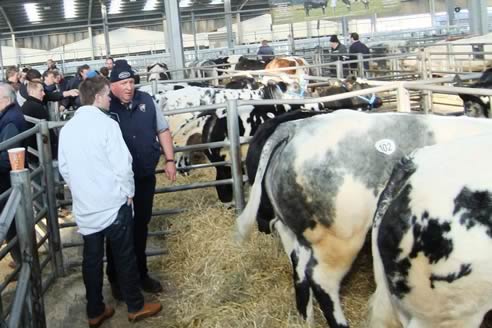 Viewing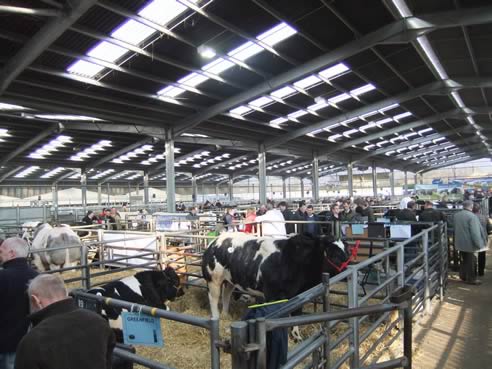 Champion in the salering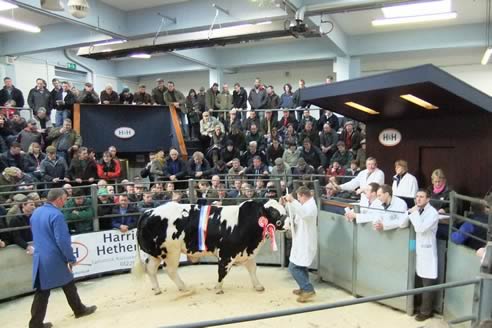 ---