Chelford Blues
---
STRONG DEMAND FOR QUALITY AT CHELFORD WITH NEAR 100% CLEARANCE
There was plenty of demand for strong bulls ready to work, and for youngsters showing exceptional potential at the British Blue Society's Show and Sale held at Chelford on Saturday 5th September 2009.
This 50th National Show & Sale was very generously sponsored by Farmers Guardian and Pfizer Animal Genetics.
It quickly became apparent that the majority of customers were looking either for powerful bulls ready to turn out immediately or for young stock with potential to develop by spring time. Potential purchasers travelled far and wide with stock being bought by customers from as far away as Argyll, Aberdeen, Cornwall, Dorset and Lincolnshire, as well as from more local Counties.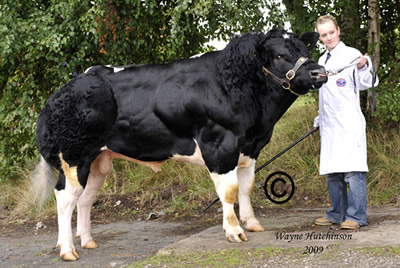 Balzer Casanova
Of the fancied sorts, a top price of 5,500 gns was paid for Balzer Casanova, a November 2007 Flash D'Izier son of the Baron Du Bois sired Balzer Waterlily. He had been shown successfully in West Wales by his breeders, Messrs Phillips, this summer and stood second at the line up at the Royal Welsh Show in July. Messrs MacInnes came looking for a powerful working bull and took him home to the Isle of Tiree in Argyll.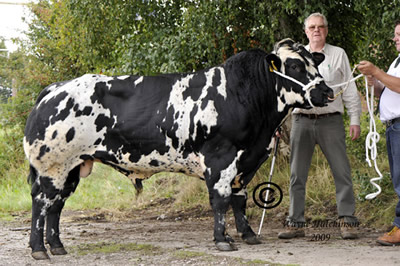 Besthorpe Commander
At 5,000 gns was the best of a pen of bulls from Mike Scott's Besthorpe herd in Newark, Nottinghamshire. Besthorpe Commander, August 2007 born and by Azur D'Ochain out of the Hooton Omega sired Besthorpe Velexis went home to Boston in Lincolnshire with Messrs Wright Brothers.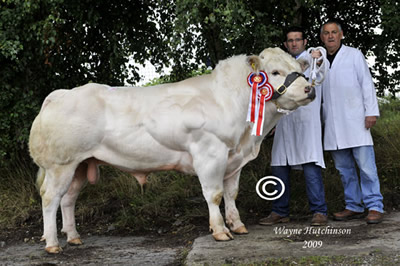 Betws Diggar
Friday evenings Male Champion and Reserve overall bull, January 2008 born, Betws Diggar, from Gill and Rhys Bellis in Ceredigion, by Osborn Van Terbeck out of the Urbi Du Bois sired Currarie Primrose, went to Messrs Parkinson, Atherstone, Warwickshire, for 4200 gns.
Regular consignors to Chelford, Stephen & Gill Potter sold their September born bull, Brookfield Columbo for 3700gns. Sired by Brookfield Thurso out of Brookfield Patrice, he went home with Mr. S Bennett, Keighley, West Yorkshire.
Tamhorn Daffodil
Friday evening's Judge was Andy Ryder, of Moffat Dumfrieshire, currently Vice Chairman of the Society. He choose, as his Supreme Champion, the outstanding Tamhorn Daffodil, a January 2008 born Sumo sired heifer, from Jane and Danny Wyllie, Edingale, Stafford. She made 4300 gns to Andrew Vince, Lutterworth, Leicestershire.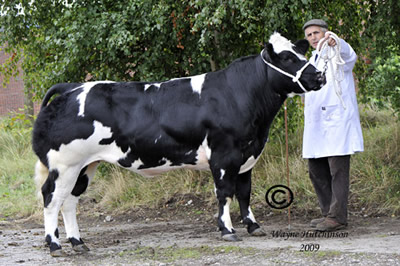 Hawthorne Dotty Com
Leading the female trade was the 5,000 gns bid for John Mawers Hawthorne Dotty Com. Shown successfully at a large number of shows this summer, she is by Dafydd D'Ochain, out of the great show cow Immediate ET 2840 De Mehogne and went home with Messrs Taylor, Belper, Derbyshire.
Of the younger heifers, Alan Bromyard sold his Gitan daughter, Inishfree Delilah, for 3,700 gns to Alan Wheelwright at Cragg Vale, Halifax. Anita Padfield sold her successful show heifer, Piggots Candyfloss for 3,000 gns. She was sired by Serum D'Anloy and out of their Ridge Dean Navette daughter, Ridge Dean Wren and went home with David & Gail Ellis, St Ives, Cornwall.
With very generous sponsorship and increased prize money a small but select offering of British Blue Crossbred Cattle met spirited bidding from the off.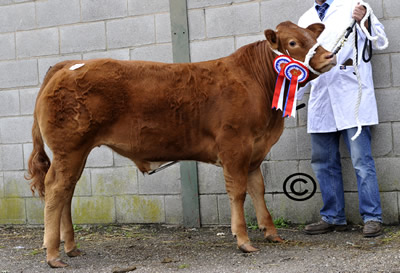 Champion Crossbred
In the halter lead show section Frank Page was awarded the Championship with a smart November born steer. He was knocked down at £1,500 to Sara Duffin of Melton Mowbray, who also receives £100 for her purchase with £200 going to Frank Page, as the exhibitor.
Sarah also paid £1550 for the top priced heifer from Messrs Kirton, again receiving £100 for her purchase, along with an engraved crystal decanter from the British Blue Cattle Society.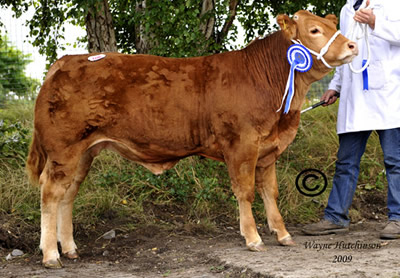 Reserve Champion Commercial
Top price of £1650 was paid for Nigel Pritchard's 7 month steer which was placed Reserve Champion by Judge Kevin Ludgate. Mr Lyon beat off strong competition to secure the steer which travels to Bourne. He also received the £100 award plus an engraved crystal decanter from the British Blue Cattle Society.
Other noteable prices include £1310 for Derbyshire suckled calf producers M J Wells & Son with a 11 month heifer and John & Denise Davies closely following with a superb Christmas heifer at £1280.
AVERAGES:

43 PEDIGREE BULLS £2700.83

23 PEDIGREE FEMALES £2638.13

CROSSBRED STEERS £1049.09

CROSSBRED HEIFERS £1255.00



Click on images to enlarge

Class 1 Pres.entation

Class 2 Pres.entation

Class 9 Pres.entation

Comm Res Champ Pres.

History Men

Judge Ludgate

Judge Ryder

Judging Class 1 (1)

Judging Class 1 (2)

Judging Class 1 (3)

Judging Class 10

Judging Class 12 (1)

Judging Class 12 (2)

Judging Class 13 (1)

Judging Class 13 (2)

Judging Class 2

Judging Class 9 (1)

Judging Class 9 (2)

Judging Class 9 (3)

Judging Class 9 (4)

Male Champion Pres.

Reserve Champ Pres.

Supreme Champ Pres.

Fem Com Champ Pres.

Class 10 Pres.

Class 11 Pres.

Class 12 Pres.

Class 13 Pres.

Comm Champ Pres. (1)

Female Champion Pres.

Judging Comm Champ (3)

Judging Female Champ (1)

Judging Male Champ (1)

Judging Show Champ (2)

Judging Comm Champ (1)

Judging Female Cham (2)

Judging Male Champ (2)

Judging Show Champ (1)
---