Chelford Blues
---
RENEWED CONFIDENCE FROM SUCKLER MEN TRANSLATES TO RECORD PEDIGREE BLUE PRICES AT CHELFORD
Record 12,500 Gns Top Price with 4,602 Gns Record Average for Bulls

The continued strong trade for beef cattle as prices have, after so many years of uncertainty, returned to levels last seen in 1995, has produced a resurgence in confidence amongst long-suffering beef producers. At long last, producers seem keener to invest in long-term breeding plans, with the result that demand, and prices, for quality breeding stock have improved markedly in recent months.
This was illustrated perfectly at Chelford on Saturday 7th March 2009 when auctioneers Frank Marshall and Co conducted the 49th National Show and Sale to be held at the Centre on behalf of the British Blue Cattle Society. Despite a shortage of top, premium quality cattle, trade was exceptional throughout, with customers from all over the UK and Southern Ireland flocking to the Centre.
Auctioneer Gwyn Williams was in buoyant mood following a sale which produced a record average for Bulls of £4602, and a new Centre record price of 12500 guineas (£13125) - 'the Show ring on Friday afternoon was busier than we've seen in years, so we were cautiously optimistic for Saturday's trade. Crowds were gathering early on Saturday, and, by the time the Sale started, our main Sale-ring was packed full. There was no hesitation amongst bidders, and virtually complete clearance, despite a shortage of cattle of sufficient quality to tempt Pedigree Breeders into the bidding. Virtually all Bulls were sold to Commercial suckler producers, which illustrates further the strength of confidence currently flowing through the industry'.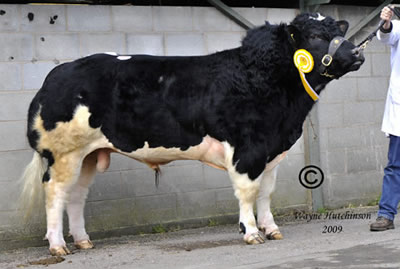 Elkington Cowboy sold for 12,500gns
The new record price was paid for a June 2007 born Bull from renowned commercial showman Frank Page, of Elkington, Northampton. He offered a rare opportunity to other showmen to buy a son of the outstanding Tamhorn Ringmaster, who has sired so many Primestock Show winners in recent years. ELKINGTON COWBOY is out of the Greystone Indelible sired Park Samantha, and there was a palpable buzz around the ringside when he came forward. Bidding rose quickly, until, at 12500 guineas, Mr Williams dropped the gavel to sell him to fellow auctioneer Paul Gentry, buying for the Gascoine Group,Newark, Notts.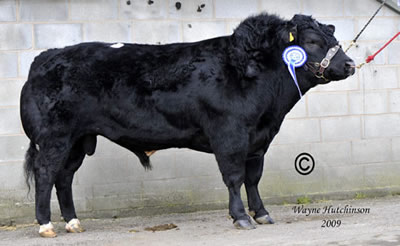 Greystone Carbon sold for 8,200gns
Greystone breeding was to the fore again, when Graham Coates brought forward his home-bred bull GREYSTONE CARBON, an eye-catching all-black May 2007 born son of the Valide-sired Greystone Warrior, out of the Adagio-sired Greystone Topic, from a Cow family known for longevity. Several noted suckler producers had eyed this Bull during Friday's show, when he had stood 2nd in his class, but it was well-known Somerset producer Keith Barrow who determinedly beat off all- comers to take him home to Over Stowey for 8200gns (£8610)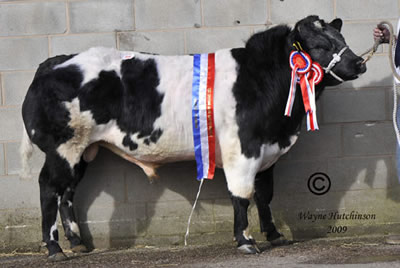 Champion was Penygelly David he sold for 7,000gns
The Show on Friday was judged by Society Chairman Jim Sloan, from Co. Down , N. Ireland, who chose as his Supreme Champion the outstanding young bull PENYGELLY DAVID, from Newtown, Powys breeder Brian Griffiths. This January 2008-born son of the Affute-sired Annanwater Vince, out of the As de Trefle sired Penygelly Una, had stood first in a very strong Junior Bull class and was a popular Champion. Plenty of competition at sale time resulted in him being eventually sold to J E Trafford, Keswick, Cumbria for 7800gns (£8190).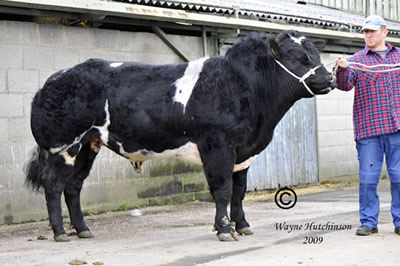 Forest Charlie Chaplin sold for 7,500gns
There was terrific encouragement for young breeders Messrs Woosnam and Mathias, Llandinam, Powys, when they sold their July 2007 born Bull, FOREST CHARLIE CHAPLIN, for 7500gns (£7875). By Bringlee Waldo, out of Hazelwood Unis, this mostly black Bull went to D R Milburn, Brampton, Cumbria.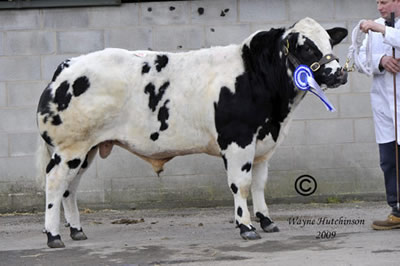 Ridge Dean Cherokee sold for 7,000gns
Bedfordshire breeder Michelle Wilde, from Leighton Buzzard, saw the best of her entry, the September 2007 born Dafydd D'Ochain sired Ridge Dean CHEROKEE make 7000gns (£7350) to Mike Scott, Besthorpe, Notts, while the Reserve Male Champion, CROFTENDS CANNON, a Baroque son from noted Appleby, Cumbria, breeders Andrew Bellas and Sons, made 5800gns (£6090) to Dunmaglass Estate, Inverness, Scotland.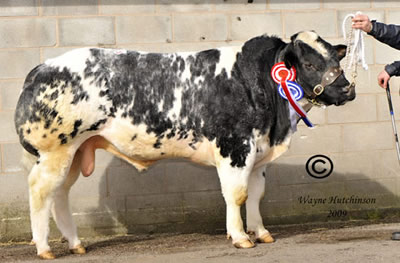 Croftsend Cannon was the reserve champion
Another regular Chelford Blue supporter, Graham Morgan from Tillington, Herefordshire, saw all 3 of his Bulls make over 5000gns, the best being his April 2007 born ALMELEY COMMANDER, who went to Youlgreave Bakewell with Messrs Holland for 5600gns (£5880).
Chelford has become renowned for the strength of trade experienced for Pedigree Female British Blues in recent years. Once again trade was exceptional for quality, stronger Heifers, although customers were more discerning when picking out of the offering of younger Heifers.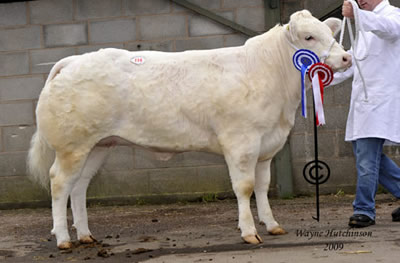 Graymar Diamond sold for 6000gns
The day's top price went to the Reserve Female Champion, GRAYMAR DIAMOND, from Graham Jones, Hadnall ,Shrewsbury, who made 6000gns (£6300). By Sjaka, out of the Tintin-sired Cefn Rhos Annabella, she travelled to Huntly, Aberdeenshire, with J L Innes.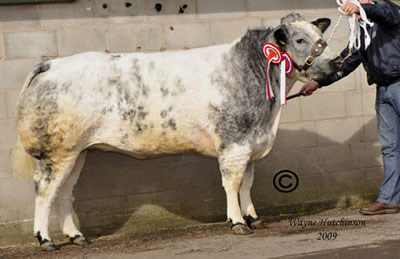 Female Champion Croftends Beau sold for 5000gns
Mr Innes was in again for the Female Champion , the July 2006 born Heifer CROFTENDS BEAU, once again from Messrs Bellas. By Dafydd, out of the Southern Irish- bred Lismannan Sally, in turn a daughter of the great Philliper, she made 5000gns (£5250). Mike Scott, from Nottinghamshire, paid the same price to take home the January 2008 born Heifer BETWS DWYN, by Blak du Baty out of Croft Urella, a daughter of the great Cow Ovatie, from Llandysul, Ceredigion breeders Gill and Rhys Bellis.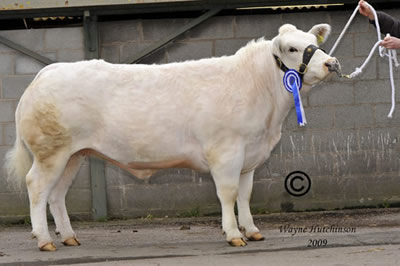 Stonewall Blossom sold for 4200gns
James Lewis, from Knighton, Powys, saw his August 2006 Heifer, STONEWALL BLOSSOM, by the outstanding Tamhorn Sumo and out of the Affute-sired Paulern Ulrika sell for 4200gns(£4410)to Steve Smith Castle Caereinion, Powys, whilst Mike Scott also took the youngest Heifer in the sale, Adam Neachell's 8-month old CROMWELL DAKOTA at 3600gns (£3780). A Granddaughter of Tamhorn Sumo, she is the first daughter to be sold out of the 10000gns Heifer Lukeroyal Wee Beauty.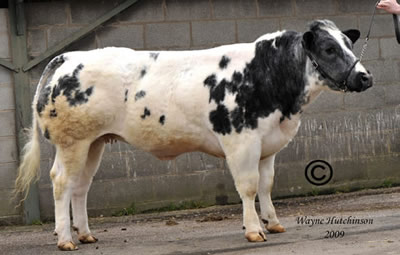 Boomer Chelsea sold for 4000gns
In the COMMERCIAL section, exhibitors from the length and breadth of the UK took advantage of Chelford's central location as an ideal place to sell their commercial British Blue crosses. Vendors travelled from as far afield as Dumfriesshire in the North and Devon in the South with most counties in between represented. The catalogued entry of just over 100 commercial crosses, many of which had real potential for the forthcoming show season, was well received by another packed ringside.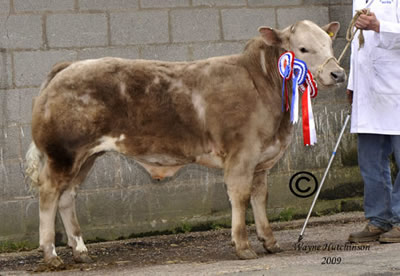 Res Champion commercial came from B Griffith
Leading the day's returns at £2050 with a very smart 9 month old steer was Brian Griffiths, breeder of the Pedigree Supreme Champion, from Powys, mid Wales. The steer had stood 1st in class and Reserve Champion at the previous day's show and clearly caught more than a few admiring glances. Fierce bidding ensued and the eventual winner was Mr BJ Pritchard who takes the steer back to Herefordshire from where no doubt we will see more of this exceptional animal in the months to come.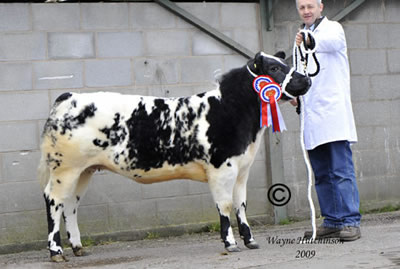 Champion commercial came from Frank Page
Frank Page is a name which has long been associated with the breeding of quality cattle with show potential. His reputation was upheld once again as Judge John Madeley of Herefordshire had no hesitation in awarding him Supreme Commercial Champion honours. This very stylish 9 month old heifer, being by the renowned Tamhorn Ringmaster, had the breeding and the looks to match. Competition was strong but it was eventually Mr Madeley who backed his judgment and purchased the heifer for £1940, for her to join an already impressive line-up of commercial cattle at the family's Herefordshire farm.
Trade remained strong throughout the day, the next highest price of £1720 coming for the last lot, a tremendous three quarter bred heifer from Herries Farms, Glencaple Dumfries. This very promising prospect being only 6 months old displayed real potential and was snapped up by the Dulson family of Malpas in Cheshire.
Auctioneer Jonathan Farrall commented "although overall quality wasn't of the standard we've seen in previous years, trade was very good and some impressive results were recorded. Heifers were an exceptional trade with many being possible breeding prospects for future show cattle. The top 10 heifers averaged £1415 compared with the top 10 steers at £1111. Importantly in these financially aware times Chelford had something to suit all pockets!"
AVERAGES:
53 PEDIGREE BULLS £4602.50
45 PEDIGREE FEMALES £2726.38
40 CROSSBRED STEERS £895.38
56 CROSSBRED HEIFERS £932.73
45 EMBRYOS £210.00


Leading Prices
Lot No.
Vendor
Gns
Purchaser
Males
44
PAGE BROS
12500
GASCOINE GROUP LTD Nottinghamshire
42
COATES
8200
R & F BARROW & SON Somerset
66
GRIFFITHS
7800
J E TRAFFORD Cumbria
47
WOOSNAM & MATHIAS
7500
D R MILBURN Cumbria
25
WILDE
7000
A D BISHOP Gloucester
53
WILDE
7000
M R SCOTT Nottinghamshire
56
BELLAS & SON
5800
DUNMAGLASS EST PARTNERS Inverness
35
MORGAN
5600
H HOLLAND Derbyshire
21
MORGAN
5000
D C REES Powys
48
MORGAN
5000
T H MELLIN Dumfries
60
WILSON
4900
G BROWN Devon
5
BELFIELD
4800
OWLANDS FARM Yorkshire
12
WILDE
4800
E EDWARDS Powys
32
BELLIS
4800
W R B JONES Powys
63
PHILLIPS
4800
N J WOOSTER Northampton
9
DEVERALL
4600
N DAVIS & SON Norfolk
29
HARTLEY
4500
R & F BARROW & SON Somerset
31
PHILLIPS BOCKLETON LTD
4500
W H BARKER N. Yorkshire
Females
114
JONES
6000
J I INNES Aberdeenshire
76
BELLAS & SON
5000
J I INNES Aberdeenshire
108
BELLIS
5000
M R SCOTT Nottinghamshire

Show Results
Pedigree Classes
Class 3 - Pedigree Male born before 7th September 2006
1st Lot 5 Boothlow Big Lad - K & J Belfield
Class 4 - Pedigree Male born between 8th September and 7th March 2007
1st Lot 17 Argoed Casper – R W & L A Jones
2nd Lot 10 Seaview Bertie – E & S Thomas
Class 5A - Pedigree Male born between 8th March 2007 and 28th May 2007
1st Lot 32 Betws Ceiriog – Gill & Rhys Bellis
2nd Lot 42 Greystone Carbon – Messrs J & E Coates
3rd Lot 29 Pendle Crackerjack – A M & E Hartley
4th Lot 31 Bockleton Blues Cassius – Ian & Jim Phillips
5th Lot 23 Brookfield Clifford – S & G A Potter & Son
Class 5B - Pedigree Male born between 1st June 2007 and 7th September 2007
1st Lot 56 Croftends Cannon – J E Bellas & Son
2nd Lot 53 Ridge Dean Cherokee – Michele Wilde
3rd Lot 44 Elkington Cowboy – Messrs Page Bros
4th Lot 47 Forest Charlie Chaplin – Mr C Woosnam & Miss T A Mathias
5th Lot 46 Birdswood Cannon – Mr T Okell
Class 6 - Pedigree Male born between 8th September 2007 and 7th March 2008
1st Lot 66 Penygelly David – B L &J E Griffiths
2nd Lot 60 New Close Captain – I E Wilson
3rd Lot 58 Woodlands Commander – Messrs N & M Beardsley
4th Lot 63 Balzer Cosworth – I V Phillips
5th Lot 69 Penygelly Dewi – B L & J E Griffiths
Class 7 - Pedigree Female born before 7th March 2007
1st Lot 76 Croftends Beau – J E Bellas & Son
2nd Lot 77 Stonewall Blossom – Mr James Lewis
3rd Lot 72 Blackmoor Antonia – Geoffrey Brown
4th Lot 73 Dragon Blue Angela – Mr G W & K Williams
5th Lot 75 Clarebrand Bunty – A E Neachell & Son
Class 8 - Pedigree Female born between 8th March 2007 and 7th September 2007
1st Lot 97 Oxcroft Cornelia – Messrs J & J Green
2nd Lot 89 Hawktree Celine – Geoffrey Brown
3rd Lot 88 Cromwell Classy Boots – A E Neachell & Son
4th Lot 99 Gregmaur Claire – Mr & Mrs D Gregory
Class 9 - Pedigree Female born between 8th September 2007 and 7th March 2008
1st Lot 114 Graymar Diamond – Mr Graham Jones
2nd Lot 103 Brookfield Christabel – S & G Potter & Son
3rd Lot 108 Betwys Cwyn – Gill & Rhys Bellis
4th Lot 113 Black & Blue Dizzy – Sally & Neil Lloyd
5th Lot 111 Greystone Danser – Messrs I & E Coates
Class 10 - Pedigree Female born after 8th March 2008
1st Lot 119 Cromwell Dakota – A E Neachell & Son
Supreme & Male Champion
Lot 66 Penygelly David – B L &J E Griffiths
Reserve Male Champion
Lot 56 Croftends Cannon – J E Bellas & Son
Female & Reserve Supreme Champion
Lot 76 Croftends Beau – J E Bellas & Son
Reserve Female Champion
Lot 114 Graymar Diamond – Mr Graham Jones
Commercial Classes
Class 1a and 1b (amalgamated) - Steers
1st Lot 245 B L & J E Griffiths
2nd Lot 286 Mr F Page
3rd Lot 246 A Haste & J Rooks
4th Lot 292 M J Wells & Son
5th Lot 290 Amanda Waugh
Class 2a and 2b (amalgamated) - Heifers
1st Lot 284 F Page
2nd Lot 233 D W & L E Morgan
3rd Lot 227 Miss A Williams & Mr M Saunders
4th Lot 283 F Page
5th Lot 232 D W & L E Morgan
Champion
Lot 284 F Page
Reserve Champion
Lot 245 B L & J E Griffiths
---