STORMING START TO THE YEAR FOR BRINGLEE BRITISH BLUES
On Friday 16th January 2009, Graham & Jane Brindley of the "Bringlee" Herd of British Blues, held their first production sale, at Borderway Mart, Carlisle. On very few occasions do you see such a tremendous show of cattle from one herd; They were a true credit to Graham, Jane & family, who were helped by other members of the Society, who all pulled together. This is a great reflection of the tremendous goodwill within the "Blue" Society.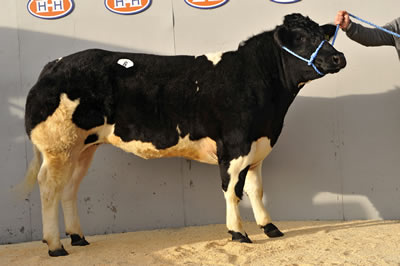 Bringlee Cherry sold for 11,000gns
Breeders were out in force and did not hold back in securing genetics so rarely offered for sale. Leading the females was Bringlee Cherry ET, a tremendous black & white heifer, by the magic cross of Baron Du Bois Bauloye and Bringlee Sandy. This May '07 born heifer, who surely has great potential as a brood female, was knocked down to Messrs. Phillips, The Shooting Lodge, Reading, Berkshire for 11,000gns.
Next in line at 9,000gns was Bringlee Crispy, another stunning black & white heifer, this time by Bringlee Waldo out of Bringlee Wanda. Crispy finds a new home with GW & KE Wallbank, Higher Moss House, Keasden, Lancaster.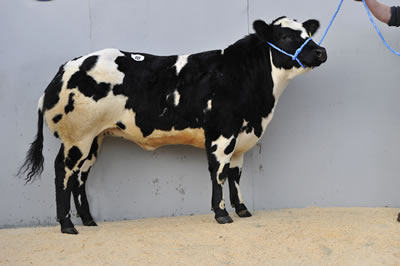 Bringlee Crispy - 9000gns
Three heifers reached the 7,000gns mark, firstly, with Bringlee Collette ET, another black & white heifer out of Bringlee Sandy, but this time sired by Cajoleur De Rettigny. She was snapped up by CR Raine & Sons, Stanhope Gate Farm, Middleton-in-Teesdale for their "Bluegrass" herd. Bringlee Doubliette ET, another classy, black & white Baron Du Bois Bauloye sired daughter, this time out of Oubliette 4244 De Haute Somme, also reached 7,000gns and was purchased by JH & SM Mason, Keasden Head, Clapham, Lancaster. Also at 7,000gns was Bringlee Dahlia ET. This January '08 born heifer is the oldest daughter of Bringlee Vandy, sired by Eternel De Dieu Seul. She should surely have great show prospects for her new owner, Graham Jones, Sunnyside Farm, Hadnall, Shrewsbury.
There was a tremendous demand for recipients, in calf, or with calves at foot. First, at 6,000gns was Bringlee Darcy ET, a very powerful almost black son of Bringlee Waldo, this time out of Burton Ulrika. Darcy, who sold separately to his recipient mother, finds a new home with TR Williams & Co, Rhiwonnen, Lampeter.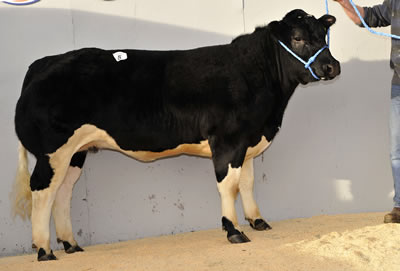 Bringlee Collette sold for 7000gns
Next at 5,200gns was a lovely, sweet, blue & white heifer calf, Bringlee Definie ET, this time sired by Graphite De Dessous La Ville out of Definie Et De Fooz. Already a show champion, Definie finds a new home with WJC Stewart, Bridge of Marnoch, Huntly, Aberdeen.
Leading the older bulls was Bringlee Connel Et, a strong, powerful son of the Baron Du Bois Bauloye/Bringlee Sandy cross. He was knocked down to Messrs. Hayton, Asby Grange, Great Asby at 5,000gns, for their suckler herd.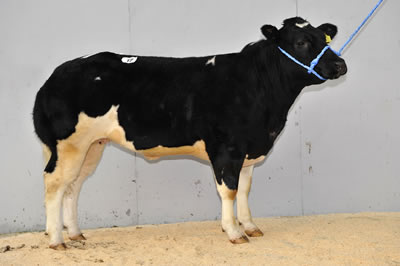 Bringlee Doubliette sold for 7000gns
Three bulls reached 4,000gns, first Bringlee Caradoc ET, another Cajoleur De Rettigny/Bringlee Sandy cross, who goes to MG & M Brough, Howgill Farm, Hesket New Market. Also at 4,000gns was Bringlee Clyde ET, a black, powerful son of Colibri Du Coin, again out of Bringlee Sandy. He finds a new home with noted suckler breeders, R Hall & Son, Inglewood Edge, Dalston. From the younger bull section, also at 4,000gns was the totally black Bringlee Clint ET. Clint was imported as an embryo from Belgium and is one of the few Davidson De L'Ecluse sons on the market. He was snapped up by KW Gamble, Brickyard Farm, Easingwold, York.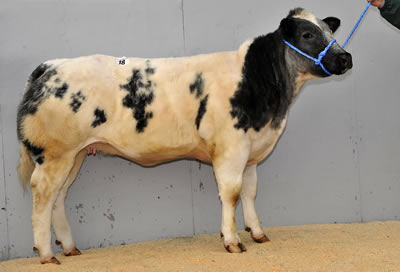 Bringlee Dahlia sold for 7000gns
Guest consignor, Paul Walker, also had a tremendous day. His leading price came from Crackley Bank Cosmo ET, another Bringlee Waldo son, this time out of the imported cow Fatale De Roupage. This long, black bull was purchased at 5,500gns by S & A Taylor, Dearne House Farm, Huddersfield. At 2,800gns and full brother to Cosmo, was Crackley Bank Conner ET, who sold to Messrs. Nichols, Taylor Hill Farm, Pickering. Paul also sold his cow & calf outfit, Chancellors Virgo and her bull calf Crackley Bank Danny, at 2,900gns to Richard Sunderland, Station Road, Aspatria.
Averages: Bringlee
18 Bulling & Maiden heifers £5,203.33
2 cows with calves at foot £4,042.50
18 Recips with calves at foot £3,214.17
13 Recips carrying embryos £2,415.00
8 Bulls £3,780.00

Averages: Crackley Bank
1 cow with calf at foot £3,045.00
2 Recips with calves at foot £2,205.00
2 Bulls £4,357.50
---