'Blue' Genetics Dominate
English Winter Fair
15th - 16th November 2008

At The English Winter Fair, held at Staffordshire County Showground, on Saturday 15th & Sunday 16th November 2008, British Blue genetics, dominated the show. Both the Supreme Champion and Reserve Champion, Reserve Champion carcass and the Baby Beef Champion, all contained British Blue genetics.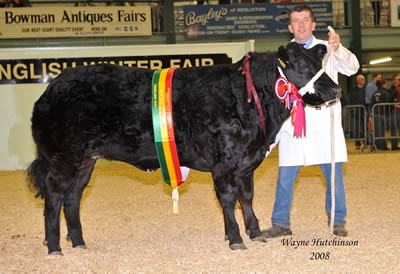 Charisma - The Supreme Champion from Colin & Wendy Phillips
The Live Cattle Champion, "Charisma" exhibited by Colin & Wendy Phillips of Sarnesfield, Weobley, Herefordshire, was sired by the British bred bull, Bringlee Waldo and out of a Limousin x cow. She was bred by Wendy Morgan & Trevor Price and was purchased by Colin & Wendy at the inaugural show potential sale at Brecon, in February for £950.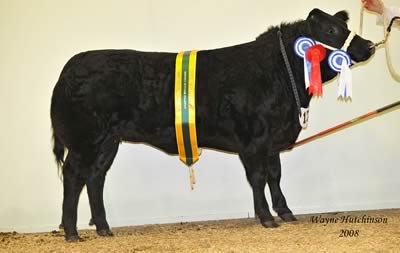 Limited Edition - The Reserve Champion from Phil & Sharon Sellers
The judges, Jonathan Maycock who judged the non-pedigree section and Barry Allsop who judged the pedigree section, were united in their decision. Jonathan of The Village Butchers, Matlock, Derbyshire described "Charisma" as being the perfect beast presented on the day, "She is sweet, full of meat and I 'fell in love with her' the minute she entered the ring." She sold later in the day for £4,000 and is believed to have been bought for showing.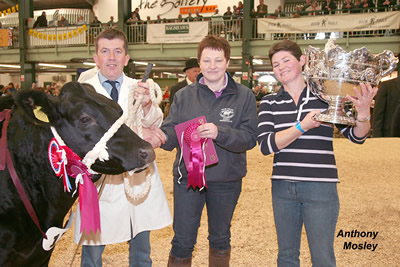 Presentation by Diane Hayton Society Administrator (centre) of British Blue Society's £1000 prize to the Supreme Champion, C & W Phillips' heifer "Charisma".
Standing reserve to her was "Limited Edition" a British Blue x heifer from Phil and Sharon Sellers. Limited Edition was sired by Annanwater Vince out of a Limousin cow. She was purchased at Ruthin for £2,500 and had stood Champion at the recent "Countryside Live" event in Harrogate. She will be retained for breeding.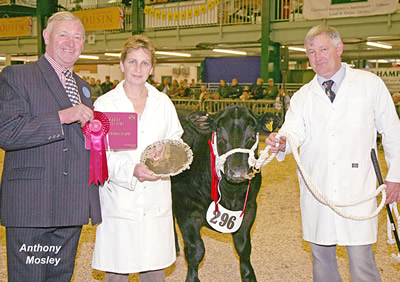 Presentation to Baby Beef Champion, Whiteley & Courts' steer Freddie Mac, L to R: Ian Wildgoose (judge), Diane Whiteley and Jim Courts.
It was "Blues" all the way again, with the Baby Beef Champion, who was by the Limousin bull out of a British Blue dam. "Freddy Mac" bred and exhibited by Dianne Whiteley and Jim Courts from Thirsk, North Yorkshire stood first in his class and the following day, went on to take the Championship.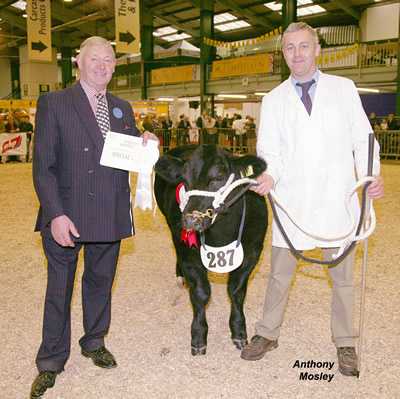 Presentation to Best Animal Sired by a British Blue, which was won by Frank Page with his steer "Six Pack" Presenting to him was the judge, Ian Wildgoose.
Frank Page also flew the "Blue" flag with his Reserve Champion carcass, a BB x South Devon.
Frank also won the special award for the Best Baby Beef Animal, sired by a British Blue and received £150 from the Society. His steer "Six Pack" was sired by Elkington Anchor, a Tamhorn Ringmaster son, out of a Lim x cow.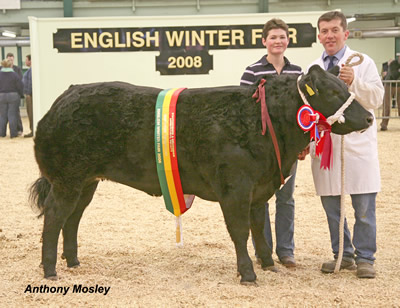 Supreme Champion with Mr & Mrs Phillips
The £250 Society prize for the Champion crossbred steer, went to Phil & Sharon Sellers with Big Bucks, sired by Wold Newton Rambo out of a Limousin cow. The Champion crossbred heifer was the Overall Supreme Champion, Charisma.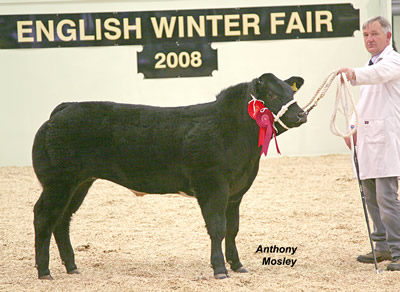 Baby Beef Champion with Jim Courts
In the Purebred Section David Plested won the Society prize of £150 for the Best British Blue, with Classy Bird, a January '07 born heifer, sired by Dafydd D'Ochain out of Ridge Dean Whisper.