Perth
Wednesday 8th February 2006
---
Eden Valley Vigour ET, out of Ridge Dean Nelly 2, by Tamhorn Sumo, was put up as Supreme Champion, by Judge, Jim Sloan from Kilkeel, Co Down, Northern Ireland, at the Perth Bull Sales.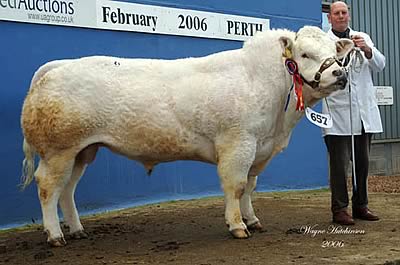 Eden Valley Vigour ET
Vigour went on, following feverish bidding, to realise 3,400 gns.
Annanwater Walrus, bred and exhibited by B K Ryder & Sons, took the Reserve Champion ticket and realised 2,800 gns in the ring.
Kenray Wallace exited the ring, leaving a broad smile with breeder & exhibitor Kenny Hill, having made 3,200 gns.
The overall average, for the small consignment of 5 bulls sold through the ring was £2,814.
Show results: -
Bull born on or before 1.5.03 & 30.11.03 –
1st – Eden Valley Vigour
2nd – Woodview Valour ET
3rd – Ruaig Victory
Bull born on or after 1.12.03 –
1st – Annanwater Walrus
2nd – Kenray Walace
Leading prices: -
Eden Valley Vigour 3,400 gns
Kenray Walace 3,200 gns
Annanwater Walrus 2,800 gns
Woodview Valour 2,000 gns
Ruaig Victory 2,000 gns
click on images to enlarge