Chelford
Saturday 5th March 2005
The Centre Record at Chelford for a Belgian Blue was smashed last Saturday at the 41st National Show and Sale on behalf of the British Belgian Blue Society.
Ballygrange Vinney - 11,600 guineas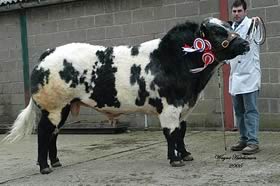 The April 2003-born Ballygrange Vinney, bred by Jim Sloan in Northern Ireland and sold by Andrew and Jonathan Bellas from Appleby-in-Westmorland, Cumbria had been placed as Supreme Champion at Friday's show by the Judge, Kate Fisher, and had been the hot topic of conversation at the subsequent barbecue. By sale time, expectations were running high. Bidding started at 5,000 guineas and rose sharply, with several breeders from various parts of the UK waving at auctioneer Gwyn Williams, before the final call of 11,600 guineas came from Alan Wheelwright from Cragg Vale, Halifax. Vinney was out of Ballygrange Roxy by Woodview Solo.
The first half of the Bull sale was conducted at frantic pace, with a packed ring of customers active for stylish, powerful bulls ready to work immediately.
Jane and Danny Wyllie had a super day, with two bulls from their Tamhorn herd exciting plenty of interest. With a third Production Sale of females arranged for October, their herd is attracting plaudits from a wide range of breeders, and it was the January 2003-born Tamhorn Venture, an Elkehard Van De Wolvendreef son out of the well-known Tamhorn Oriana, who made 5,000 guineas to C N Morphet, Austwick, Lancashire. Later on, Tamhorn Vagabond, an April 2003 bull, by Baron du Bois Bauloye out of the show-winning Tamhorn Milly, made 4,800 guineas to T P Clayton, Wetherby, West Yorkshire. Best of the younger bulls was the July 2003 blue and white Greystone Vulcan, from Stainforth, North Yorkshire breeders J & E Coates. By the noted Adagio Du Stordeur out of the Jardinier-sired Greystone Kream, he found a new home for 4,400 guineas with J H and S M Mason, Clapham, Lancaster.
Demand for some of the younger bulls was more hesitant, but anything well-grown found new homes without any trouble.
Female trade was spectacular throughout, with the ringside buzzing with anticipation as soon as the last bull was sold, leading to a 100% clearance.
Cumbrian breeder Mark Bousfield, from Helton, Penrith saw his class-winning Ridge Dean Royal Lady, due in June to Netherwood Umpire, make 3,300 guineas to J M Cooper, Dacre, Harrogate. 'Royal Lady' is out of the famous Ridge Dean Jessie by Inexes De La Croix De Mer. Stockport breeder Tom Galligan saw his imported young cow, Biscotte Neuve Cour, due in July to Bramhall Supreme; sell for 3,200 guineas to Paul Barwood, Great Yarmouth. 'Biscotte' is by the noted sire Osborne Van Terbeck and out of Riante 8366 Neuve Cour.
Demand for Maiden Heifers was red-hot. The Reserve Champion, and Female Champion again came from Cumbrian breeder, Mark Bousfield and made 2,700 guineas to J Mower, Spilsby, Lincolnshire. Widewath Valentine, born in September 2003, is by Pandoer Van Het Kasteel out of Ridge Dean Rita, who's own dam was the famous Ridge Dean Kosher. Another September 2003 heifer from Mark, Widewath Voluptuous, by Serieux de Fooz also made 2,700 guineas to Graham Burton, Brailsford, Derby.
A feature, however, was the superb trade for young heifers, with two Scottish breeders being well-rewarded for their long journeys with outstanding trade. Brian Ryder and Sons, from Moffat, brought a superb pen of Heifers and saw their December 2003-born Annanwater Verna make 3,100 guineas to L S Driver, Bradford, West Yorkshire. Verna is by Affute Du Ry Ossogne out of Cowden Princess. Their February 2004-born Annanwater Winnie, by Osborne Van Terbeck out of Ridge Dean Totty made 2,400 guineas to W S Bartram, Stafford.
John and Janet Green travelled from Aberdeen and their leading young Heifer, Oxcroft Willow, an ET calf, just 12 months old, by Lawns Chancellor out of Oxcroft Nymph made 1,800 guineas to Alan Bromyard, Nottinghamshire.
Champion Commercial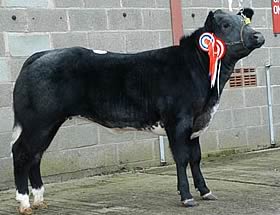 In a world without subsidies, one thing remains of the utmost importance; that is the price differential between the best cattle and everything else.
This was apparent once again in the crossbred section where Herefordshire breeder Nigel Pritchard took Championship Honours with a 10-month-old heifer out of a pure Limousin cow.
Father and daughter judging team Elgan and Emily Jones of Lampeter picked the heifer out of a class of 15 quality heifers and went on to back their judgement purchasing their Champion at £2,100.
Earlier in the day Elgan and Emily saw off a surge of interest for the Reserve Champion, a tremendous steer from Peter Bodily of Milton Keynes, which had caught the eye of several prospective purchasers. Frenetic bidding pushed the steer to £3,350 with the judges the eventual winners.
A dozen crossbred cattle cleared £1,000 by a considerable margin with showmen in attendance from the length and breadth of the country. Commercial steers and heifers looked reasonable value considering the present demand for store cattle.
Averages:
60 Pedigree Bulls £3,004.43
20 Pedigree Females £2,325.75
6 Pedigree Cows & Calves£2,108.75
82 Crossbred Steers £ 683.09
85 Crossbred Heifers £ 657.71
2 Crossbred Cows & Calves £1,100.00
18 Pedigree Embryos £ 325.50
Gallery - click on images to enlarge

Pedigree Champion

Champion Commercial

Commercial Champ

Preparing for sale

N Pritchard

Ring view

Sale of Champion

Young Welshman