ROYAL WELSH SHOW 2006
24th - 27th July 2006
---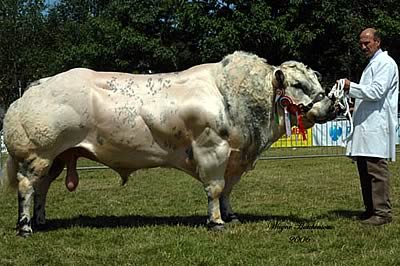 Wilodge Ulex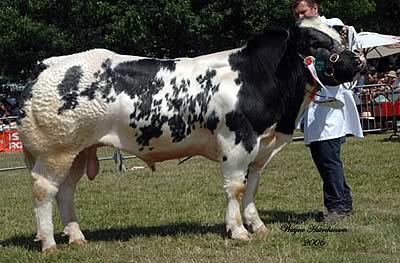 Ridge Dean Artaban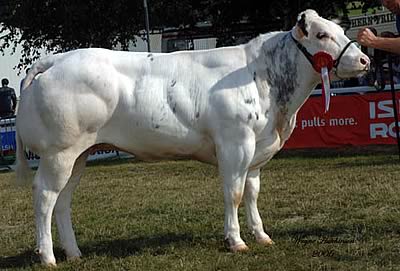 Anemone de Cras Avernas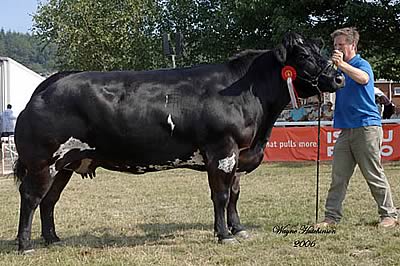 Bringlee Sandy
Henlli Victoria
RESULTS
Class 526 Belgian Blue Cattle, Bull, born before 31 December 2003

1 Miss C Williams WILODGE ULEX ET
2 R A & N J Wheelright BALLY GRANGE VINNEY
3 Mr Adrian Cooke NANTYDERRI VALIANT
Class 528 Belgian Blue Cattle, Bull, born on or between 1 January 2004 and 31 December 2004

1 W M Wanless WIDEWATH WHITE MOUNTAIN
2 J E Bellas & Son CROFT ENDS WONDERBOY
3 Mr J G Brindley BRINGLEE WALDO
4 D W & L E Morgan TY ISAF WARRIOR
5 I Evans SEIFION WENMAN
Class 529 Belgian Blue Cattle, Bull, born after 1 January 2005

1 Michele Wilde RIDGE DEAN ARTABAN
2 D W & L E Morgan TY ISAF ADFA
3 Mr Dermot Small PENDLE AUSTRALIA
4 Mr J G Brindley HABITANT DE BOMAL
5 Mr N P Pritchard NORTON ARCHIE ET
6 B L & J E Griffiths PENGELLY ADAM
Class 532 Belgian Blue Cattle, Female, in calf or maiden, born before 30 June 2003

1 Mr J G Brindley BRINGLEE SANDY
2 Andrew Craig WOODVIEW SUE ET
3 A Barnes RIDGE DEAN VALENTINE
4 Arwel Wyn Owen ENJOLEUSE ET DE FOOZ
5 R A & N J Wheelright WELTON VICKY
6 Mr T Mountford TAMHORN SUGAR
Class 534 Belgian Blue Cattle, Female, in calf or maiden, born on or between 1 July 2003 & 30 April 2004
1 Geraint V Williams HENLLI VICTORIA
2 D C & S P Evans BEILI WHISPER
3 Mr Dermot Small RIDGE DEAN WICKER
4 W M Wanless LAUREL LODGE VICKY
5 D W & L E Morgan TY ISAF VANILLA
6 Michele Wilde RIDGE DEAN WINDSOR
Class 535 Belgian Blue Cattle, Female, in calf or maiden, born on or between 1 May 2004 & 28 Feburary 2005

1 J E Bellas & Son CROFT ENDS WINNE
2 Geraint V Williams HENLLI WYNETTE
3 R M Birch FATIMA DU COIN
4 Mr J G Brindley BRINGLEE WINOVA
5 Jade Phillips BLAZER WATER LILLY
6 B L & J E Griffiths PENGELLY ABBEY
Class 536 Belgian Blue Cattle, Female, in calf or maiden, born on or after 1 March 2005

1 Mr J G Brindley ANEMONE DE CRAS AVERNAS
2 Miss C Williams WILODGE A FLEUR
3 Michele Wilde RIDGE DEAN ANOTHER BLUEY
4 R A & N J Wheelright WELTON ANITA
5 Andrew Price RIDGE DEAN AUNTIE ET
6 Mr T Mountford HARTLEY ARIANA ET
Class 537 Belgian Blue Cattle, Colborn Dawes Cup - Highest junior female
1 Mr J G Brindley ANEMONE DE CRAS AVERNAS
2 Miss C Williams WILODGE A FLEUR
Class 538 Belgian Blue Cattle, BBBCS Trophy - Best female exhibit

1 Mr J G Brindley BRINGLEE SANDY
2 Geraint V Williams HENLLI VICTORIA

Class 539 Belgian Blue Cattle, Progen Welshpool Trophy - Exhibitor from Wales

1 G V WILLIAMS "Henlli" prefix
Class 540 Belgian Blue Cattle, Champion
Champion WILODGE ULEX ET
Reserve BRINGLEE SANDY
M & S Elite Junior Bull Championship
Ridge Dean Artaban - Michele Wilde
Premier Breeder Award - Michele Wilde
Premier Exhibitor Award - Mr J G Brindley
Chelford Commercial Success at Royal Welsh Show
The Supreme Champion Commercial Animal at the Royal Welsh Show was won by a Belgian Blue cross Limousin cross Heifer.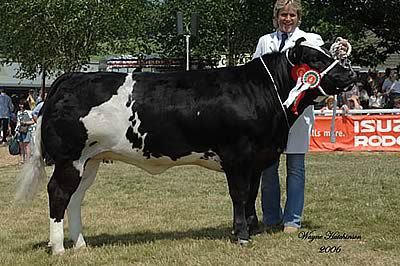 Smarty Pants
"Smarty Pants" a June 2005 heifer was exhibited by Gilbert Brook and won the heifer class; 410 kilo and over; before going on to claim the supreme championship.
Bred by Frank Paige, sired by Tamhorn Ringmaster, Smarty Pants was purchased at Chelford.