Beeston Spring 2008
BOOTHLOW BATMAN - 9200gns
HEADS OVER 90% CLEARANCE AT BEESTON

Even with Auctioneers, Frank Marshall & Co., being forced to move their 47th National Show & Sale for the British Blue Cattle Society to Beeston, as a result of the arbitrary control measures introduced by DEFRA following the Bluetongue disease outbreak, there was no let up in trade, as the sale produced very similar results to last March.

Vendors and purchasers from all over the UK and Ireland were able to purchase freely at Beeston, which is located within the current Clean Zone, as opposed to purchasers at Chelford being restricted to those from within the Surveillance Zone, a state of affairs that everybody in the industry, bar the DEFRA scientists, seem to find somewhat ridiculous.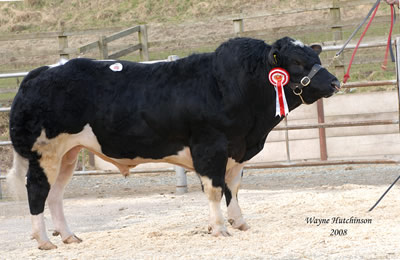 Top price bull was Boothlow Batman from K & J Belfield, which made 9200gns
It was a great day for local producers, Keith and Janet Belfield, from Buxton, Derbyshire. They regarded Boothlow Batman as the best bull they have ever produced in their herd and he had an outstanding show season in 2007. He was placed Reserve Male Champion at Saturday evening's show and attracted a huge amount of pre-sale interest. Batman was sired by Affute, out of the Hazelwood Freshman daughter, Boothlow Rachel and was unbeaten at local shows in the Midlands last year. Auctioneer, Gwyn Williams, oversaw frantic bidding from the start, before he knocked Batman down for 9,200 guineas to Messrs. Davies & Millichap, Tonyrefail, Mid Glamorgan, who are quietly building up an excellent quality herd at their South Wales base.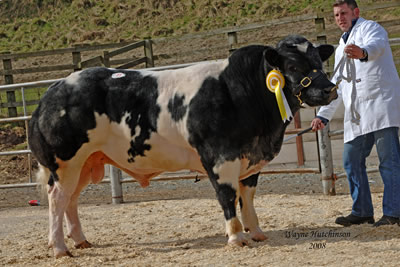 Tim Bodily sold Llanymynach Bonanza for 5600gns
Fellow South Wales breeders, Tim & Kitty Bodily from near Abergavenny, saw their Llanymynach Bonanza, a Gitan son, make 5,600 guineas to Jonathan Hall, Youlgrave, Nr. Bakewell, Derbyshire. Last season's Junior and Overall Male Champion at The Royal Welsh Show, Bringlee Banjo, an Immense son from Graham Jones, Hadnall, Shrewsbury, made 5,400 guineas to D. Stephen & Son from Turriff, Aberdeen.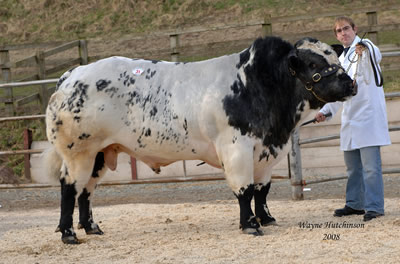 Bringlee Banjo from Graham Jones and bred by JG Brindley sold for 5400gns
Another young Welsh Borders breeder, Richard Aston from Cleobury Mortimer in Worcestershire, had continued success with his January, 2006 born bull, Astrics Blizzard, a son of the great Philipper and out of another Hazelwood Freshman sired dam, Velvet, who made 5,200 guineas to Messrs. Anderson, Elgin, Morayshire, moving into Blue breeding, following the dispersal of their large dairy herd.

Messrs. Hartley from Nelson in Lancashire had further success with their homebred bull, Pendle Bobby, by their stock bull, Blue Stone Union Jack and out of the Outilleux bred Pendle Tulip, who made 5,100 guineas to regular crossbred vendors, Messrs. Barrow of Bridgewater, Somerset.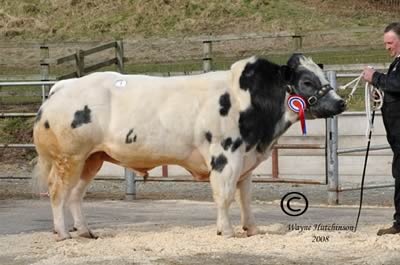 Overall Champion - Paulern Amsterdam
The Overall Show Champion, chosen by this year's Judge, Doug Hazel, of the Hazelwood herd in Buckinghamshire, was Paulern Amsterdam, a Raciste son out of the Seduisant sired Urma, from Gloucestershire breeder, Ernie Hemmings. He sold for 4,200 guineas to TM and EE Williams, Nantygeifr Farm, Llanidloes, Powys.

Demand for bulls was terrific throughout, with many prices exceeding vendor's expectations, particularly for powerful, deep-bodied bulls with good mobility.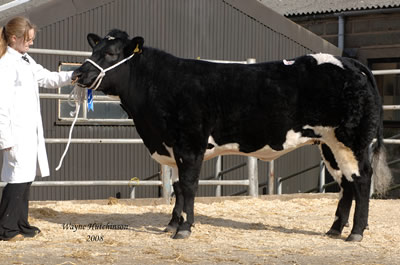 Balzer Black Magic a heifer from from IV Phillips made 8500gns
Once the sale moved on to the females, the atmosphere proved electric throughout; with a huge number of regular breeders augmented by several recent converts to the breed. Young heifers with potential were, in particular, fiercely sought-after, with West Wales breeders, Messrs. Phillips, from Llandysul, Ceredigion, showing an outstanding black heifer, Balzer Black Magic, again sired by Gitan and out of a Baron cow, Penfro Tantalize. She was shown successfully in local shows last year and seemed to have a large crowd around her pen for most of the preceding day. When she entered the ring, bidding kicked-off at 5,000 guineas and quickly rose sharply to 8,500 guineas, when she was snapped up by Ros Withers from Truro, Cornwall, who also bought another heifer from Messrs. Phillips, Balzer Black Beauty, PD'd in-calf to Franchi De La Bonne Raie, for 3,150 guineas.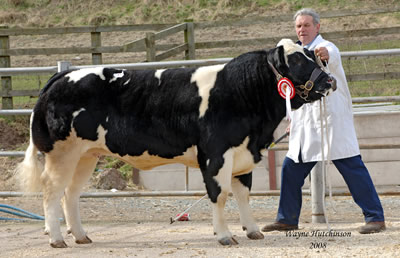 Gregmaur Benita from D Gregory sold for 5200gns
Regular Chelford supporters, Messrs. Gregory from Leicestershire, always put forward some sound powerful animals and this time achieved a top price of 5,200 guineas for their Raciste sired heifer, Gregmaur Benita, again out of a Hazelwood Freshman cow, Regina. She sold to Messrs. Phillips, Reading, Berkshire, whilst another regular Chelford vendor, Nigel Pritchard from Herefordshire saw his January 2007 born superb young heifer, Norton Cariad, by Dafydd D'Ochain out of a Philipper daughter, Ludlow Tequila, make 4,800 guineas to crossbred vendor John Cope from Wiveliscombe, Somerset.

The Female Championship was won by Christine Williams, Shifnal, Shropshire, with her January, 2001 born show cow, Wilodge Tofleur, by As De Trefle and out of the 5,000 guineas Wilodge Ofleur. A full sister to the great show bull, Wilodge Ulex, she was herself a Junior Champion at The Royal in 2002 and, sold open, she made 3,200 guineas to Jim Innes, Huntly, Aberdeenshire. Her daughter, Wilodge Afleur, by Visconti, stood Reserve Female Champion and, again sold open, made 4,000 to Andrew Ewing, Lockerbie.

Junior heifers were particularly in demand, with another yearling heifer, this time from Roger & Boomer Birch, Boomer Chanel, born in February 2007 and sired by Blak Du Baty, making 2,900 guineas to John Quick, Crediton, Devon. Several other yearling heifers made well over 2,000 guineas, and there is no doubt that the Blue breed is attracting plenty of admirers.

Boomer Birch also scored a notable success in the sale of Crossbred Blues, which followed, taking the overall top price.

Arguably one of the finest entries of commercial cattle seen at this sale in recent years came under the gavel of Auctioneer, Jonathan Farrall. The entry appealed to a range of prospective purchasers from throughout the UK who showed their support for this sales fixture, able to take full advantage of the remaining vector free period.

Show potential cattle were in strong competition throughout despite an uncertain show season ahead. A very respectable 13 cattle topped the magical £1000 mark, and 4 realised over £2000.

Respected Northants showman Frank Page is no stranger to the winner's enclosure and had a tremendous weekend once again awarded Supreme Champion Crossbred honours by the judge John Hall of Carlisle. A worthy champion by the famous Ringmaster and just 11months old, the heifer created an unbelievable amount of pre-sale interest however, it was clear that Emily Jones was taking the heifer home with her no matter what and she joins the Coedmore Hall show team at £2050.

Prices for heifers remained strong throughout especially those with the potential as future breeding heifers. Nigel Pritchard produced the day's top priced heifer from his Norton herd, 12 months old and out of his best pedigree cow this very stylish heifer set the ring alight with interest and sold to Messrs Bodily, Abergavenny for £2150.

A powerful heifer from West Midlands showman Paul Walker really rung the bell, again, frenetic bidding from the North and South West but there can only be one winner, this time it was Alan Wheelwright at £2000.

In the steer section Reserve Champion and top price of the day were the preserve of Boomer Birch with his outstanding dark blue yearling. Frenetic bidding ensued for the steer with many buyers thinking "this is mine" Judith Fountaine made sure of it and at £2450 the steer makes its way to Milton Keynes and will be the one to watch for the forthcoming show season.

The only in-calf commercial came from Mrs J. B. Smith, a fantastic white 7/8ths British Blue PD'd positive to the Limousin for August. She sold to Mr. P. Dulson, Malpas for £1550.

The Auctioneers commented that "after all the disruption of 2007, it was very pleasing to hold such a successful sale. Cattle at this level of quality are in relatively short supply however, and as the sale had something to suit all pockets, a successful days trading ensued, with virtually a complete clearance in both Pedigree and Crossbred sections."
view more photographs>>

Averages:

63 Pedigree Bulls £3132
36 Pedigree Females £2597
72 Crossbred Steers £ 786
67 Crossbred Heifers £ 795
20 Pedigree Embryos £ 262

Leading Prices:
Bulls
Lot
66 Boothlow Batman ET 9200
77 Llanymynach Bonanza ET 5600
31 Bringlee Banjo 5400
26 Astrics Blizzard ET 5200
44 Pendle Bobby 5100
Females
Lot
122 Balzer Black Magic 8500
118 Gregmaur Benita 5200
129 Norton Cariad 4800
105 Wilodge Afleur ET 4000
96 Wilodge Tofleur ET 3200

Commercials
Lot
330 Blue x Limousin Heifer– Boomer Birch 2450
216 Blue x Limousin Steer – F Page 1220
251 Blue x Limousin Steer – N Pritchard 1220
228 Blue x Bazadaise x – JL & DA Davies 1150
227 Blue x Blue x – JL & DA Davies 1100
Show Results
Class 1 - Crossbred Steer (Split at 11 months and under)
Class 1A
1st
278
Mr M J Wells & Son
2nd
225
Miss N Beardsley
3rd
345
Mr H Harvey & Son
4th
344
Mr H Harvey & Son
5th
246
Messrs E C Haste
Class 1B
1st
330
Mr R M Birch
2nd
234
Mr P R Dawes
3rd
229
Mr P R Dawes
4th
228
Messrs J L & D A Davies
5th
251
Mr N Pritchard
Class 2 - Crossbred Heifer (Split at 11 months and under)
Class 2A
1st
230
Mr P R Dawes
2nd
232
Mr P R Dawes
3rd
326
Messrs D & H Williams
4th
327
Messrs D & H Williams
5th
247
Messrs E C Haste
Class 2B
1st
215
Mr F Page
2nd
214
Mr F Page
3rd
350
Mr H Harvey & Son
4th
349
Mr H Harvey & Son
5th
219
Mr P Walker
Class 3 - Pedigree Male born before 8th September 2005
(only 4 forward)
1st
7
Paulern Amsterdam
E R Hemmings
2nd
8
Paulern Adair
E R Hemmings
3rd
5
Gregmaur Aztec
Mr & Mrs D Gregory
4th
6
Gregmaur Azure
Mr & Mrs D Gregory
Class 4 - Pedigree Male born before 9th September 2005 and 8th March 2006
1st
21
Ridge Dean Bomber
Michele Wilde
2nd
26
Astrics Blizzard
R A Aston
3rd
25
Hillside Bunty
Mr GL Morgan
4th
11
Twyning Ash Apollo
Mr R & Mrs J Carter
5th
28
Hazelwood Blake
M & M Hughes
Class 5 ( Split into three classes with approx 8 - 9 in each class - youngest cattle in first class etc.)
Class 5A
1st
41
Arcanna Bertie
A & E Deverall
2nd
39
Newpole Belt N Braces
Mr R J White & Mrs J M Turner
3rd
33
Tamhorn Barney
D & J Wyllie
4th
36
Quinbury Braveheart
Peter Bodily
5th
42
Almeley Barnaby
Mr G L Morgan
Class 5B
1st
47
Greystone Bingo
Messrs J & E Coates
2nd
52
Ridge Dean Buckaneer
Michele Wilde
3rd
46
Arcanna Baloo
A & E Deverall
4th
44
Pendle Bobby
A M & E Hartley
5th
49
Ridge Dean Bobby
Michele Wilde
Class 5C
1st
66
Boothlow Batman
K & J Belfield
2nd
73
Croftends Bronco
J E Bellas & Son
3rd
77
Llanymynach Bonanza
Mr & Mrs Tim Bodily
4th
70
Oak Tree Believeable
J H Pedley
5th
72
Paulern Braymar
E R Hemmings
Class 6 - Pedigree Male born between 9th September 2006 and 8th March 2007
(only 4 forward)
1st
81
Bringlee Bonzo
Mr J G Brindley
2nd
83
New Close Bingo
I E Wilson
3rd
85
Stoneleigh Billy Wizz
Mr E C Haste
4th
90
Bringlee Calvin
Mr J G Brindley
Class 7 - Pedigree Female born before 8th March 2006
(only 4 forward)
1st
96
Wilodge Tofleur
D A Williams
2nd
105
Wilodge Afleur
D A Williams
3rd
101
Astbury Walnut
Mr J Barber
4th
107
Balzer Black Beauty
I V Phillips
Class 8 - Pedigree Female born between 9th March 2006 and 8th September 2006
1st
118
Gregmaur Benita
Mr & Mrs D Gregory
2nd
122
Balzer Black Magic
I V Phillips
3rd
109
Hawktree Britany
Geoffrey Brown
4th
121
Croftends Beau
J E Bellas & Son
5th
120
Annanwater Beonica
Ryder Farming
Class 9 - Pedigree Female born between 9th September 2006 and 8th March 2007
1st
126
Oak Tree Bright Star
J H Pedley
2nd
129
Norton Cariad
Mr Nigel P Pritchard
3rd
127
Solway View Becky
Mr Kevin Watret
4th
124
Solway View Blossom
Mr Kevin Watret
5th
128
Astbury Clippy
Mr J Barber
Champion Heifer & Overall Champion Crossbred - 215
Champion Steer & Reserve Champion Crossbred - 330
Pedigree Champion Male & Supreme Champion - 7
Pedigree Champion Female & Reserve Supreme Champion - 96
Pedigree Reserve Male Champion - 66
Pedigree Reserve Female Champion - 105