Chelford
Saturday 3rd March 2006
CHELFORD'S MULTI-NATIONAL SALE OF BLUES AVERAGES UP OVER £1,200 - TOP 8,600gns
The 45th National Show & Sale held at the Chelford Centre by The British Belgian Blue Cattle Society, was one of the most exciting seen in the 25 years of the Society's existence in the UK.
Arcanna Alfie (Lot 47) - highest priced bull - 8600 guineas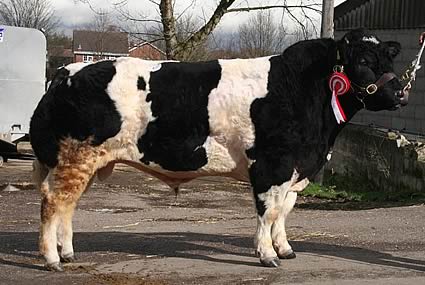 The packed ringside at the Friday evening's Show was just a taster of the huge crowds to be gathered around the pens and sale ring on Saturday morning, the largest gathering of breeders and customers seen at a pedigree livestock event at Chelford in many, many years. The sale quickly assumed a multi-national dimension, the first bull in the ring being sold to the Isle of Man, the highest priced animal going to the Orkneys, and cattle leaving the sale destined for Southern and Northern Ireland; Spain; Italy; Holland; as well as to all parts of Scotland, Wales and, of course, England. Virtually every entry into the ring attracted lively bidding throughout the sale, with Auctioneers Gwyn Williams and Jonathan Farrall, who shared the selling on behalf of Marshalls, working hard to pick up the huge number of bidders from a sale ring which remained packed from start to finish.
The day's top price of 8600 guineas was paid for the May 2005 born, Arcanna Alfie, a powerful well muscled black and white bull by the renowned AI sire, Twyning Ash Troy, out of a homebred cow, Arcanna Vida. One of the first bulls to be offered for sale by Messrs. Deverall, he attracted considerable interest in the show ring, winning his age group class, on the previous evening and was taken home to the Isle of Orkney by David Eunson.
Messrs Deverall were presented with the Clive Godden Trophy, for the best homebred pedigree from the Central Region.
Herefordshire breeder, Nigel Pritchard, a regular consigner to the Chelford sales, achieved 7300 guineas for his leading bull, Norton Allnight Raver, by the Visconti sired Almeley Percy and out of Bannister Naïve. This bull, also black and white, had also attracted considerable interest and headed for County Antrim, Northern Ireland with Andrew Alexander.
Regular Chelford customers, Ian and Andrew Wilson, from Hollington, Staffordshire, have only started their Belgian Blue herd in recent years and the first bull to be sold from their New Close herd, New Close Amos, born in July, 2005 and sired by the Royal Show winning Three Ways Superstar, demonstrated considerable power and muscling. He made 6100 guineas to Messrs. Sims, Critchlow, Derbyshire. Breed stalwart, Ted Haste from Shebbear, Devon, took first place in the intermediate bull class with Black Moor Ally, another superb, powerful, black and white bull, from a naturally calving line, and saw him make 5600 guineas to Matt Townsend of Colne, Lancashire. Ally was sired by Park Turbo out of the Hazelwood Freshman sired cow, Black Moor Posh.
At 5500, Messrs. Hartley from Nelson, Lancashire, saw the leading bull from their Pendle herd, the March 2005 born, Pendle Archibald, sired by Blue Stone Union Jack, go home to Malton, North Yorkshire, with Messrs. Beal, whilst Peter Bodily, who has been involved in the breed for many years, saw his bull, Quinbury Adverturer, one of the first bulls to be sold under his own prefix make 5000 guineas to The Little Farming Company, Sandringham, Norfolk. This powerful almost black bull, was sired by Ridge Dean Razz out of Ridge Dean Tashia, who's sire was Ridge Dean Mahogany.
Springfield Asher (Lot 14) - Supreme Champion & Champion Male - 4000 guineas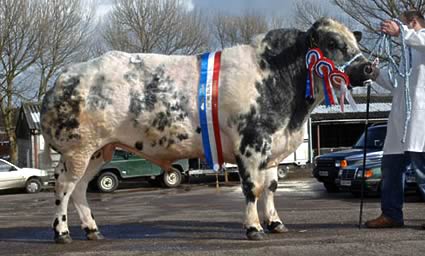 The Supreme Champion, and Champion Male, at this show was Springfield Asher, a January 2005 born bull by Dafydd D'Ochain, out of the Inexes sired Springfield Pepsi, put forward by Alan and Deirdre Wilkinson from Out Rawcliffe, Lancashire. Show Judge, Alan Cleland, who stepped in at the last minute for the incapacitated Jim Sloan, chose this bull as his Champion for its power and style and, at sale time, saw it make 4000 guineas to Messrs. Garside, Slaithwaite, Huddersfield.
The Chelford Blue Sales have long had a reputation for attracting a huge number of customers for pedigree Blue females and this year was again no exception.
Andrew & Jonathan Bellas, from Appleby in Cumbria, regularly put forward something special for the Chelford sales and this year it was an outstanding January 2006 born heifer calf, Croftends Bonnie, who attracted all the attention in both show and sale rings. By Dafydd D'ochain, and out of the Phillipper sired Lismannan Sally, this superb black heifer was placed first in the Junior Heifer class on Friday evening and there was a palpable buzz around the ring when she came forward at sale time. Bidding rose rapidly to 8500 guineas, at which point she was knocked down to a delighted Anita Padfield, from Great Yarmouth, Norfolk.
Croftends Bonnie (Lot 98) highest priced heifer - 8500 guineas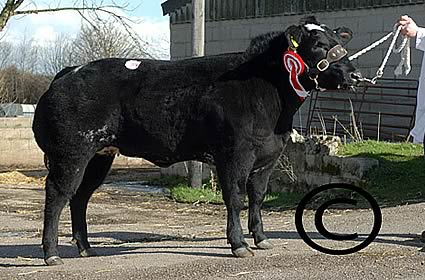 First in the Intermediate Heifer class was Richard Aston's Astrics Ash, an April 2005 born heifer by Baron Du Bois and out of the Ridge Dean Mahogany sired cow Astrics Vanilla. Displaying tremendous style, she made 5000 guineas to Messrs. Driver & Son, Bradford, West Yorkshire. Also heading to Yorkshire, this time with Alan Wheelwright of Cragg Vale, Halifax, was Annanwater Valerie, a December 2003 born heifer, brought forward by David & Kevin Watret, from Annan, Dumfries. She was sired by the famous Affute du Ry Ossogne, warranted in-calf to Gitan Du P'Tit Mayeur, and went on to make 4800 guineas.
Having had such an excellent trade with his bulls, Nigel Pritchard was again celebrating when his February 2005 born, in-calf heifer, Norton Almeley, by Park U Panda, made 3100 guineas, to The Little Farming Company, Sandringham.
The Female Champion, Oxcroft Upsy Daisy from Messrs. John & Janet Green from Ellon, Aberdeen, made 2300 guineas, travelling back to the north of Scotland with Messrs. Innes, Huntly, Aberdeenshire. Upsy Daisy was sired by Caprice de St Fontaine, out of Broomfield Poppy.
When we moved on to the CROSSBRED cattle, and given the present demand for quality store cattle outstripping supply by a considerable margin, it was no surprise to see the packed ringside experienced throughout the pedigrees remaining for the duration of the sale of 160 quality Blue crosses.
Although the headline grabbing four figure prices were absent from this years sale, purchasers travelled from throughout the UK, Republic and Northern Ireland, as well as purchasers taking advantage of the large entry of premium quality for the export market. The resulting trade was nothing short of "on fire", with averages up by £100 on both steers and heifers and the vast majority of cattle realising prices way in excess of vendor's expectations.
Lot 164 Champion Commercial Steer - £1800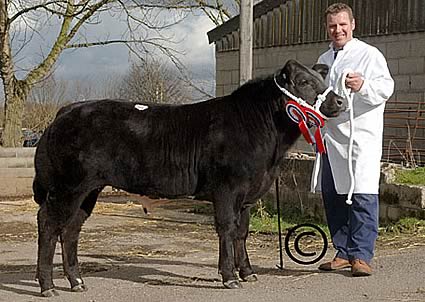 The judge at the previous evenings show, Stephen Graham of Brampton Carlisle, had the unenviable task of placing the large classes brought forward to the show ring. He eventually chose his champion, a smart 9-month-old black steer from staunch Chelford supporters, Messrs Ryder of the Annanwater herd, the steer selling to Kevin Watret, Dumfries for £1800.
Lot 306 Champion Commercial Heifer - £1750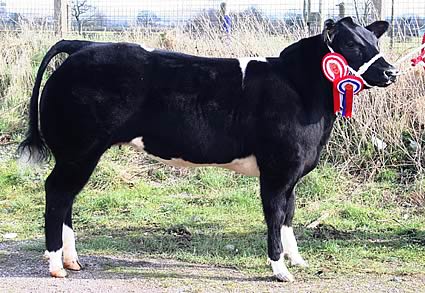 Winning the heifer class and Reserve Champion crossbred was a very pretty heifer from the Dinmore Manor Estate of Paul Dawes. The heifer had clearly drawn more than one admiring glance as she held the buyers right until the end of the sale making £1750 she makes her new home with the Little Farming Co Ltd on the Sandringham Estate.
Top price in the crossbreds and thoroughly deserving a mention was John Cope who made his maiden voyage to Chelford from Wiveliscombe, Somerset. The journey home was much more pleasant; John's Belgian Blue x Bazadaise heifer led the day's prices at £1950 selling to Mr TH Talbot of Stafford.
Averages:
57 Pedigree Bull - £3526.09 (+£1,226)
31 Pedigree Females - £2607.50 (+£773)
63 Crossbred Steers - £830.17 (+£129)
60 Crossbred Heifers - £847.24 (+ £106)
7 Crossbred Cows with calves - £1995.00
23 Pedigree Embryos - £310.80
---

Springfield Asher, 4000gns

Champion commercial £1800

Quinbury Adventurer, 5000gns

Black Moor Ally, 5600gns

Champion female commercial, £1750

Arcanna Alfie, 8600gns

Norton Allnight Raver, 7300gns

New Close Amos, 6100gns

Annanwater Valerie, 4800gns

Astrics Ash, 5000gns

Croftlands Bonnie, 8500gns