The 3rd Tamhorn Production Sale
15 October 2005



'BEST OF THE BLUES' ATTRACTS BREEDERS TO CHELFORD

Two leading bids of 10,000 guineas, and a bid of 8,700 guineas for an 8-month old heifer were the highlights of an outstanding sale at Chelford on Saturday 15th October 2005 for three of the country's leading breeders of British Belgian Blue cattle.

The importance of this sale, held at the Chelford Centre, for so long the home of the British Belgian Blue Society's National Shows and Sales, was illustrated by the presence of a large contingent of bidders from Northern Ireland and Scotland, as well as from all corners of England and Wales. Indeed, after only three lots, auctioneer Gwyn Williams commented that he had already received bids from all four countries within the United Kingdom.

Unanimite de Cras Avernas - 10,000gns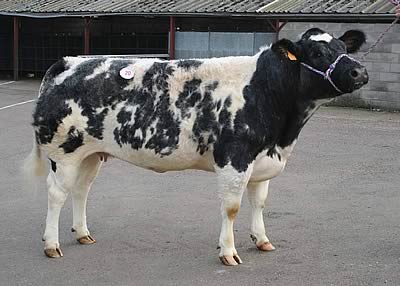 First up at 10,000 guineas was the imported blue-and-white heifer Unanimite de Cras Avernas, from the Tamhorn herd of Jane and Danny Wyllie, who were holding the 3rd production sale from their show-winning herd. By Danseur d' Embise out of an Affute daughter, Poupette, Unanimite displayed great style and power (weighing 730kg) and is due to produce her first calf at the end of January to the Royal Show-winning Tamhorn Sumo. Adam Neachell, of Aldridge, West Midlands, made the final 10,000 guineas call to take her home to his developing Cromwell herd.
Boomer Witney - 10,000gns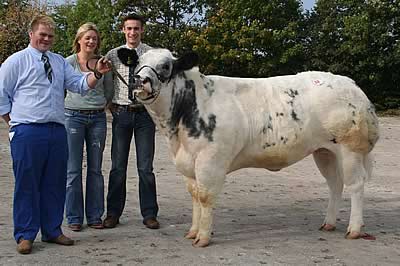 The second heifer to make 10,000 guineas was Boomer Witney, from Roger Birch and family, Stafford. Her entry to the sale ring had been eagerly anticipated for some months, following her continued outstanding successes on the show circuit across England and Wales. Championships at the Royal and Royal Welsh, as well as at a host of county shows, had made this January 2004-born daughter of Cubitus du Pre Rosine out of the Ubidet-sired cow Fabriole, a hot target for many breeders, once it became known that she was to be offered for sale.
Once she entered the ring, bidding started at 5,000 guineas and rose swiftly to 10,000 guineas, at which price Philip Halhead made the decisive bid on behalf of his Norbreck herd, from Cockerham, Lancashire.
Tamhorn Anastasia - 8,700gns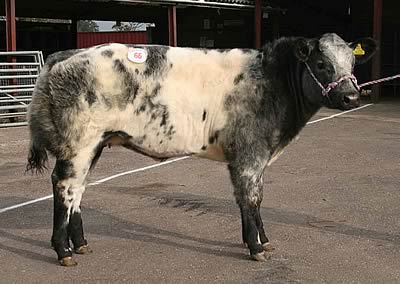 It was a superb selection of early 2005-born heifer calves, however, which really caught the eye, and the sale of Tamhorn Anastasia at 8,700 guineas which really set the ring alight.
One of the first daughters of Dafydd D'Ochain to be offered for sale in the UK, she was the first by him out of the great cow Leverhulme Nimbus, thereby making her a half-sister to Sumo.
Showing great width, depth and overall style, this February 10th-born blue roan calf had been admired by many in the pens prior to sale. Bidding was fast and furious and it was Adam Neachell again who finally secured her at 8,700 guineas for his Cromwell herd.
Just prior to her sale, two embryo sisters by Cristal de Somme out of Norbreck Kitty had also attracted heavy interest. Full sisters to the show heifer Tamhorn Oriana, they had been named after the Wyllie's two daughters - Wee Roma went to Shebbear, Devon with Andrew Haste for 4,700 guineas, whilst Wee Daisy stayed in the family, with Peter Mallaber, of Drakelow, Derby at 4,600 guineas.
Top-priced heifer from the Gloucestershire-based Paulern herd was Paulern Ulrika, a December 2002-born daughter of Affute out of the naturally-calving home-bred cow Lasborough. Served in early September to Sumo, and PD'd positive, she made 3,000 guineas to R J Lewis, Presteigne, Powys.
Best of the Astbury herd consignement was the June 2003-born Valentine, a Cristal de Somme daughter out of Sabrina and a grand-daughter of the Royal Show-winning Astbury Lily. In-calf to Patriarche et Charlevaux, she made 2,600 guineas to Messrs White and Turner, Wellington, Somerset.
A selection of young bulls was also offered by the Tamhorn and Paulern herds. Leading bid of 3,000 guineas came for Tamhorn Woodstock. By Affute, out of the great Noella van de Wolvendree, he went home with Messrs Wade, Keighley, West Yorkshire, whilst leading the entry from the Paulern herd was Paulern Vast, a 2003-born son of Tamhorn Sumo out of Paulern Little Dean, who made 2,200 guineas to D G James, Welshpool, Powys.
Along with his pedigree females, Society Chairman, Jim Barber, also offered for sale a number of crossbred cows with blue cross calves at foot, having had to reduce his numbers as a result of losing some of his land.
Top price of £730 was for a blue cross cow with bull calf at foot, and 16 weeks back in-calf to Patriarche et Charlevaux.
Averages
Tamhorn
Females £ 3,328.50
Males £ 2,625.00
Astbury
Females £ 1,855.00
Crossbred Cows with Calves £ 556.67
Paulern
Females £ 1,288.00
Young Bulls £ 1,658.00
Boomer
1 Heifer £10,500.00