The Wilde Ones do it Again
The Wilde about Blues Part 3 Sale from the renowned Belgian Blue breeder Michele Wilde of Ridge Dean Farm, Dean Farm Lane, Soulbury, Nr Leighton Buzzard, Beds, Along with guest consignments from The Twyning Ash Herd of Richard & Julia Carter, Twyning Ash, Uley Lane, Coaley, Dursley, Glous and The Widewath Herd of Mark Bousfield, 7 Townend Croft, Clifton, Penrith, Cumbria, took place at Borderway Mart, Carlisle on Friday 29th July.
Ridge Dean Wilful - 9000gns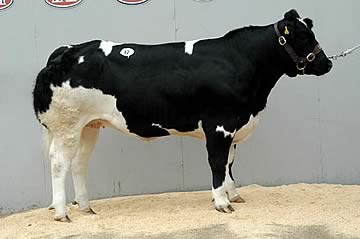 Top call was 9,000gns twice first for an Artiste De La Gaiete daughter out of the good breeding cow Ridge Dean Navette, Navette being daughter of that great breeding cow Ridge Dean Jessie. The heifer called Ridge Dean Wilful ET was purchased by David Cormack on behalf of D Small, 3 Irvington Close, Kilkeel, Co Down.
Miss Victoria Workman of 97 Deerpark Road, Kilwaughter, Larne, Co Antrim signed the cheque to secure the next heifer at 9,000gns. This time Ridge Dean Jessie was the dam and she was sired by Serieux De Fooz, Ridge Dean Wild Gem ET was the heifers name and she was one of the four heifers sold from the same flush with those four heifers averaging £6,195.00 and claimed the next three top prices.
At 5,000gns came Ridge Dean Wisdom ET a Serieux /Jessie daughter and was later bought by James Annett, 34 Ballymagart Lane, Kilkeel, Co Down the same purchaser also forked out 4,800gns to secure the same breeding in the form of Ridge Dean Wondering Gem ET.
Ridge Dean Wild Gem - 9000gns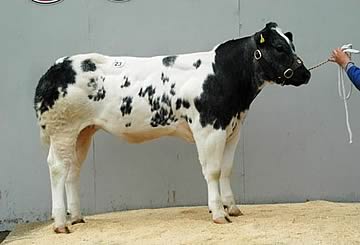 Another of the same breeding also made 4,800gns Ridge Dean Wellbread ET this time M/s RA&NJ Wheelwright, Crow Hill Farm, Waterstalls Lane, Cragg Vale, Halifax were the purchasers.
In the price line up, the top ten prices all featured Ridge Dean Jessie either as the Grand Dam of the Dam this great breeding cow is now in her fourteenth year, sadly this may have been the last offering of Jessie daughters.
Two bulls were sold from the Ridge Dean herd both having Jessie as the grand Dam and Navette as the dam, at 5,600gns came the stock bull Ridge Dean Razz ET an October 99 son of Inexes De La Croix De Mer paid by C&J Kearton, Museum View, Boldron, Barnard Castle the same purchaser who also paid 4,200gns for Ridge Dean Valour out of the same female line but sired this time by Osborne Van Terbeck.
The guest consignment from Richard & Julia Carter's Twyning Ash herd topped at 4,000gns for Twyning Ash Vaughan an November 2003 son of Astbury Taurus signing the cheque for this dark coloured bull was MJ Lucas, 154 Sevenmile Straight, Antrim, Co Antrim. Another bull from this herd was Twyning Ash Vermont a dark blue and white bull again sired by Taurus was knocked down at 3,600gns to A&J Nairn of Clashmoir, Glenlivet, Ballindalloch, Banffshire. Next in the price line up at 3,000gns came Twyning Ash Valerie an October 2003 daughter of Astbury Taurus found her new home with Messrs Wheelwright.
Twyning Ash Vaughan - 4000gns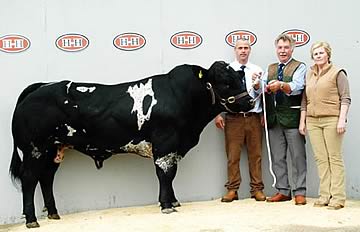 3 young calves, on recipient cows were forward from Mark Bousfield of the "Widewath" Herd. Two March born calves by Netherwood Umpire sold for 1600gns & 1500gns and a Nonours De Wihogne calf sold to 2300gns.