---
Belgian Blues Ride Supreme against Stiff Competition
Cheers all round on the Belgian Blue stand, with the Supreme Champion of the show!!
The Belgian Blues swept all the opposition to one side with a superb win at the National Primestock Show and Sale at Bingley Hall with 'Miss Elite', (145), a Dec 2001 crossbred Belgian Blue heifer out of a Limousin, owned by Mr. D Winney, bred by Woods and Son and exhibited by the 'Black N Blue' show team of Sally and Neil Lloyd. 'Miss Elite' was bought out of the Autumn 2002 sale at Bishops Castle.

Belgian Blue genetics scored again in the Champion Steer classes with both Champion and Reserve being out of Belgian Blues. The Champion 'Red Hawk', (197), exhibited by Mr. and Mrs M J Alford, and bred by P Bodily. The Reserve being 'Butchers Boy' (213), exhibited by J Maycock and bred by A Davies; this animal being purchased out of 'Chelford in March of this year.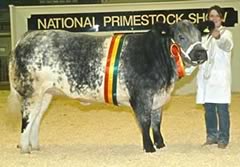 Miss Elite
In the Cattle Carcase Competition, the 'Heifer, pure or Crossbred, not exceeding 310 kgs was won by Frank Page, Elkington, with a Belgian Blue sired carcase by the renowned 'Tamhorn Ringmaster'. The reserve champion in this class was also sired by 'Ringmaster' and presented by Frank Page.
The 'Steer, pure, crossbred not exceeding 350 kgs was again won by Frank Page with a carcase out of a Belgian BlueX dam. Gaining a 3rd ticket in the Young Bull class, not exceeding 320 kgs was a carcase, exhibited by D W Jones by, once again a Belgian Blue Sire.

Belgian Blue Society member and breeder, Frank Page going home with the 'John Lloyd Perpetual Memorial Salver' for the 'Champion Overall Carcase'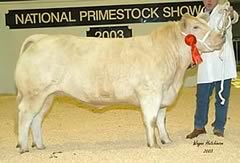 Champion Belgian Blue came from D&J Newton with Boston Unique, by Springfield Patrice.
' Miss Elite' claims the British Blue Cattle Society and the Agri-Lloyd International Ltd prize, both for £1000 each, for the owner, Mr. D Winney.

' Belgian Blues had a very good show at Bingley, holding up very well against stiff competition', commented Neil Lloyd of the 'Black N Blue' Team.


The success at Bingley Hall was icing on the cake for Sally and Neil Lloyd of the 'Black N Blue' Show Team. Out of 24 outings this season they have come home with 21 championships; a record very much to be proud of.
The Pedigree Belgian Blue Championship was won by Ben Newton with 'Boston Unique' by the Alan and Deirdre Wilkinson bred bull, 'Springfeld Patrice'.
| | |
| --- | --- |
| | |
| Miss Elite with Sally Lloyd being judged | Boston Unique being judged with Ben Newton |
| | |
| --- | --- |
| | Society Stand proudly sponsored by 'University of Central Lancashire - Cumbria Campus at Newton Rigg' |
| | |
| --- | --- |
| The Society Stand at the National Primestock Show and Sale at Bingley Hall, Staffordshire. | |