BELGIAN BLUES AT PORTADOWN
20th March 2002

Sale Report

The popularity of the Belgian Blue reached new heights in Ulster this week, as red hot demand for bulls resulted in a record average for an entire sell out.

Suckler producers and dairy farmers sat together around the packed ring-side, all of which had their sights firmly set on acquiring a Belgian Blue stock bull for their farm enterprises. This was emphasised in the remarkable average price of £2804, the highest for any breed in the Province this season and the highest average price for Belgian Blues in the United Kindgom to-date.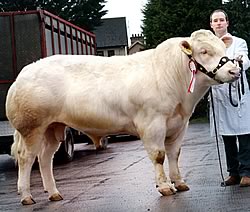 Top Price - Chatham Supreme
It was Jack and Anne Morrison's Chatham Herd which led the way in the price stakes when their son of Lenborough Oliver commanded the top sales return of 3800 guineas. Chatham Supreme was placed first in his class by judge, Alan Cleland, Downpatrick and was a strong contender in the Championship line up. There had been tremendous interest in this marvellous all white bull, combining tremendous size for age with style and mobility.
His sire Lenborough Oliver has proved to be a highly successful stock bull in the Chatham Herd, having produced the top-selling animals at the last two Belgian Blue Shows and Sales. He has also enjoyed a notable show ring career having notched up Male Champion and Reserve Supreme Champion at Balmoral Show in 2000.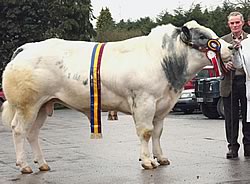 Reserve Supreme Champion - Chatham Samson
Hot on the heels of this at 3500 guineas was another superb bull from the Chatham Herd. Chatham Samson is another son of Lenborough Oliver and out of a Garanti De Maurage dam. This bull also laid claim to a first prize rosette, en route to collecting the Male and Reserve Supreme Championship awards. The Ulster Bank sponsorship was distributed by Robert McMurray and David Ervine.
The second bull in the ring, Rathlyon Raymond, also caused a stir, realising 3300 guineas for vendor Gordon Buchanan, travelling from Lisbellaw. There was great power in this mighty black & white bull, who has already proved himself with quality calves on the ground. Greystone Jackpot was behind this well muscled bull and he was out of an imported dam.
It was back to the Chatham Herd for the final member of their team, this time sired by another household name Railway View Hector. Chatham Sandy changed hands at 3050 guineas, with the trio of bulls levelling at a terrific £3623 each.

All of the Morrison bulls were supported by weight recording data, featuring calving values of up to BB2C.
Brian Brodison secured 3050 guineas for his smart all white bull Drumey Rex ET. This willing seller, travelling from Dungannon, had two full brothers in the sale, with the other entry fetching 2250 guineas. These were sired by Bison de Somme and out of Springhill Minky, bred by Martin Bros, Newtownards.
Adrian Richardson cashed in a son of Totem de Chocquenee, Hillview Sean, for 3000 guineas from his noted Hillview Herd based at Maguiresbridge. This weight-recorded bull had great calving figures with a value of BB2C.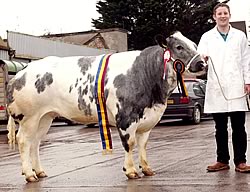 Supreme Champion - Knowehead Rachel
The Supreme Champion was a very smart October '99 born heifer, brought out by first time exhibitor, Nathaniel Small, Randalstown. Having already proved to be a successful donor for flushing, this daughter of Seduisant De Fooz failed to meet her reserve.
RESULTS FROM THE SHOW RING
Class one: Bull born in 1999
1st
Brian Brodison, Dungannon
Drumey Rambo ET
2nd
Gordon Buchanan, Lisbellaw
Rathlyon Raymond
3rd
Brian Brodison, Dungannon
Drumey Rex ET
Class Two: Bull born 1st Feb - 30th June 2000
1st
Jack Morrison & Son, Armoy
Chatham Samson
2nd
Richard Elliott, Fivemiletown
Foglish Seth
3rd
Robert McCormick, Fintona
Baronagh Blues Sylvester
Class Three: Bull born 1st Jul - 30th Nov 2000
1st
Jack Morrison & Son, Armoy
Chatham Supreme
2nd
Adrian Richardson, Maguiresbridge
Hillview Sean
3rd
Olive Robinson, Fintona
Sherwood Steve ET
Class Four: Cow
1st
AT & MJ Lucas, Crumlin
Lukeroyal Molly ET
Class Five: Heifer
1st
Nathaniel Small, Randalstown
Knowehead Rachel
2nd
AT & MJ Lucas, Antrim
Lukeroyal Razzamatazz
3rd
AT & MJ Lucas, Antrim
Lukeroyal Ragdoll ET
Supreme Champion
Nathaniel Small
Knowehead Rachel
Res. Supreme
Jack Morrison
Chatham Samson
Commercial Champion
Mel Lucas
Leading Sale Prices – Bulls
| | | |
| --- | --- | --- |
| Jack Morrison & Son | Chatham Supreme (Lenborough Oliver) | 3800 gns |
| Jack Morrison & Son | Chatham Samson (Lenborough Oliver) | 3500 gns |
| Gordon Buchanan | Rathlyon Raymond (Greystone Jackpot) | 3300 gns |
| Jack Morrison & Son | Chatham Sandy (Railway View Hector) | 3050 gns |
| Brian Brodison | Drumey Rex ET (Bison de Somme) | 3050 gns |
| Adrian Richardson | Hillview Sean (Totem de Chocquenee) | 3000 gns |
| Richard Elliot | Foglish Seth (Classique de St Lambert) | 2700 gns |
| Olive Robinson | Sherwood Steve ET (Odillio van de Boshoek) | 2550 gns |
| Richard Elliott | Foglish Sammy (Savant De Pierrecome) | 2500 gns |
| Olive Robinson | Sherwood Simon (Odillio Van De Boshoek) | 2450 gns |
| Robert McCormick | Baronagh Blues Sylvester (Totem de Chocquenee) | 2100 gns |
| Brian Brodison | Drumey Rambo (Bison de Somme) | 2250 gns |
| Olive Robinson | Sherwood Robin (Odillio Van de Boshoek) | 2100 gns |
| Terry Rooney | Carmeen Supreme (Affute Du Ry Ossogne) | 2050 gns |
| Gerald Coulter | Penninsula Samson (Woodview Mentor) | 1450 gns |
15 bulls averaged £2804