ROYAL WELSH SHOW 2008

Due to Bluetongue restrictions there were fewer cattle exhibited than in previous years and it meant an all Welsh line-up with, unfortunately, several Welsh herds also unable to compete. This did not affect the high standard however and the judge, Jim Barber, was happy to compliment everyone on the quality of the British Blue cattle shown in 2008.
The Supreme and Female Champion was Lukeroyal Bimbo owned and exhibited by Adrian Williams. This was amazing success for Adrian, who was showing his heifer for the first time. She is a November 06 daughter of Twyning Ash Vaughan out of Lukeroyal Valentine.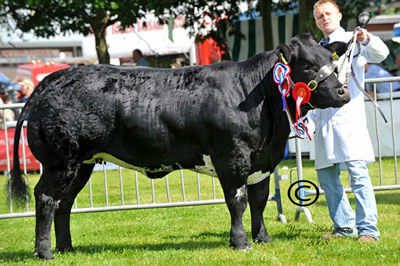 LUKEROYAL BIMBO
Reserve Supreme and also winner of the Colborne Dawes Cup for the highest place junior female was Ty Isaf Cointreau. Bred and exhibited by Wynne & Linda Morgan she is a March 07 daughter of Danseur D'Embise out of Ty Isaf Rhiwelen . She was shown by Sabrina Morgan who went on to gain 4th place in the Marks & Spencer Young Handler competition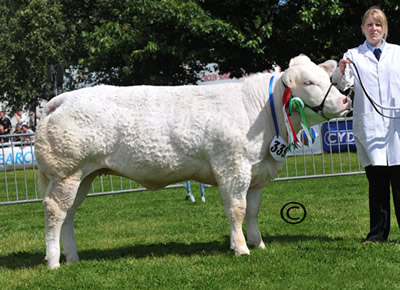 TY ISAF COINTREAU
Junior Male and Male Champion was Henlli Casanova, a son of Baron du Bois Bauloye out of Bringlee Sandy. Casanova was also Reserve Champion Marks & Spencer Junior Elite Bull. This highlighted a very successful show for Geraint Williams' Henlli herd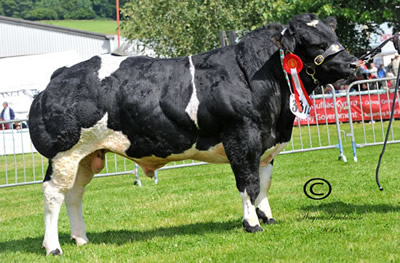 HENLLI CASANOVA
The presentation of the trophies was made at the enjoyable Monday evening BBQ held at the British Blue stand. This was followed by Rhys Bellis, Club Vice Chairman presenting a surprised Linda Morgan with a British Blue cow and calf figurine in recognition of her years of hard work and dedication as Club Secretary. The prize tickets were then drawn for the raffle, which had been held during the evening and finally an auction for two remaining dishes of trifle and a bowl of cream! We would like to thank everyone who took part in the raffle and auction and hopefully a good time was had by everybody present.
RESULTS
Class 526 Bull, born after 1 January 2007
1 Geraint V Williams HENLLI CASANOVA ET 3372
2 GS & NW Owen TYDDYN CANNON ET 3374
3 I Evans SEIFION CHAMPION 3373
4 I Evans SEIFION CAPTEN AP DAFYDD 3369
5 GS & NW Owen TYDDYN CHARLIE ET 3375

Class 527 Tithebarn Cup – Highest Placed junior bull
1 Geraint v Williams HENLLI CASANOVA ET 3372
2 GS & NW Owen TYDDYN CANNON ET 3374

Class 528 Bayer UK Shield – Best male exhibit
1 Geraint v Williams HENLLI CASANOVA ET 3372
2 GS & NW Owen TYDDYN CANNON ET 3374

Class 529 Female, in calf or maiden, born before 30 June 2005
1 Jade Phillips BALZER WATERLILLY 3380

Class 530 Coopers Animal Health Trophy – Best senior female
1 Jade Phillips BALZER WATERLILLY 3380

Class 532 Female, in calf or maiden, born on or between 1 May 2006 & 28 February 2007
1 Adrian Williams LUKEROYAL BIMBO 3387

Class 533 Female, in calf or maiden, born on or after 1 March 2007
1 DW & LE Morgan TY ISAF COINTREAU 3393
2 Geraint V Williams HENLLI CRYSTAL ET 3402
3 Geraint V Williams HENLLI CATRIN ET 3397
4 DW & LE Morgan TY ISAF CHAMPAGNE 3447
5 Ceirian Jones BRINGLEE CANDY 3401
6 DW & LE Morgan TY ISAF CAMPARI 3394
7 Ceirian Jones BRINGLEE CUPID 3400
8 I Evans SEIFION CHARDONEY 3391
9 I Evans SEIFION COUNTESS 3392

Class 534 Colborn Dawes Cup – Highest placed junior female
1 DW & LE Morgan TY ISAF COINTREAU 3393
2 Geraint V Williams HENLLI CRYSTAL ET 3402

Class 535 BBBCS Trophy – Best female exhibit
1 Adrian Williams LUKEROYAL BIMBO 3387
2 DW & LE Morgan TY ISAF COINTREAU 3393

Class 536 Progen Welshpool Trophy – Exhibitor from Wales
1 Geraint V Williams
2 DW & LE Morgan

Class 537 Champion British Blue
1 Adrian Williams LUKEROYAL BIMBO 3387
2 DW & LE Morgan TY ISAF COINTREAU 3393

Premier Breeder & Exhibitor Awards
Exhibitor – Geraint Williams – Henlli Herd
Breeder – Geraint Williams Henlli Herd
---