Castlewellan - Biggest "Blue" Show of the Year!

The Castlewellan Show, in Northern Ireland, held on Saturday 18th July 2009, provided a fantastic turnout of British Blues, both in numbers and superb quality, with some 72 cattle forward. Most class entries were in the teen's, which presented the judge, Steve Pattinson, from Carlisle, Cumbria, with a very pleasant challenge. Steve commented "This was an outstanding show of cattle and a real honour and pleasure to be asked to judge."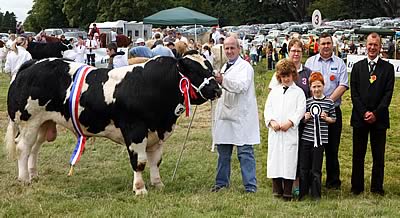 Champion – Ballyhossett Duke L/R Jason Edgar Jennifer Edgar, Ellie & Matthew Edgar, Kieran Holywood – (Ulster Bank sponsors representative) and Steve Pattinson – Judge

After many keenly contested classes, Steve chose, as his Supreme Champion, Ballyhossett Duke, from Jason & Jenifer Edgar's Herd. This April '08 born, black & white Empire D'Ochain son, was exceptionally well-grown, with great muscle, mobility and style. His dam was Knockagh Whoopee.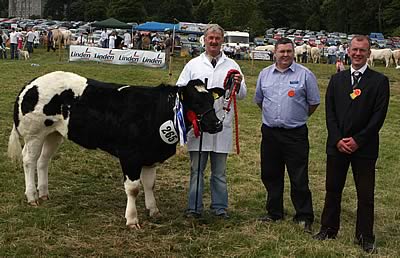 Reserve Champion – Snowy Ridge Dallas from James & Gloria Annett, L/R James Annett, Kieran Holywood – (Ulster Bank sponsors representative) and Steve Pattinson - Judge
For the Reserve Champion, Steve went for youth, choosing the very stylish, 13-month old, black & white heifer, Snowy Ridge Dallas, sired by Woodview Solo and out of Woodview Vanessa, from James & Gloria Annett.

Both of these animals have a bright future in the breed.


The Ivan Porter – Osmonds British Blue Young Bull Championship

Also taking place at the Show was the Ivan Porter/Osmond's Bull Derby. 11 quality bulls, who had qualified at various shows across Northern Ireland, filled the ring, as they were paraded in front of the judge, Cyril Martin, President of the Irish Society. The Championship was awarded to Clonmore Ben, an October '07 born son of Baron Du Bois Bauloye, out of Clonmore Violet. Runner up was Andrew Craig's Woodview Collon.
A feature of this years show was the strong calf classes and young handlers. This youthful support surely bodes well for the future of our breed.
The Northern Ireland Blue Cattle Club came 1st in the Club Breed Promotion category and this, combined with the largest breed entry at the show, made for a very successful and proud day for the British Blues.
RESULTS
Class 167: Junior Bull born on or after 01/01/07 and before 18/07/08
1st: Ballyhossett Duke – Jason & Jennifer Edgar
2nd: Woodview Collon – Andrew Craig
3rd: Daniel Rogers – Ballykeel Diesel

Class 168: Senior Bull born on or before 30/09/07
1st: Faughanvale Champion - William Adams

Class 169: Junior Heifer born on or after 01/10/07 and before 18/07/08
1st: Snowy Ridge Dallas – James Annett
2nd: Woodview Cart – Andrew Craig
3rd: Greenfield Cynthia – Basil Dougherty

Class 170: Senior Heifer born between 01/10/06 and 30/09/07
1st: Woodview Britney – Andrew Craig
2nd: Clougher Confetti – Zara Chestnutt
3rd: Slemish View Claire – W J Ervine

Class 171: Cow born on or before 30/9/07
1st: Clougher Wilma (with calf at foot) – Zara Chestnutt
2nd: Springhill Barbie – Martin Bros
3rd: Bessy Bell Winnie – John Young

Class 172: Bull Calf under one year of age on day of Show
1st: Ballyalgin Diesel – Jonathan Neill
2nd: Ballygrange Dandy - Jim Sloan
3rd: Springhill Eddie – Martin Bros

Class 173: Heifer Calf under one year of age on day of Show
1st: Ballyhossett Eventually – Jason & Jennifer Edgar
2nd: Clougher Dot – Zara Chestnutt
3rd: Snowy Ridge Duchess – James & Gloria Annett

Class 174: Pair of British Blue cattle, property of one exhibitor and entered in above classes
1st – Clougher Camilla & Clougher Confetti – Zara Chestnutt
2nd: Snowy Ridge DJ & Snowy Ridge Domino – James & Gloria Annett
3rd: Ballee Dolomite & Ballee Dombinator – Alan Cleland

Class 175: CHRISTIES DIRECT Young Handler Class - Aged 8 - 13 years
1st: Emma Rodgers
2nd: Martin Rodgers
3rd: Jenny Gordon

Class 176: CHRISTIES DIRECT Young Handler Class - Aged 14 – 18 years
1st: Andrew Adams
2nd: David Dougherty
3rd: Anthony McGuinness

Supreme Champion: Ballyhossett Duke – Jason & Jennifer Edgar
Reserve: Snowy Ridge Dallas – James & Gloria Annett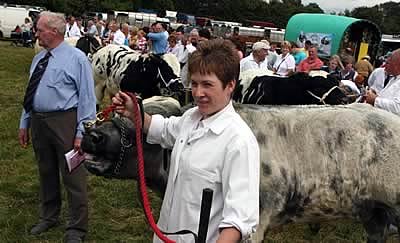 Zara Chestnutt in the showring with Johnny Young looking on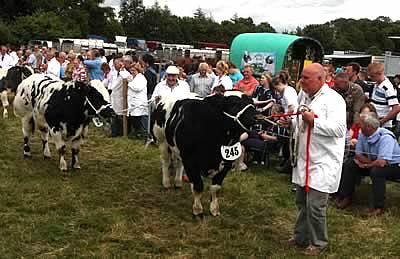 Exhibitors in action, with Jim Sloan's show accommodation in the background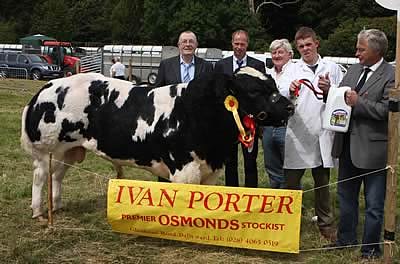 Supreme Champion - Bull Derby, Clonmore Ben, from Oliver McGuiness - L/R George Durnham - Irish Shows Association, Cyril Martin - Judge, Irish Shows Ass. Steward, Anthony McGuiness and Ivan Porter (Osmonds) sponsor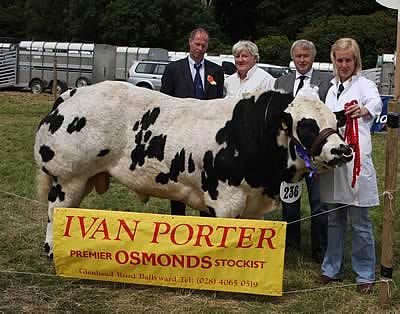 Reserve Champion - Bull Derby Woodview Collon from Andrew Craig - Judge Cyril Martin, Irish Shows Association Steward & Linsey Lawrence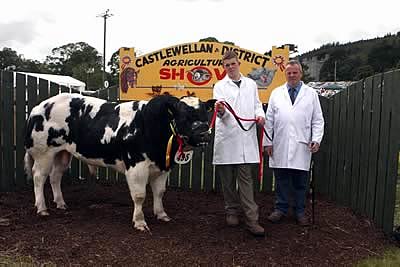 Oliver & Anthony McGuiness with Clonmore Ben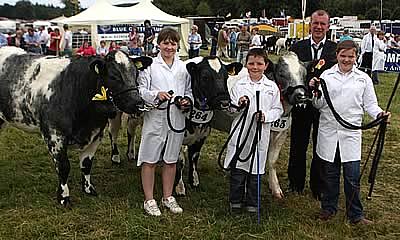 Junior Young Handlers' L/R Emma Rodgers, Martin Rogers & Jenny Gordon, with Judge, Steve Pattinson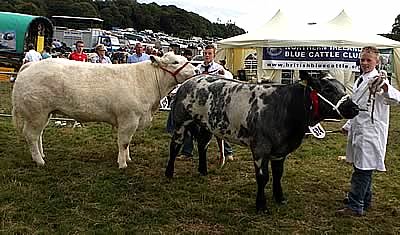 Senior Young Handlers' L/R Andrew Adams & Anthony McGuiness with the Northern Ireland Blue Cattle Club stand in the background
For further details please contact: -

Harold McKee, Secretary, The Northern Ireland Blue Cattle Club t.028417 64493 – hmckee@live.co.uk