Norbreck Calf Competition 2008

Corrina and Ivan Gordon swept the boards at the Norbreck British Blue NI Calf Competition at Moira on Saturday 16th August 2008 taking the Supreme Championship, Norbreck Cup and three first in class rosettes home to Kilkeel.
As a month's rainfall fell in 12 hours a youthful and enthusiastic audience packed the spacious Moira Arena as judge Jock Wylie placed three calves from the Gordons' Springbank British Blue Herd in poll position.
All sired by Ballygrange Alex, the bull bred by Society Chairman Jim Sloan of Kilkeel and since sold at Carlisle's Borderway Mart for 12,000 gns to Danny Wylie of Tamworth, Staffs.
The Norbreck Reserve Champion and Champion Bull was shown by the Crawford Brothers from Fermanagh.
Commenting, the judge praised the excellent organisation of this NI Blue Cattle Club event and the very high quality of stock presented. "Several of the winners today will, I predict, go on to major success nationally and at least one will have a major impact on the ultimate beef breed, the British Blue, in years to come. Today's supreme champion is a truly outstanding heifer, "
Jock, a native of Ayr, adding that the progress made by British Blue Cattle in this past 10 years is truly remarkable with the standard in Ulster comparing very well with other regions.
Results
Heifer less than three months old;
1. William Heatherington, Sixmilecross, 2. Andrew Craig, Coleraine, 3. James Annett, Kilkeel.
Bull less than three months;
1. Wm Heatherington, 2. A Craig, 3. Martin Brothers, Newtownards.
Heifer three to six months old;
1 & 2, Jim Ervine, Newtownabbey, 3.Richard Simpson, Ballymena.
Bull three to six months;
1. Crawford Brothers, Maguiresbridge, 2. Ernest Gregg, Ahoghill, 3. Jason & Jennifer Edgar, Downpatrick.
Heifer six to nine months
; 1. Corrina & Ivan Gordon, Kilkeel, 2. A Craig, 3. Martin Bros.
Bull six to nine months;
1. Martin Brothers, 2. Jim Ervine, 3. A Craig.
Heifer nine to 12 months;
1. C & I Gordon, 2. Jim Ervine, 3. Martin Bros.
Bull nine to 12 months;
1. C & I Gordon, 2. Wm. Heatherington, 3. A Craig.
HANDLERS
Cathy Leivers from Staffordshire had an even more difficult task judging 'The Meat Joint' Young Handlers Competition following the calf event.
The sheer number of enthusiastic, young people taking part clearly impressed Cathy, as did the standard of overall presentation. Though Cathy did note that one or two young people competing with calves that were not their own would have benefited from a better briefing on the animal's background. Just another few hours spent with the animal they planned to compete with would have helped these individuals do even better Cathy suggested.
"Overall the standard was most impressive and Northern Ireland Young Handlers are at least the equal of their peers elsewhere in the UK and a credit to their families."
The Meat Joint NI Blue Club Young Handlers winners were;
Under eight years old;
1. Ellie Edgar, 2. Leah McCormack, 3, Robert Craig.
Nine to 12 years old;
1. Kerry Simpson, 2. Kerry Young, 3. Gemma Heatherington.
13 to 16 years old;
1. David Douglas, 2. Julie Simpson, 3. Sam Martin.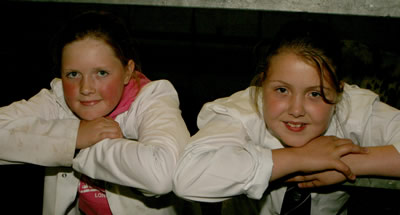 Hannah McCormick and Gemma Hetherington enjoy the British Blue Calf show.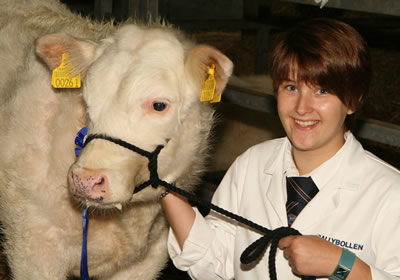 Naomi Gregg who was 2nd in the 33-6 month bull class.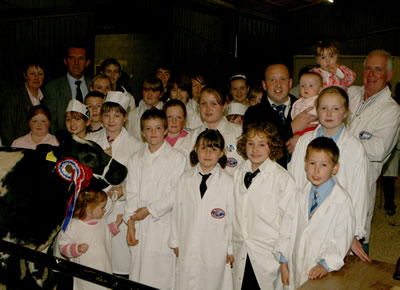 Colin Herbinson from the Meat Joint pictured with some of those who took part.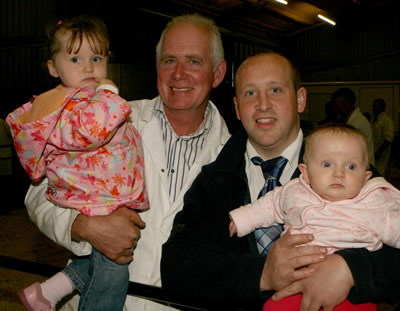 Jim Ervine from the British Blue club NI, pictured with sponsor Colin Herbinson from the Meat Joint with his children Charlie and Chloe.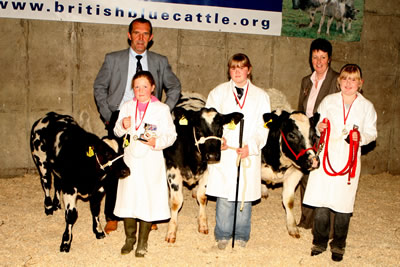 Young Handlers in the 9-12 age group Kerri Simpson 1st Claire Young 2nd and Gemma Hetherington 3rd with judges Kathy Leivers and Jock Wyllie.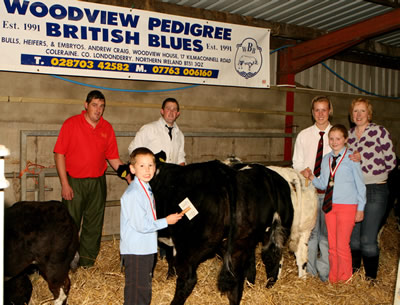 Robert Craig, Reanna Craig, Pamela Craig, pictured with Stephen and Barry O Kane and Lynsay Lawerence from Keady Grooming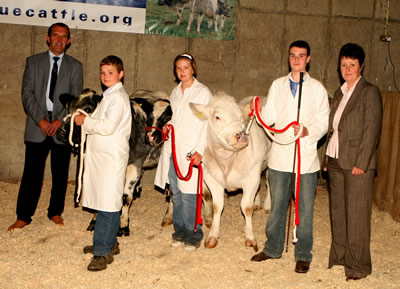 Young Handlers in the 13-16 age group David Doherty 1st, Julie Simpson 2nd, and Sam Martin 3rd with judges Kathy Leivers and Jock Wyllie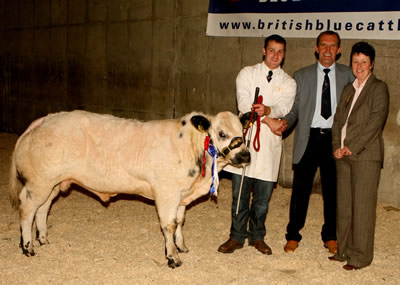 Stephen Crawford 1st in Bull class and reserve champion of the show with Kathy Leivers and Jock Wyllie judges.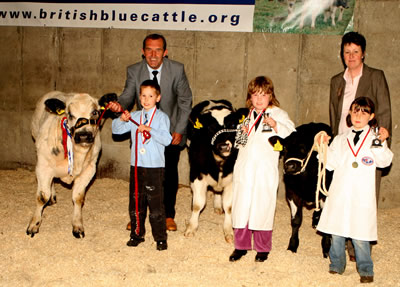 Young Handlers in the 0-8 age group Ellie Edgar 1st,Leah McCormick 2nd and Robert Craig 3rd with judges Kathy Leivers and Jock Wyllie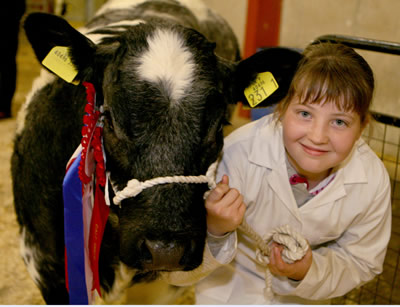 Jennifer Gordon with the champion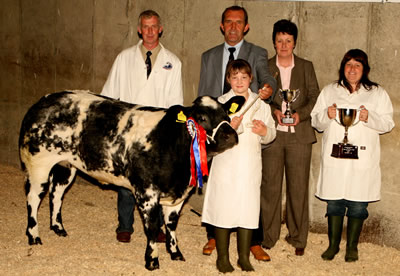 Jennifer Gordon show champion with Ivan and Corrina Gordon and judges Kathy Leivers and Jock Wyllie
Pictures by Kevin McAuley