NIBBC Calf Show 2006
Moira Sales Arena - Saturday, August 12, 2006
Moving the Northern Ireland Blue Cattle Club calf show and young handlers competition to Moira Sales Arena on Saturday, August 12, 2006 proved highly successful.
With over thirty calves shown across four eye-catching classes, livestock numbers and quality exceeded all expectations.
Philip Halhead of sponsors Norbreck Genetics, who judged the Belgian Blue NI Calf Show said,
"It was an honour to select the winners as the calves on show were a credit to the province's breeders.
The female champion was Woodview Aleaha, a Woodview Trixie daughter by Dafydd D'Ochain from Andrew Craig, Coleraine with the female reserve rosette going to Lukeroyal Angelica, a Lukeroyal Tara daughter by Blak Du Baty shown by Mel and Diane Lucas, Antrim. Their bull Lukeroyal Tara having been overall champion at Carlisle in May 2006.
In the bull section at Moira Philip Halhead awarded the championship to Martin Brothers, Newtownards, who exhibited Springhill Alfie, a Springhill Umpire son by Ridge Dean Physica. The reserve place went to Woodview Andy, a Woodview Su son by Poete De Berligant.
The overall championship was awarded to Andrew Craig with Woodview Aleaha and the reserve championship to Martin Brothers bull calf Springhill Alfie.
HANDLERS

The Young Handlers Competition then took centre stage with a total of nineteen young competitors divided up into three age groups and judged by Philip Halhead's girl friend Rachel Parry.
In the junior section Leah McCormick was a worthy winner with Emily Martin runner up.
In the intermediate section Sam Martin came tops ahead of runner up Josh McCormick.
In the senior section Jane Noble was first and E Gregg runner up.
Commenting NI Club Secretary Robert McCormick expressed delight at the turnout of calves and young handlers before thanking Norbreck Genetics as sole sponsors and both Philip Halhead and Rachel for judging the two competitions.
"Thanks are also due to William Wilson for the use of Moira Sales Arena and to William Haire, who gave us all an excellent demonstration on how to prepare a calf for show."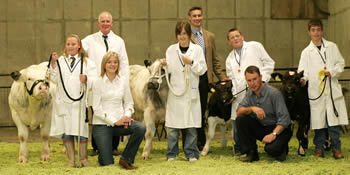 The 12-16 age group Young Handler winners pictured with organiser and sponsors of the event. Included from left are: Jane Noble, Antrim, 1st; Jim Ervine, Chairman, NI Belgian Blue Club; Rachel Parry, Lancaster, Judge; Naomi Gregg, Ahoghill, 2nd; Philip Halhead, Norbreck Genetics, Sponsor; Thomas McKee, Kilkeel, 3rd; Robert McCormick, Secretary, NI Belgian Blue Club and Stephen Gordon, Kilkeel, 4th.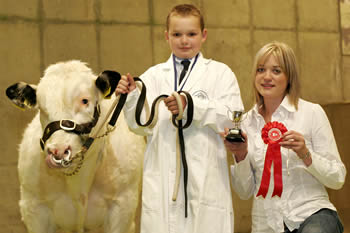 Sam Martin, Newtownards won the Young Handler Competition for the 8-12 age group and judge of the event Rachel Parry is pictured presenting the award.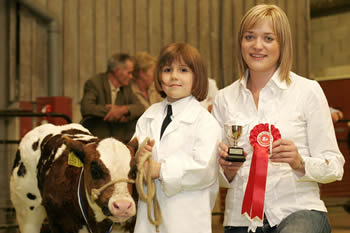 Leah McCormick, Fintona won the Young Handling Competition for the 4-8 age group and judge Rachel Parry is pictured presenting the award.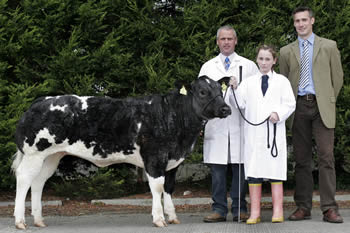 The Reserve Female Champion was Lukeroyal Angelica owned by Mel and Dianne Lucas, Antrim. Exhibiting the winner is Emily Lucas while father Mel and Philip Halhead, look on.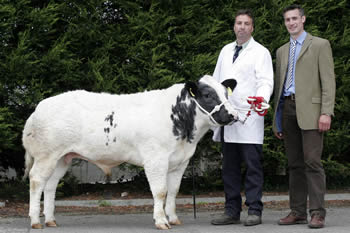 Woodview Andy owned by Andrew Craig, Coleraine was the Reserve Male Champion. Philip Halhead is pictured congratulating the winner.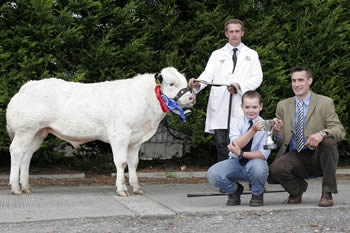 Philip Halhead presents a cup to Sam Martin, Newtownards for Springhill Alfie, Martin Brothers Reserve Supreme Champion at the show exhibited here by James Martin.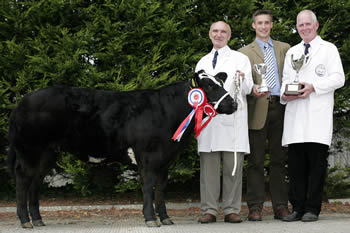 Woodview Aleagh, Supreme Champion Sam Milliken, Coleraine, owner is pictured with Jim Ervine, Chairman, NI Belgian Blue Club and Philip Halhead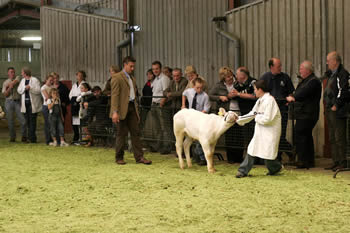 Philip Halhead judging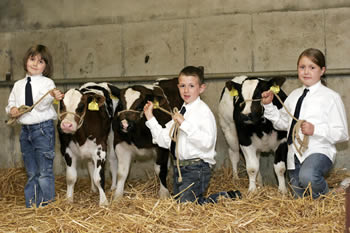 Leah, Josh and Hanna McCormick from Fintona getting ready to compete in the Young Handling Competition