Bluegrass Farm Walk
Sunday 14th June 2009

On Sunday the 14th June 2009 the Border British Blue Club were guests of the Raine family of Stanhope Gate, Middleton in Teasdale to view their renowned Bluegrass herd of British Blues.
The sun shone as 75 club members from across the area were treated to some fantastic cattle and generous hospitality in a glorious setting, with many commenting that it is probably like this all year round in this valley.
Neville and Nicholas Raine had their cattle in top condition, well fleshed and very mobile with last minute help from Jonty Bellas and his clippers.

After a drink and a welcome from Neville we were moved into the cattle shed.
Six smart heifers were presented for the stock judging and our club President, Brian Wheatley was appointed master judge of the day. All but two were home bred, with the impostors being their latest acquisition from Graham Brindley's Bringlee herd, and a heifer from Andy Ryder's Annanwater dispersal. A show team of distinction!

After some tough decisions we were moved onto a field of embryo calves, a true delight to behold.

Next were the flushing cows with Ridge Dean Another Bluey and Annanwater Vera commanding our attention.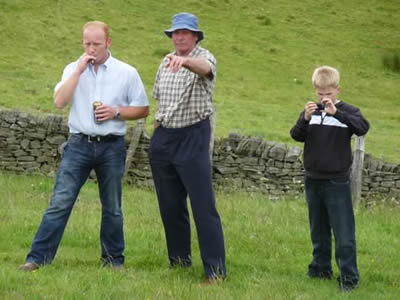 Back to the buildings we were treated to a selection of Swaledale sheep and freshly dropped Daffyd heifer calves.

Catherine and Margaret Raine had been very busy preparing a feast fit for a king, and after we had eaten to our fill there was a trough full of iced beer to knock the thirst off. Just doesn't get better than this!

Catherine had also been busy liberating prizes from local companies and suppliers for the raffle and auction. Brian and Catherine presided over the lengthy raffle, while Mark Richardson and Jimmy Little from H&H took the rostrum by storm for the charity auction. £1,075 was raised on the day for the Air Ambulance, outstanding!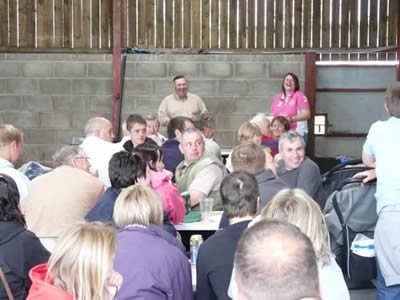 To round the day off we were all invited to wish Brian Wheatley a happy 60th birthday for the 16th June with David Thomlinson instigating a song for the birthday boy. Layla Carruthers had baked a 'blue' cake for him and we watched as he blew out the candles. He was really pleased.

The Border club are indebted to the Raine family for all their preparation work and hospitality on the day.

I am sure the day will be the topic of many conversations for months to come.