Carlisle Annual Autumn Show & Sale 2006
Wednesday 27th September 2006

STRONG DEMAND FOR QUALITY BLUES CONTINUES AT CARLISLE

The Border Belgian Blue Club staged their Seventeenth Annual Autumn Show & Sale at Carlisle, when auctioneers Harrison & Hetherington Ltd, Borderway Mart, Rosehill offered for sale a good selection of Belgian Blue Cattle.
This has been a tremendous pedigree sale with a very positive atmosphere from the start. With a lead call of 6,000gns and a further 16 bids of 4,000gns and above, the overall average for bulls jumped a massive £755.93 on the year. This has proved to be a great success considering the trade at the same event last year.
Auctioneer David Dickinson commented
"There was exceptionally strong commercial trade, with commercial buyers out in force bidding keenly on animals that met there criteria. There was a lot of regular support along side the new buyers."
The show and sale was kindly sponsored by BBG (Class Prize Money), British Belgian Blue Cattle Society and Border Club (Advertising).
The judge, Danny Wyllie, (Tamhorn herd), Pessall Farm, Edingale, Nr. Tamworth, Staffordshire had the difficult task of judging the show. He awarded the Male and Supreme Championship to Tympan Du Pont De Messe, a December 2004 son of Rocky Du Pont De Messe. He was exhibited by Irish breeder Samuel Milliken, Seygorry House, Killykergan, Coleraine, Co. Londonderry. This exceptional blue and white bull was sold to R McKelvey, Burnside Farm, Lochmaben, Lockerbie for the second highest price 5,800gns.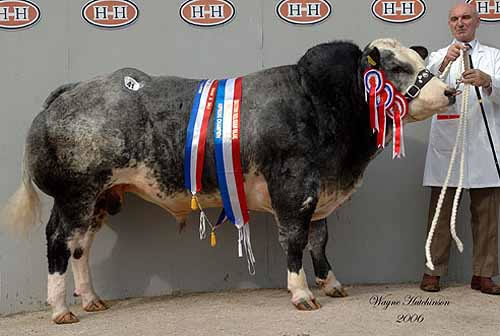 Tympan Du Pont De Messe
Top call of the day was 6,000gns for the much sought after 1st prize winning bull Pendle Australia. He already has a string of successes both for his breeders AM & E Hartley, and his owner Dermot Small, C/o Abbots Close Farm, Sutton, Thirsk, N. Yorkshire. Australia is a March 2005 son of Blue Stone Union Jack who was reserve senior male champion and sold for 6,500gns Carlisle May 2004, he is by the noted Baron Du Bois Bauloye. His dam Pendle Trixy is by Philipper and out of Stowbeck Lulu. The successful bid came from J Lewis & Son, Carters Farm, Norton, Presteigne, Powys.
Also on 5,800gns was Ian & Jim Phillips, Brockleton Farm Ltd, Brockleton, Tenbury Wells, Worcs when they sold their single entry to SH Troughton & Co, Ardachy, North Connell, Oban. Brockleton Blues Alfred, a January 2005 son of Ridge Dean Teddy, whose sire is Ridge Dean Mahogany and out of Stoneridge Primrose, was placed 3rd in his class and has been shown successfully this summer.
An AI son of Ingenieux Du Stordeur was next in the price ratings. Greenfield Winter bred and exhibited by Irish enthusiast Basil Dougherty, 63c Ballyeasborogh Road, Kircubbin, Newtownards, Co. Down was placed 4th in his class. This 26 month old blue and white bull boasts an EBV of +18 puts him in the top 5%. His dam, Greenfield Twinkle was born naturally and is by Navire De Septon. Winter was successfully purchased by Firm of H MacDonald, Mains of Dalvey, Advie, Grantown on Spey for 5,000gns.
Also hitting the high spots at 5,000gns was the single entry from JM Morrison & Son, 58 Carrowreagh Road, Armoy, Ballymoney, Co. Antrim, N Ireland. Chatham Wesley, a November 2004 son of their stock bull Lenborough Oliver and out of a Ridge Dean Mahogany sired cow Chatham Racie. This first prize winning bull finds his new home with ED & W Griffiths, Hill House Farm, Norton, Presteigne, Powys.
The judge Danny Wyllie and his wife Jane sold 2 exceptional bulls to average £5,145. First through the sale ring at 5,000gns was Tamhorn Amazon ET from the Dafydd D'Ochain – Leverhulme Nimbus flush. He boasts an EBV of +17, and was successfully sold to A & D Clark, Stratheast, Holm, Orkney. Tamhorn's second entry Tamhorn Ambassador ET (full ET brother to Amazon) was sold for 4,800gns.
Top price for Mel & Diane's Lukeroyal herd, from 154 Sevenmile Straight, Antrim, N Ireland was 5,000gns for Lukeroyal Albert ET, a 19 month old ET son of Raciste Du Pachis A La Motte (IS) and Lukeroyal Princess. Albert is a very stylish, black and white bull, who was shown successfully during the summer and won the Northern Ireland Belgian Blue Derby, and the Interbreed Beef Stakes class. Albert was placed first in his class, reserve male and reserve supreme champion. He sold to AE Jones, Gelligillion, Llanedi, Pontardulais, Swansea.
Leading the ladies at 4,500gns was the 1st prize winning cow and female champion Radieuse 5429 De Haute Somme, from Andrew Coppinger, The Moorhead, Edstaston, Wem, Shropshire. Radieuse a May 2002 cow is by the widely used Gypse 3318 Du Haute Somme – She has been flushed once, producing 6 embryos, all have been implanted and so far 4 calves have been born. This much sought after cow joins the Wilodge herd of DA Williams, Lodge Hill Farm, Shifnal, Shropshire. Her 7 month old Dafydd D'Ochain sired heifer calf Midas Bedazzled sold for 2,500gns to A Geary, Yew Tree Farm, Tathall End, Hanslope, Milton Keynes.
Not far behind on 4,200gns, also from the same good stable as the champion, Andrew Coppinger was the 1st prize junior unserved heifer and reserve female champion Midas Alice ET. Alice is the ET daughter of the aforementioned Radieuse 5429 De Haute Somme and sired by the fashionable Dafydd D'Ochain. She was knocked down to DF Whiteley, Pond Farm, Scawton, Thirsk, Yorkshire.
Averages
41 Bulls £3,299.56
4 Senior Heifers £1,968.75
6 Junior Heifers £2,292.50
5 Cows served and/or suckling £2,877.00
Other leading prices: -
Bulls
S & GA Potter's "Brookfield Wellington ET" 4,800gns to Wright Bros, Highgate, Leverton, Boston, Lincs. 1st in class 2.
Jane & Danny Wyllie's "Tamhorn Ambassador ET" 4,800gns to S & DJ Williams, Cefnllech, Pantydwr, Rhayader, Powys.
DC Thompson's "March Blue Vain ET" 4,600gns to JA Wood & Sons, Kinnerton Farm, Ratlingate, Shrewsbury, Shropshire. 1st in class 1 and winner of the Border Belgian Blue Club Special Trophy for the top price animal owned by a member of the club.
RE Carruther's "Valley Vimto ET" 4,500gns to TDR Rees, Pantrhyn, Llwyndafydd, Llandysul. 2nd in class 1.
Martin Bros' "Springhill Walnut" 4,200gns to A & JN Story, Newbiggin, Kirklinton, Carlisle, Cumbria.
BK Ryder's "Annanwater Antonio ET" 4,200gns to DH Swallow, High Edges Green Farm, Cawburn, Haltwhistle, Northumberland. 3rd in class 5.
ER Hemmings & Co Farmers' "Paulern Verdi ET" 4,000gns to JM Morrison & Son, 58 Carrowreagh Road, Armoy, Balllymoney, Co. Antim, N Ireland.
Neil R Barclay's "Harestone Andrew" 4,000gns to Mr & Mrs D Leeming, Low West House Farm, Ramsgill, Harrogate, N Yorkshire. 2nd in class 5.
Females
Mel & Diane Lucas' "Lukeroyal Angelica ET" 2,400gns, to G Davies, Tyllwyd, Dryslwyn, Carmarthen. 2nd in class 10.
click on image to enlarge

Brookfield Wellington

Greenfield Winter

Tympan du pont de Messe

Bockleton Blues Alfres

Tamhorn Amazon

Tamhorn Ambassador

Lukeroyal Albert

Midas Alice

Radieuse De Haute Somme