Seventh Annual Open Calf Show
Wednesday 22nd February 2006

The Border Belgian Blue Club staged their Seventh annual open calf show on Wednesday 22nd February 2006 at Borderway Mart, Carlisle when nearly all of the 46 catalogued entries were forward for judging. This was made up of 19 males and 27 females all UK born pedigree registered calves born on or after 1st January 2005.
The club would like to thank the sponsors of this event, BBG, for supplying the semen vouchers, British Blue Cattle Society for the rosettes and championship sash, Harrison and Hetherington Ltd for the catalogue and the premises, Borderway Insurance Brokers for the championship prize money, Massey Bros. (Feeds) for the Perpetual Shield awarded to the champion calf and Norbreck Genetics who awarded a waistcoat to the winner of the young handler class and £10 to the runner up.
The Judge John Hall, Inglewood Edge, Dalston had the very difficult task of judging the calves. He commented that the calves were well turned out and of exceptional quality throughout. A credit to all exhibitors!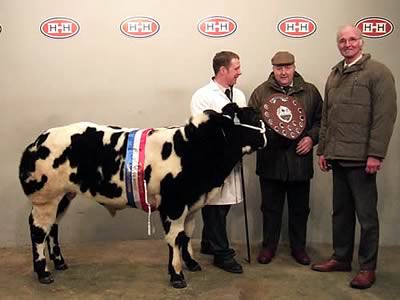 Annanwater Antonio ET
The male and overall championship was awarded to BK Ryder, Newton Farm, Moffat with Annanwater Antonio ET a May 2005 son of Serum D'Anloy (IS) and out of Springfield Tinga (the same dam as last year's winner Headlind Winter Flash). He was presented with the Massey Bros. (Feeds) perpetual shield for the overall championship.
The female and reserve overall championship went to AM & E Hartley, Parklands Bungalow, Roughlee, Nelson, Lancs with Pendle Alice Springer a March 2005 daughter of Blue Stone Union Jack (who was reserve senior male champion and sold for 6,500gns, Carlisle May 2004) and out of their homebred cow Ursula.
BK Ryder also took the reserve male championship with Annanwater Arnoldo ET a May 2005 son of Serum D'Anloy (IS) and out Springfield Tinga. His full ET sister Annanwater Aqua ET took the reserve female championship.
Messrs AM & E Hartley won the Progeny group with two Blue Stone Union Jack daughters. The first was Pendle Alice Springer (female & reserve overall Champion) and the second Pendle Amarillo (2nd in her class) an April 2005 daughter out of Pendle Snowdrop.
The reserve progeny group went to two Dafydd D'Ochain bred calves shown by AJ & DA Wilkinson, Springfield Farm, Out Rawcliffe, Preston. The first was Springfield Asher (1st in his class) a January 2005 born bull out of Springfield Pepsi, and the second, a heifer, Springfield Anastasia ET a January 2005 born calf out of Ovatie Van De Wolvendree.
There were some very promising entrants in the young handler class. The judge awarded Isabella Hartley (who was also celebrating her 9th Birthday) the championship award leading Pendle Amarillo and Alistair Jackson was runner up leading Headlind Annee.
Class prize winners were as follows: -
Class A1) male born between 01.01.05 and 25.04.05
1st Springfield Asher ET (AJ & DA Wilkinson)
2nd Oak Tree Acceptabull ET (JH Pedley)
3rd Osborne Amazon (Mrs JE Twentyman)
4th Springfield Amos ET (AJ & DA Wilkinson)

Class A2) male born between 12.05.05 and 29.09.05
1st, Male & Overall Champion Annanwater Antonio ET (BK Ryder)
2nd & Reserve Male Champion Annanwater Arnoldo ET (BK Ryder)
3rd Headlind AJ (T Allan Jackson)
4th Annanwater Anton ET (BK Ryder).

Class B1) female born between 06.01.05 and 01.04.05
1st, Female & Reserve Overall Champion Pendle Alice Springer (AM & E Hartley)
2nd Welton Anita (JE Bellas & Son)
3rd Parsonage Apple Pip ET (R Seed & Son)
4th Beckfarm Anne (RF & A Tyson).

Class B2) female born between 15.04.05 and 16.05.05
1st and Reserve Female Champion Annanwater Aqua ET (BK Ryder)
2nd Pendle Amarillo (AM & E Hartley)
3rd Edenvalley Abbi ET (F Brass)
4th Carrock Annette ET (SJ & RR Brough)

Class B3) female born between 08.07.05 and17.11.05
1st Annanwater Asdra ET (BK Ryder)
2nd Annanwater Anna ET (BK Ryder)
3rd Headlind Abbey (T Allan Jackson)
4th Annanwater Andra ET (BK Ryder)

Class C Young Handler (aged 16 and under)
1st Isabella Hartley leading Pendle Amarillo
2nd Alistair Jackson leading Headlind Annee
3rd Victoria Seed leading Parsonage Apple Pip ET
4th Cameron Jackson Leading Headlind AJ
click on images to enlarge