Sixth Annual Open Calf Show
Wednesday 23rd February 2005

The Border Belgian Blue Club staged their Sixth annual open calf show on Wednesday 23rd February 2005 at Borderway Mart, Carlisle when nearly all of the 40 catalogued entries were forward for judging. This was made up of 14 males and 26 females all UK born pedigree registered calves born on or after 1st January 2004.
The club would like to thank the sponsors of this event, BBG, for supplying the semen vouchers, British Blue Cattle Society for the rosettes, Harrison and Hetherington Ltd for the catalogue and the premises, Borderway Insurance Brokers for the championship prize money, Massey Bros. (Feeds) for the Perpetual Shield awarded to the champion calf and Agri-Lloyd for the tankard awarded to the winner of the young handler class.
The Judge Graham Coates (Greystone Herd), Rainscar Farm, Stainforth, Settle, N Yorkshire had the difficult task of judging the calves.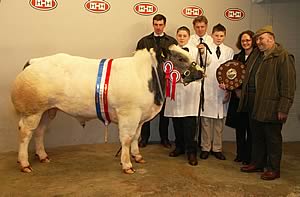 Headlind Winter Flash
The male and overall championship was awarded to Allan Jackson, Covington Mill, Thankerton, Biggar, Lanarkshire with Headlind Winter Flash a February 2004 son of Nounours De Wihogne and out of Springfield Tinga. He was presented with the Massey Bros. (Feeds) perpetual shield for the overall championship.
The female and reserve overall championship went to BK Ryder, Newton Farm, Annan Water, Moffat, Dumfriesshire with Annanwater Waterlily a September 2004 daughter of Elkehard Van De Wolvendreef (IS). BK Ryder also took the reserve male championship with Annanwater Wideload a June 2004 son of Balto De Steinbach (IS) and out of a Ridge Dean bred cow Totty whose dam is the famous Jessie. Wideload's half sister Annanwater Winona took the reserve female championship. Winona is out of Totty and by Osborne Van Terbeck and was February 2004 born.
Messrs J & D Dickinson, Springfield, Stalmine won the Progeny group with a Tamhorn Sumo son and daughter. The first was Stalmine Moss Warrior (3rd in his class) and the second Stalmine Moss Wilma a February 2004 daughter out of Springfield Pepsi.
The reserve progeny group went to two Danseur D'Embise bred heifer calves shown by SJ & RR Brough, Buckabank, Dalston and BK Ryder the first from Messrs Brough Carrock Willow an August born heifer out of Springfield Tia Maria, and the second from BK Ryder Annanwater wallflower (3rd prize in class B3) a September 2004 born calf out of Springfield Tinga.
There were some very promising entrants in the young handler class. Alistair Jackson beat off strong competition to win the Agri-Lloyd Tankard leading the overall champion Headlind Winter Flash.
Class prize winners were as follows: -
Class A 1) male born between 01.01.04 and 23.02.04:
1st, Male & Overall Champion Headlind Winter Flash (Allan Jackson);
2nd Annanwater Waldo (BK Ryder);
3rd Stalmine Moss Warrior (J & D Dickinson);
4th Maidenlands Warrior (Dean Saunders)
Class A 2) male born between 30.04.04 and 02.11.04:
1st & Reserve Male Champion Annanwater Wideload (BK Ryder);
2nd Springfield Wedgewood (A & D Wilkinson);
3rd Annanwater Wiseguy (BK Ryder);
4th Springfield Warrick (A & D Wilkinson).
Class B 1) female born between 28.01.04 and 25.04.04:
1st and Reserve Female Champion Annanwater Winona (BK Ryder);
2nd Headlind Wizz (Allan Jackson);
3rd Pendle Wave (AM & E Hartley);
4th Welton Willow (MJ & TJ Dent).
Class B 2) female born between 01.05.04 and 03.08.04:
1st Pendle Whitch (AM & E Hartley);
2nd Annanwater Wildthing (BK Ryder);
3rd Valley Wiggle (RE Carruthers);
4th Carrock Walnut (SJ & RR Brough).
Class B 3) female born between 27.08.04 and 09.11.04:
1st, Female and Reserve Overall Champion Annanwater Waterlily (BK Ryder);
2nd Osborne Wonder (Mrs JE Twentyman);
3rd Annanwater Wallflower (BK Ryder);
4th Ladyhousesteads Whisper (S & C MacDonald).
Class C Young Handler (aged 16 and under):
1st; Alistair Jackson leading Headlind Winter Flash;
2nd Thomas Hartley leading Pendle Wave;
3rd Cameron Jackson leading Headlind Wizz;
4th Isabella Hartley leading Pendle Whizzy.
Class D Progeny Group (2 calves by the same sire, either sex out of different dams):
1st & Champion Stalmine Moss Warrior (male calf) & Stalmine Moss Wilma (female calf) both sired by Tamhorn Sumo (SR) and exhibited by Messrs J & D Dickinson;
2nd & Reserve Champion Carrock Willow (SJ & RR Brough) & Annanwater Wallflower (BK Ryder) (both females) both sired by Danseur d'Embise.