Fifth Annual Open Calf Show
Wednesday 25th February 2004

The Border Belgian Blue Club staged their fifth annual open calf show on Wednesday 25th February 2004 at Borderway Mart, Carlisle when nearly all of the 55 catalogued entries were forward for judging.This was made up of 26 males and 29 females all UK born pedigree registered calves born on or after 1st January 2003.

The club would like to thank their sponsors for this event, BBG, for supplying the semen vouchers, British Blue Cattle Society for the rosettes, Harrison and Hetherington Ltd for the catalogue and the premises, Borderway Insurance Brokers for the championship prize money, Massey Bros. (Feeds) for the Perpetual Shield awarded to the champion calf and Agri-Lloyd for the tankard awarded to the winner of the young handler class.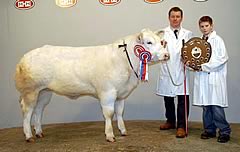 Champion Female and Overall Champion BK Ryder, Moffat, with their April born calf, Annanwater Vixen.

The Judge Stephen Potter (Brookfield Herd), Westside, Topcliffe, Thirsk commented that there was an excellent show of cattle.His main objective was to find correctness with conformation, which he found in his champion and reserve champion.The young handler class was brilliant to see, with six entrants under the age of sixteen showing great promise as up and coming young handlers.

The female and overall championship was once again awarded to BK Ryder, Newton Farm, Annanwater, Moffat with Annanwater Vixen ET an April 2003 born white daughter of Baron and out of their homebred cow Annanwater Phoebe ET.Adam Green, Massey Bros. (Feeds) presented Andy Ryder with their perpetual shield for the second year running.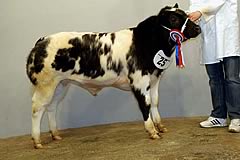 Male Champion and Overall Reserve Champion SJ&RR Brough, with 6 month old Carrock Valiant

The male and reserve overall championship went to SJ & RR Brough, Buckabank, Dalston, Carlisle with their single entry Carrock Valiant an August 2003 son of Ajuste.This black and white calf was the youngest bull calf forward.Reserve male championship was awarded to Messrs Brass & Bellas, Barnskew, Maulds Meaburn, Penrith with Edenvalley Valiant ET a January 2003 born white son of Seduisant and out of Tamhorn Rosetta ET, with the reserve female championship going to RF & A Tyson, The Beck, Millom with their single entry, a white March 2003 born heifer Beckfarm Vicky also by Seduisant and out of their homebred cow Beckfarm Rose.

Messrs Brass and Bellas won the Progeny group with a Seduisant son and daughter.The first was the aforementioned Edenvalley Valiant ET (reserve male champion) and the second Edenvalley Vanilla ET a January 2003 daughter out of Tamhorn Silver Belle ET.

The reserve progeny group went to two Visconti bred male calves shown by Mark Bousfield, Widewath Farm, Helton, Penrith the first Widewath Vagabond ET (3rd in class A1) a January 2003 born calf out of Ridge Dean Sherry 2, and Widewath Visconti ET (1st prize in class A2) an April 2003 born calf out of the well bred Ridge Dean Navette ET.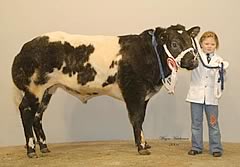 7 year old Isabella Hartley took the young handlers prize

There were six very promising entrants in the young handler class.Isabella Hartley, Parklands Bungalow, Roughlee, Nelson, Lancs beat off strong competition to win the Agri-Lloyd Tankard leading Pendle Storm, whom she had shown all last show season.2nd prize went to last year's winner Peter Bousfield leading a December 2003 calf Widewath Volcano ET.
Class prize winners were as follows: -

Class A 1) male born between 01.01.03 and 30.01.03: 1st and Reserve Male Champion Edenvalley Valiant ET (Messrs Brass & Bellas); 2nd Widewath Viper ET (MW Bousfield); 3rd Widewath Vagabond ET (MW Bousfield); 4th Annanwater Vandyke ET (BK Ryder)

Class A2) male born between 15.04.03 and 22.05.03: 1st Widewath Visconti ET ( MW Bousfield); 2nd Valley Viper (IE) ET (R Carruthers); 3rd Annanwater Vintage ET (BK Ryder); 4th Annanwater Viable ET (BK Ryder).

Class A 3) male born between 20.06.03 and 06.12.03: 1st, Male & Reserve Overall Champion Carrock Valiant (SJ & RR Brough); 2nd Springfield Vernon ET (AJ & DA Wilkinson); 3rd Osborne Velvet (Mrs JE Twentyman); 4th Pendle Valley (AM & E Hartley).

Class B 1) female born between 16.01.03 and 26.04.03: 1st, Female & Overall Champion Annanwater Vixen ET (BK Ryder); 2nd & Reserve Female Champion Beckfarm Vicky (RF & A Tyson); 3rd Widewath Violet ET (MW Bousfield); 4th Annanwater Venus ET (BK Ryder).

Class B 2) female born between 02.05.03 and 10.06.03: 1st Rawfoot Venus ET (R Carruthers); 2nd Wood Hall Viola (Messrs H Ridley); 3rd Springfield Virginia ET (AJ & DA Wilkinson); 4th Afonwen Virginia (James A Hollingsworth).

Class B 3) female born between 24.06.03 and 05.11.03: 1st Glenrock Vimto (Helen Illingworth); 2nd Annanwater Venice ET (BK Ryder).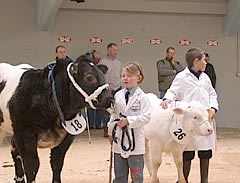 Winners in the Young Handlers Class


Class C Young Handler (aged 16 and under): 1st Isabella Hartley leading Pendle Valley; 2nd Peter Bousfield leading Widewath Volcano ET; 3rd Thomas Illingworth leading Glenrock Vimto; 4th Derek Dunsmore leading Annanwater Vince; 5th Jacob Stoddart leading Hillside Vindicator and 6th Richard Ridley leading Wood Hall Viscount ET.

Class D Progeny Group (2 calves by the same sire, either sex out of different dams): 1st & Champion Edenvalley Valiant ET (male calf) & Edenvalley Vanilla ET (female calf) both sired by Seduisant de Fooz and exhibited by Messrs Brass & Bellas; 2nd & Reserve Champion Widewath Vagabond ET & Widewath Visconti ET (both males from MW Bousfield) both sired by Visconti de st Fontaine.3rd Osborne Velvet (Male Calf from Mrs JE Twentyman) and Glenrock Vimto (Female Calf from Helen Illingworth) both sired by Savant de Pierrecome; 4th Afonwen Virginia and Afonwen Villette (female calves from James A Hollingsworth) both sired by Osborne Van Terbeck (IS).