Second Annual Premier Society Show & Sale of Females

Wednesday 5th November 2003
Borderway Mart was bustling with activity, for the 2nd Belgian Blue Premier Female Show and Sale organised by The British Belgian Blue Cattle Society, in conjunction with The Border Belgian Blue Club.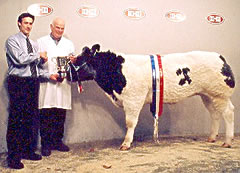 Philip Halhead presenting Allan Wilkinson with the Norbreck Trophy
Springfield Ulanda ET bred by Allan & Deirdre Wilkinson was put up as Supreme Champion, by Judge, Rhys Jenkins, Nantyclun, Crymych, Dyfed. "Ulanda" out of the renowned "Ovatie Van De Wolvendreef" by "President Des 1000 Fontaines" went on to realise the leading price of 4,600gns; being snapped up by Mr L A Mowbray of Newton Stewart, Co Tyrone, Northern Ireland. "Springfield Ulanda" also claimed the "Norbreck Havanna" Perpetual Trophy, presented by Philip Halhead and the "Insem" Perpetual Trophy, for the highest priced animal, presented by Glenys Swindle a partner at Insem.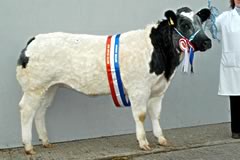 Springfield Ulanda ET - 4600gns.
Reserve Championship went to the Belgian import "Eclatante 2316 De Miecret" exhibited by Arwel Owen of the Cwm Herd in Anglesey."Eclatante" was out of "Vandoise 9293 De Miecret" by "Ministre Du Bouchelet." Arwel also had a class winner in class 1, Served Heifers, with "Douceur D' Izier," a shapely heifer out of "Bacasse D'Izier" and by "Best De Monplaisir."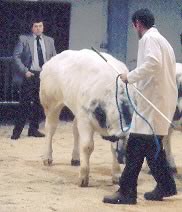 Rhys Jenkins judging
Stephen Potter, with "Brookfield Tamara ET" took the red rosette in the Senior Heifer class. "Tamara" is out of "Brookfield Rhanne" by the well-known Belgian sire "Brutus Van Het Pasveld"

Mr & Mrs Gregory from Bosworth, in Lincolnshire won the Intermediate Heifer class with "Gregmaur Una" out of "Gregmaur Nina ET" by the record-breaking sire "Hazelwood Freshman."

Grateful thanks is conveyed to the main show sponsor, Sam Hamilton of the "Dundrod" Herd at Express Tyres, Lockerbie and also to Macmin Ltd, Stirling and T W Relph, Penrith.

Opening bidding was brisk, with lot 1, presented by Philip Halhead, "Norbreck Stargazer" knocked down at 2,900 gns, to J H Pedley, Carnforth, Lancashire. This was closely followed with JR & JRW Corlett from Cockermouth, securing "Goiallt Socks ET" for 2,100 gns, bred by T Jones, Nantgaredig, Dyfed. E R Hemmings sold "Tamhorn Roseanna ET" out of "Noella Van De Wolvendreef" by "Penlas North Star ET", to Messrs E & M Jones, near Bangor, for 2,800gns.

" Herts Octavia Danish" a shapley cow from Holly J Ivory, making 2,300 gns, finding a new home with J Miller, north of the border, in Ayrshire. Her promising young calf "Herts Vixen" realising 1,300gns, sold to Mr N Forrester of Westlinton, Carlisle.

Auctioneer, David Dickinson commented, "There was a very healthy trade for shapely animals, with buyers being very quality conscious."
Leading Prices:

Lot Price

18 4,600gns 1st in class 4 and Overall Champion

12,900gns 2nd in class 1

33 2,800gns 3rd in class 5

23 2,300gns

3 2,100 gns2nd in class 2

30 1,900gns 5th in class 5

25 1,900gns 2nd in class 5

Averages:

5 Cows (served and/or suckling) £2,793.00 (plus £63.00)
2 Served Heifers £2,205.00 (plus £419.62)
8 Maiden Heifers £1,810.88 (minus £252.06)