Fourth Annual Open Calf Show
Thursday 20th February 2003
---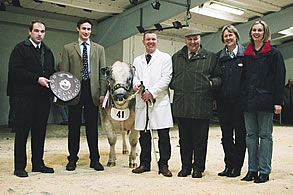 Adam Green, Philip Halhead, Annanwater Umpire, Andy Ryder, Brian Wheatley, Heather Pritchard and Claire Pattinson.
The Border Belgian Blue Club held their fourth annual open calf show on Thursday, 20th February at Borderway Mart, Carlisle when they had a catalogued entry of 21 head, comprising 11 males and 10 females. British Linalux, Harrison and Hetherington Limited, The British Blue Cattle Society and the Border Club kindly sponsored the show. Massey Bros. (Feeds) presented their Perpetual Shield to the overall champion calf and a tankard was awarded to the winner of the young handler class by Agri-Lloyd. The show was open to all UK born pedigree registered calves born on or after 1st January 2002.
There was an outstanding show of quality young calves with only three of the catalogued entry not forward. The calves were presented to a keen audience who commented on the excellent show and that it was a credit to all exhibitors. It was nice to finally get the show up and running as it was cancelled last year due to Defra regulations.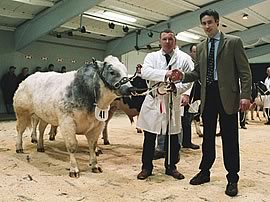 The judging was carried out by Mr Philip Halhead from the Norbreck Herd which is based at Norbreck Farm, Hillam Lane, Cockerham, Nr. Lancaster, who commented that there was a tremendous show of calves, with excellent locomotion throughout. The calves had a lot of style and class, yet maintaining the double muscle that is unique to the Belgian Blues, which was a credit to all the exhibitors here today.

He awarded the male & overall championship to BK Ryder & Sons, Newton Farm, Annan Water, Moffat, Dumfriesshire with Annanwater Umpire a January 2002 son of their homebred bull Annanwater Rocky and out of Lambside Liqueur.

The reserve male championship went Messrs Stoddart, Hillside, Wigton, Cumbria with Hillside Uno a March 2002 born son of Greystone Poncho and out of Park Ordain.
The female & reserve overall championship was awarded to Mark Richardson, Croft House, Ravenstonedale, Kirkby Stephen with his single entry Currarie Ula who was bred by J & M Cartney, Lendalfoot, Girvan, Ayrshire. This May 2002 born heifer was purchased by Mark suckling her dam Currarie Olivia at the Border Club's Autumn Show & Sale last year.
The reserve female championship went to A Tyson, Beck Farm, Millom, Cumbria with Beckfarm Una a January 2002 born heifer by Seduisant de Fooz (IS) and out of Beckfarm Rose. Seduisant de Fooz is breeding exceptionally well and last year a son of his was sold for the joint top price of 10,000gns at the Border Club's May Show & Sale, and females sold to 4,000gns at the Wilde about Blues Sale Carlisle August 2002.
Messrs Stoddart won the progeny group with two Greystone Poncho sons, the first was the aforementioned Hillside Uno (reserve male champion) and the second Park U Bouncer (4th in class A) who was bred by JO Adams & Son Ltd, Park House, Watford Village, Northampton. U Bouncer is a March 2002 son out of Park Opal.
The reserve progeny group went to two Outilleux Et De Waleffes bred heifer calves shown by M & E Hartley, Parklands Bungalow, Roughlee, Nelson, Lancs the first Pendle Ursula a March 2002 born heifer calf out of Pendle Robinea, and Pendle Ula a March 2002 born daughter of Pendle Rose (4th in class B) .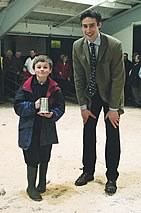 The winner of the young handler class Peter Bousfield was awarded the perpetual Agri-Lloyd Tankard.
Class prize winners were as follows:-

Class A male born on or after 1st January 2002: 1st Male & Overall Champion Annanwater Umpire (BK Ryder & Sons); 2nd & Reserve Male Champion Hillside Uno (Messrs Stoddart); 3rd Widewath Unique (MW Bousfield); 4th Park U Bouncer (Messrs Stoddart).

Class B female born on or after 1st January 2002: 1st Female & Reserve Overall Champion Currarie Ula (Mark Richardson); 2nd & Reserve Female Champion Beckfarm Una (A Tyson); 3rd Annanwater Ursula ET (BK Ryder & Sons); 4th Pendle Ula (M & E Hartley).

Class C Young Handler (aged 16 and under): 1st Peter Bousfield leading Widewath Una.

Class D Progeny Group (2 calves by the same sire, either sex out of different dams): 1st & Champion Hillside Uno & Park U Bouncer (both Males from Messrs Stoddart) both sired by Greystone Poncho; 2nd & Reserve Champion Pendle Ursula & Pendle Ula (both Females from M & E Hartley) both sired by Outilleux Et De Waleffes. 3rd Widewath Ultimate (Male Calf) and Widewath Una (Female Calf) (from MW Bousfield) both sired by Serieux De Fooz (IS).