2000 Annual Autumn Show & Sale

Tuesday 26th & Wednesday 27th September 2000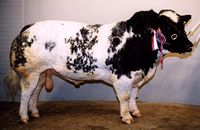 Tamhorn Ringmaster topped the Sale at 7,000gns
The Border Belgian Blue Club held their twelfth annual autumn show and sale, on Tuesday, 26th (Judging) and Wednesday, 27th September (Sale), at Borderway Mart, Carlisle when auctioneers Harrison and Hetherington Limited offered the catalogued entry of 81 bulls, 32 females, 4 recipients and 8 frozen embryos to the packed ringside of buyers.
Auctioneer David Thomlinson commented that there was an excellent show of both males and females, with a lot of enquiries for bulls, resulting in a buoyant trade throughout. The show and sale was kindly sponsored by British Linalux and the British Blue Cattle Society. The averages for bulls was up £463 on the previous year, with most bulls finding new homes.
The judge Mrs Morag Cartney, Currarie, Lendalfoot, Girvan, Ayrshire awarded the Male and Supreme Championship to Tamhorn Ringmaster ET a February, 1999 born blue and white bull by the noted Banquier Du Moulin Derbaix (IS). He is the first son of Olalla Van De Wolvendree who herself has won many championships. Ringmaster, who has a string of prizes to his merit, was bred and exhibited by Mrs Jane Wyllie, Pessall Farm, Edingale, Nr Tamworth, Staffs and was knocked down for the top price of 7,000 guineas to Page Bros., Lodge Farm, Elkington, Northampton.
Next at 5,000 guineas was the 1st prize bull and winner of the Border Club Special Trophy Welton Rainbow, a May, 1999 son of the easy calving sire and winner of many breed and interbreed championships Alambic and out of Welton Lucy ET. Rainbow was shown by Border Club members JJ Henderson & Son, Park House, Welton, Carlisle and after being keenly sought after was knocked down to PE Jones, Gelligillion, Llanedi, Pontardulais, Swansea. From the same home came the 2nd prize winner Welton Ranger, an April 1999 born son of the Linalux sire Inexes de La Croix de Mer (IS) and out of Wraithe Jackie ET. Ranger travels north to Ayrshire for Messrs A Paton & Co, Craig Farm, Straiton, Maybole, who successfully purchased him for 4,600 guineas.
Mrs Jane Wyllie sold another homebred bull for 4,500 guineas to Mr B Maginn, 7 Main Street, Castlewellan, Co. Down, N Ireland. This 4th prize, March 1999 born bull Tamhorn Rusty ET is the herds first son by the famous Totem de Chochquenee (IS) and out of the exceptional cow Noella. He was 1st prize in his class at the Border Clubs Calf Show in February, 2000.
The Reserve Male and Supreme Championship was awarded to Michael Read, Brook House, Hemingby, Horncastle, Lincs who sold the imported bull Sharif Van Daisel bred by Lieven Goddeeris, Belgium. He is a June 1999 born black and white bull from the herd which produced two first prize bulls and the cow Champion at this years Brussells Agrilex. His sire Cubitus de Pre Rosine is one of the top young AI bulls in Belgium. Sharif was bid to 4,000 guineas by J Leiper & Sons, Black Heddon, Ponteland, Newcastle Upon Tyne.
In the Female section the 4th prize cow Stowbeck Lulu and her April, 2000 born bull calf Stowbeck Storm by the noted Philipper de Remichampagne (IS) sold for the top price of 3,500 guineas to M Hartley, Parklands Bungalow, Nelson, Lancs. Lulu is by the easy calving sire Junior de la Faussie and out of Pioneer Ivy, and was sold back in calf to Philipper. She was bred and exhibited by Border Club member Chris J Wilson, Skirwith Hall, Skirwith, Penrith.
The judge awarded to Female Championship to SJ & RR Brough, Buckabank Farm, Dalston, Carlisle with their good breeding cow Lenborough Melody. She is by the noted Navire de Septon and was bred by BG & R Brazier, Manor Farm, Lenborough, Buckingham. Her bull calf Carrock Patron was Champion at the Border Clubs Calf show February, 2000 and later sold for 4,600 guineas Carlisle May Show and Sale 2000. Melody travels to Northern Ireland to join the herd of B McLean, 76 Priestland Road, Bushmills who secured her with a bid of 2,000 guineas.
Averages:-
49 Bulls £2,840.36 (plus £463.32)
9 Heifers, unserved £1,102.50 (n/c)
15 Cows in calf or with calf at foot & Heifers with calf at foot £1,623.46 (minus £112.37)
Other leading prices:-
Bulls
S Hamilton's "Dundrod Rastus" 4,400gns to Messrs WT McMiken, Nether Ernambrie, Castle Douglas, Kirkcudbrightshire 3rd in class 2.
Michele Wilde's "Ridge Dean Rainer 2" 4,200gns to Alcan Farms Ltd, East Moor Farm, Ellington, Morpeth, Northumberland 2nd in class 3.
A Woodburn & Son "Netherwood Popeye" 4,000gns to A Baillie, Low Glasnick, Kirk Cowan, Newton Stewart, Wigtownshire 2nd in class 2.
Michele Wilde's "Ridge Dean Raser" 4,000gns to W Bond, 47 Carmoney Road, Eglinton, Co. Londonderry, N Ireland
A & KM Barnes "Cowden Rival ET" 3,700gns to N Alexander, 88 Gloverstown Road, Randalstown, Co. Antrim, N Ireland
Females
AJ & DA Wilkinson's "Springfield Rachael ET" 2,100gns to J Neill, 31 Tullynacree Road, Annacloy, Downpatrick, N Ireland 2nd in class 7.
Chris J Wilson's "Inglewood Milly ET and bull calf at foot Stowbeck Samson" 2,000gns to G Crozier, Viewley Farm, Steel, Hexham, Northumberland.