---
'Wilde about Blues' Part 2 hits the high spot with 10,000gns Female Breed Record

Michele Wilde, Ridge Farm, Dean Lane, Soulbury, Leighton Buzzard, Beds enjoyed a bumper trade at her second production sale in two years, when 49 lots went under the hammer on Saturday 31 July 2004, at auctioneers Harrison & Hetherington Ltd, Borderway Mart, Rosehill Carlisle. Michele has had another incredible year, gaining major triumphs at two of the Royal Shows, and has just found out that she has won the Overall Premier Breeders of the year award for the eighth time, which is an amazing achievement. Many breeders' commented that the cattle just keep getting better and her 2003 heifer calf crop was no exception with 19 lots, selling at 2,000gns and above, averaging a staggering £3,459.47, and a top call of 10,000gns breaking the previous 9,000gns female breed record set by Jane & Danny Wyllie.

The lady in question was Ridge Dean Valentine ET an April 2003 born daughter of Radar Van Terbeck who is a Galopeur son. Valentine's dam, the homebred, Triple Crown Winner Jessie, needs no introduction, one of her daughters, Trixie, sold at the Wilde about Blues sale August 2002, went on to win at the Royal Highland Show 2003. A & KM Barnes, Cowden, Gt. Harwood, Lancs takes Valentine home along with their other purchase Ridge Dean Vision, who boasts an EBV of 23. This February 2003 Ridge Dean Razz daughter and out of Ridge Dean Joan, a former purebred heifer champion at Smithfield show, other progeny of Joan's includes Ridge Dean Super Fighter, who sold for 7,200gns as a 19 month old bull at Carlisle May 2002.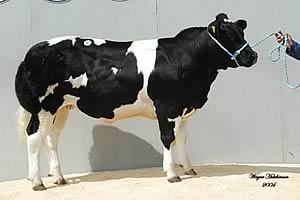 A new breed record was created when Ridge Dean Valentine, a daughter of the noted Ridge Dean Jessie, sold to Alan Barnes for 10,000gns.



Auctioneer David Dickinson commented that the quality of stock on offer was tremendous; the cattle were presented to a packed ringside, who keenly watched, as buyers bid freely on animals they had marked. Many buyers from Michele's first production sale were in attendance.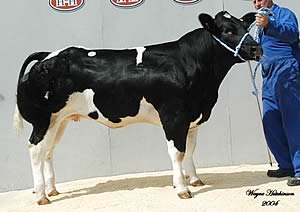 Ridge Dean Vera ET, after taking a bundle of tickets at the summer shows, went on to make the day's second top price of 5800gns, selling to CR Raine & sons, Stanhope Gate, Middleton in Teesdale.



At 5,800gns was Ridge Dean Vera ET, Michele's favourite of the 2003 heifer calf crop! She was Junior Female Champion & Reserve Overall Champion RASE 2004, and has an EBV of 21. This January 2003 Osborne - Ridge Dean Popsicle ET daughter travels to Middleton in Teasdale, for Messrs CR Raine & Sons, Stanhope Gate Farm, Co. Durham.

Next in the bidding stakes, at 4,500gns was Ridge Dean Wren ET, an outstanding black & white, January 2004 heifer calf sold with her recipient dam, who is in-calf to Ridge Dean Razz. Wren is by Artiste de la Gaiete who is working well on the Ridge Dean Cows, producing some excellent cattle, and out of Ridge Dean Navette ET, who is breeding consistently well for Ridge Dean. The successful bid came from Mrs A Padfield, Brambles, Potter Heigham, Gt Yarmouth.

Matching the 4,500gns bid was Ridge Dean Vogue ET an April 2003 full sister to the aforementioned Wren. Vogue was knocked down to JK Manson, Upper Northfield, Whick, Caithness.

Just behind on 4,000gns was Ridge Dean Talula, who sells in calf to Ridge Dean Razz, this outstanding blue and white Ridge Dean O Casey daughter has been flushed once and has two outstanding calves on the ground from that flush, with an EBV of 30 and the very best Ridge Dean bloodlines she should go on and breed well for her new owner Alan Bromyard, Newsawley, Loneaton Notts.

The bull Ridge Dean Upland ET an April 2002 born Serieux de Fooz - Ridge Dean Popsicle ET son sold for 5,000gns to Mr WT Evans, Awhirk, Lochans, Stranraer. Upland was 1st in his class and Reserve Overall Male Champion RASE 2004.

Crossbreds sold to a top of £860 for an in-calf Limousin cross Belgian Blue cow from Peter Bodily to Mr W Weightman, Haining Law Farm, Seaton, Seaham, Co. Durham and averaged £682.50 for the 4 lots sold.

Averages

4 cows with calves at foot £2,572.50
5 cows in calf £1,407.00
3 recipients with heifer calves £3,430.00
5 served heifers £2,646.00
27 maiden & yearling heifers £3,243.33
1 young bull £5,250.00

Other leading prices: -

" Ridge Dean Wye ET (Bull) & Recipient dam" 3,900gns to Mrs A Padfield, Brambles, Potter Heigham, Gt Yarmouth

" Ridge Dean Uptown Girl" 3,800gns to CR Raine & Sons, Stanhope Gate Farm, Middleton In Teasdale, Barnard Castle, Co. Durham

" Ridge Dean Unmistakeable" 3,600gns to NM Roberts & Ptnrs, Oak Mount Farm, Windyhill, Cefn-Y-Bedd, Wrexham

" Ridge Dean Useful" 3,500gns to WJ Ervine, 13 Knocktagh Road, Newtownabbey, Co. Antrim, N Ireland

" Ridge Dean Verity ET" 3,500gns to I Lancaster, Coldcotes Farm, Wiswell, Pendleton Road, Nr. Clitheroe, Lancs

" Ridge Dean Toyah ET" 3,400gns to J C Pickard, Bradley Hall Farm, Goldacre, Great Harwood, Lancs

" Ridge Dean Ninety & her heifer calf Ridge Dean Whisker" 3,300gns to CR Raine & Sons, Stanhope Gate Farm, Middleton In Teasdale, Barnard Castle, Co. Durham

" Ridge Dean Verbena" 3,000gns to Messrs MacDonald, Ladyhousesteads, Canonbie, Dumfriesshire DG14 0XN