LA GRANDE ROSE BLOOMS
AT CHELFORD'S 40TH NATIONAL SHOW & SALE @ 4500 gns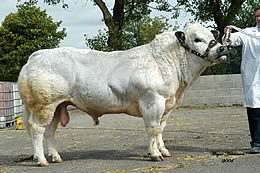 Ermite De La Grande Rose - 4500gns
Lanarkshire breeder Gavin Shanks saw his imported bull "Ermite De La Grande Rose," out of Taquineuse De La Grande Rose, by the renowned Osborne Van Terbeck, lead The British Belgian Blue Cattle Society's 40th National Show & Sale at Chelford last week, when he made 4500 gns to crossbred judge, Anita Padfield of Great Yarmouth, Norfolk.

Despite the harvesting weather, breeders and enthusiasts from all over the UK, Isle of Man and Northern Ireland, descended upon the Centre, attracted by a record entry for the Autumn sale of 185 head (although the Spring sale attracts an entry in excess of 300).

The after show barbecue on Friday evening produced a lively atmosphere, which transferred into the sale-ring on Saturday, as Auctioneer's Gwyn Williams and Jonathan Farrall got down to business.

With many commercial buyers looking for bulls to work, it was the stronger bulls which grabbed most attention, although Paul Walker's 19-month old bull "Crackley Bank Vimto," sired by Cubitus Du Pre Rosine, out of Belldale Raquel, caught the eye of several breeders and suckler producers, eventually making 3500 gns to E. G Booker, Mold, Denbighshire.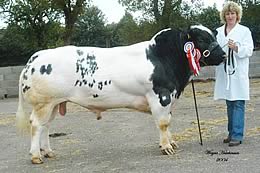 Overall Champion Ty Isaf Uri
The Pedigree Judge, Huw Evans of the Machynlleth based, Seifion Herd of Belgian Blues, chose, as his Supreme Champion, the December 2002 born bull "Ty Isaf Uri," out of Ty Isaf Lady Linda by Ty Isaf Remmi, from Newtown, Powys breeders, Wynne and Linda Morgan, who made 2950 gns to Chester-based dairy producers Hill and Davies.

Strong trade was anticipated for the pedigree female entry and, so it turned out with many prices exceeding vendor expectations. Paul Walker topped the trade with "Belldale Raquel" out of Noblesse De Palenge, by Ridge Dean Mahogany, at 3500 gns, going home with Messrs. J & G Quayle, Union Mills, Isle of Man. Alan Cleland from Downpatrick, Co. Down, Northern Ireland followed with his May 2001 born heifer, "Ballee Tilly" making 3400 gns to CA & S M Jones, from the Isle of Man. A May 2001 daughter of As De Treffle Du Vanova, out of Ballee Princess, she is due around Christmas to Ballee Secret. Fellow Northern Ireland breeders, Martin Bros of Newtownards, were also delighted with trade for two in-calf heifers. Messrs Jones were in again at 3000 gns, to take home the June 2002 born "Springhill Upstart," a June 2002 born heifer, due in November, to Arlequin Des Peupliers, whilst Mr. Gill of Huddersfield went to 2900 gns, to secure "Springhill Ultra," a January 2002 heifer, also due in November to Visconti De St Fontaine, for his Lanehead herd.
Maiden Heifers peaked at 2200 gns, for the May 2003 born "Afonwen Villette," an Osborne Van Terbeck daughter from noted showman and breeder, Jim Hollingsworth, of Mold, whilst St. Ives, Cornwall breeders Mr & Mrs G W Hollow, saw their October 2002 heifer "Chytodden Uptown Girl" by Philliper de Remichampagne, make 2000 gns to D Millichap, Tonyrefail, Mid-Glamorgan.

In The Crossbred Section

A catalogued entry of 110 Commercial Belgian Blue Steers and Heifers, met a brisk trade throughout, despite several buyers choosing to snatch the remaining corn harvest.

Show success went to Northampton breeders, Messrs. Page Bros, with a "One-two" taking top honours in the heifer and steer sections.

Judge Anita Padfield, of Norfolk had no hesitation in placing the black and white heifer first and she went on the make £1500 to Howard Price of Swansea.

The Reserve Champion however, was the one that "Rung the bells" with tremendous pre-sale interest propelling the bidding to a final call of £2100 from Emily Jones, Lampeter.

Cattle suitable for the Christmas Primestock Shows were reasonably scarce and, therefore, found homes with ease at between £750 and £900.

The majority of cattle on offer realised rates in excess of vendor's expectations and a virtual 100% clearance was effected.

Averages

Crossbreds
29 steers £721.38
59 heifers £578.42

Pedigrees
29 Bulls £2274.20
20 Females £1910.14
7 Females with calves £1582.86

Leading prices

06 Besthorpe Ultrasonic 2760Gns
7A Ermite De La Grande Rose 4500Gns
12 Twyning Ash Usher 2500Gns
13 Bringlee Unicef 2600Gns
15 Ty Isaf Uri 2950Gns
27 Crackley Bank Vimto 3500 Gns
37 Inishfree Viscount 2250 Gns
47 Belldale Raquel 3500Gns
48 Chancellors Suzie 2400Gns
53 Twyning Ash Trudi 2350Gns
54 Ballee Tilly ET 3400Gns
56 Springhill Ultra 2900Gns
58 Springhill Upstart 3000Gns
70 Afonwen Villette 2200 Gns

Results from the Showring

Crossbred Steer up to 12 months – Messrs Page Bros.
Crossbred Steer 12 months + - M J Wells & Son
Crossbred Heifer any age – Messrs Page Bros.
Crossbred Heifer 12 months + - K G Wilkinson
Pedigree Male 24-30 months - Boothlow Uno ET
Pedigree Male 18-24 months – Ty Isaf Uri
Pedigree Male 12-18 months – Birdswood Valiant
Pedigree Female 24 months + - Ballee Tilly ET
Pedigree Female 18-24 months – Chytodden Uptown Girl
Pedigree Female 12-18 months – Annanwater Vanilla ET
Photographs are available from Wayne Hutchinson ~ Tel 015396 20635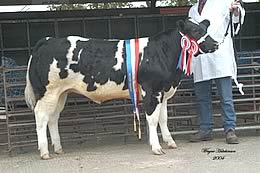 Champion Commercial came from Frank Page, with his 9 month old Tamhorn Ringmaster daughter.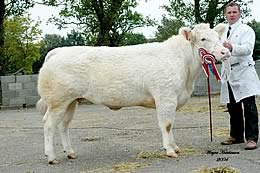 Taking the Champion female placing on his debut at the Chelford sale was Andy Ryder, Moffat, with Annanwater Vanilla.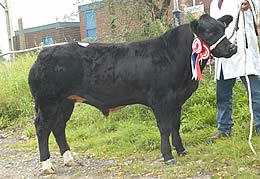 Champion Commercial steer from Frank Page made 1700gns in the ring. Another Tamhorn Ringmaster sired calf.