---
HUGE CROWD, INCLUDING A LOT OF NEW FACES PROVIDES ELECTRIC TRADE FOR CHELFORD BLUES!
The atmosphere was described as "absolutely electric" at Chelford on Saturday 6th March 2004, for the 39th National Show and Sale, on behalf of the British Blue Cattle Society, with some bulls in particular attracting bids from 10, or 12 prospective purchasers.

Chelford's main ring was packed to the rafters, the crowd including a host of new faces, as auctioneer, Gwyn Williams, started the sale, and stayed that way as he and Jonathan Farrall worked their way through a catalogue of 336 pedigree and crossbred Belgian Blue Cattle.

At Friday night's show, Allan and Deirdre Wilkinson,from the Springfield Herd, judged the pedigrees and Neil Slack, Newby Penrith, the crossbreds.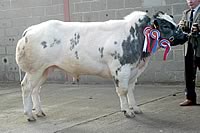 Supreme Champion Twyning Ash Umberto
Very large classes were put forward. Mr & Mrs. Wilkinson eventually choosing, as their Supreme Champion, the April 2002 born bull, "Twyning Ash Umberto", out of Twyning Ash Nipper, from Dursley Glouc.- based breeders, Richard and Julia Carter, who also held a small production sale, within the catalogue. 'Umberto', by the Odillio son, Twyning Ash Rosco, has an EBV of 26 which, combined with his outstanding conformation and mobility, generated considerable interest, before he was knocked down, at 5500gns, to R Wallbank & Sons, Slaidburn, Clitheroe, Lancs.

Messrs Martin Bros. made the long trip form Co. Down, Northern Ireland, with their June 2002 born bull, "Springhill Useable," who had a 400 day weight of 644kg. They were well rewarded when he sold for 4900gns, to Messrs. Kealey & Partners, Goole, East Yorkshire.

Messrs G.G. Jenkins & Sons also had a long journey from Crymych, Pembrokeshire, with their 5 bulls, seeing their best, the March 2002 born bull, "Penfro Ultra Stud," by their Bluestone Postman Pat, make 4600gns, to S Morgan & Sons, Oxfordshire.

Graham Coates of Stainforth, Settle, North Yorkshire sold his April 2002 bull "Greystone Universal" for 4500gns, to John Quick, Credition, Devon. Infact 2 of the top five prices came from the Greystone Herd.

Demand for bulls was consistently strong throughout, with all but 3, out of the catalogued entry of 50, finding new homes. The majority making between £3000 and £4000, with an overall average just under £3300.

The sale of females resulted in a complete clearance, to a top of 3500gns, for D & M Gregory's strong heifer, "Gregmaur Una," due to Danseur D'Embise, in October. Having attracted considerable interest and bidding from several breeders, she eventually went home with Mr. Smith, to Worcester.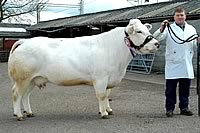 Female Champion Eclatante
The Female Champion was the superb 1998-born "Eclatante 2316 De Miecret" shown by Arwel Owen of Llanerchymedd, Anglesey. Having been flushed 3 times, successfully, she was sold to calve, in April, to 'Visconti', and also made 3500gns, to A Williams, Corwen, North Wales.

Messrs. Gregory also sold another in-calf heifer, "Gregmaur Ursula," due in September, to Danseur, for 2800gns, to A Bromyard, New Sawley, Nottinghamshire, whilst Messrs. Carter saw the best of their heifers, "Twyning Ash Shandy" and "Twyning Ash Unison," both in-calf to the EBV 42 Twyning Ash Troy, make 2300gns to E. S. Phillips of Tenbury Wells and I. G. Wallace of Co. Down, Northern Ireland.

Crossbreds
There is an old adage in Agricultural terms, especially with livestock sales, that "NUMBERS BRING BUYERS."

This was certainly the case with 243 head of quality, commercial cattle, on offer at the 39th National Show and Sale, drawing purchasers from the North of Scotland, to the West Country of Devon and Dorset.
The crown that assembled for the show, was an indication of things to come.

Judge, Neil Slack, of Penrith, Cumbria, was presented with the unenviable task of placing the first class of some 26 steers. Honours were stolen by Frank Page of Elkington, Northants, taking Champion and Reserve, on his maiden voyage to Chelford. The Champion Steer peaked at £1450, to Andrew Bishop, Malvern.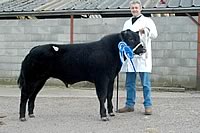 Top price Commercial
However, it was the reserve, which stole the show, frenetic bidding pushed potential buyers past their limits; G Rice was the overall winner at £2000, to take the steer back to Leeds.

A very smart, 13 month old steer, also from Messrs Page, created an enormous amount of interest, with many losers, but only one winner, Emily Jones, Lampeter at £2000.

Selective bidding on heifers saw a few smart ones really hit the right buttons; local breeder Stuart Baldwin took first prize in a strong heifer class, only losing out to Champion and Reserve. Paul Barwood and Anita Padfield were not going home without her, and secured the heifer at £1900.

Andrew Davies is no stranger to high prices, at Chelford and this sale was no exception, with a heifer at £1800 and a steer at £1350.

Auctioneer Jonathan Farrall commented, "With the present demand for store cattle, the scene was set for a productive sale. The averages printed below tell their own story, but, one thing will always stay the same – Quality will always sell."

Averages
50 Pedigree bulls £3290.74
23 Pedigree females £1816.96
106 Crossbred steers £736.22
103 Crossbred heifers £645.15
2 Crossbred cows £1410.00
Results from the Showring
Class 1a
1st - Lot 243 Belgian Blue x Limousin x steer – F Page
2nd- Lot 248 Belgian Blue x Belgian Blue x steer – F Page

Class 1b
1st – Lot 280 Belgian Blue x steer – J Gilbert
2nd – Lot 273 Belgian Blue x Limousin steer – K Wilkinson

Class 2a
1st – Lot 274 Belgian Blue x Belgian Blue x Friesian heifer – RE & S Baldwin
2nd _ Lot 108 Belgian Blue x Belgian Blue x heifer – MJ Wells & Son

Class 2b
1st – Lot 256 Belgian Blue x Limousin heifer – M Tomlinson

Class 3
1st – Lot 3 Peel Senator – Mr E C Haste

Class 4
1st – Lot 12 Penfro Ultra Stud – GG & JM Jenkins & Sons
2nd – Lot 6 Dunstall Universe – Mr I Froggatt

Class 5a
1st – Lot 18 Twyning Ash Umberto – Mr R Carter
2nd – Lot 31 Penfro Union River – GG & JM Jenkins & Sons

Class 5b
1st – Lot 34 Nantyderri Urson – Mr A Cooke
2nd – Lot 47 Ty Isaf Unique – DW & LE Morgan

Class 6
1st – Lot 56 Woodview Uen – Mr A Craig
2nd – Lot 55 Tamhorn Upbeat ET – J R Wyllie

Class 7
1st – Lot 68 Eclatante 2316 De Miecret – Arwel Owen
2nd – Lot Twyning Ash Twinkle – R Carter

Class 8
1st – Lot 76 Gregmaur Ursula – D & M Gregory
2nd – Lot 85 Twyning Ash Una – R Carter

Class 9
1st – Lot 81 Cwm Uzi – Arwel Owen
2nd – Lot 80 Paulern Uria ET – E R Hemmings
Best Crossbred Steer
Lot 243 Belgian Blue x Limousin x steer – F Page

Best Crossbred Heifer
Lot 256 Belgian Blue x Limousin heifer – M Tomlinson

Champion Crossbred
Lot 243 Belgian Blue x Limousin x steer – F Page

Champion Pedigree Female
Eclatante 2316 De Miecret – Arwel Owen

Champion Pedigree Male
Lot 18 Twyning Ash Umberto – Mr R Carter

Supreme Champion
Lot 18 Twyning Ash Umberto – Mr R Carter