Moira Sale
Saturday 27th March 2010
British Blues Sale Top 5700 gns. at Moira with 77% going for Export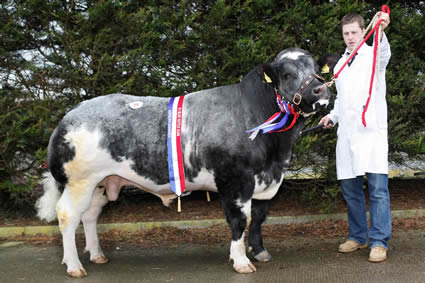 Champion and top priced animal Droit Domino
The Pedigree Sales Arena at Moira, Co Down, Northern Ireland was alive with keen interest on Saturday morning, the 27th March 2010; the number of 'ROI plates!' in the car park that morning boded well for the interest from the Republic in British Blue genetics at the Northern Ireland Blue Cattle Club's spring export sale. This optimism proved to have sound foundation with 34 of a consignment of 44 Pedigree 'Blues' (77%) being exported!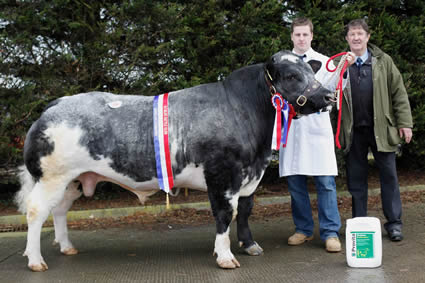 Droit Domino with Judge Andy Woodburn, sponsored by Provita
Society Company Secretary John Fleming commenting:- 'This must be one of the UK's export sale records!'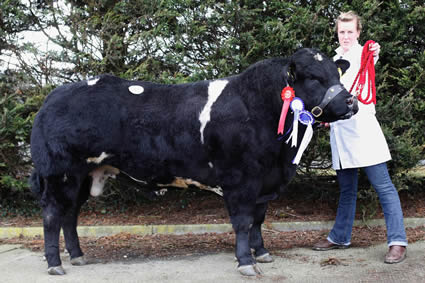 Reserve Supreme Champion Woodview Daren
Judge Andy Woodburn from Netherwood, Muirkirk, Ayrshire put up as his Male Champion and Supreme Champion 'Droit Domino ET', out of 'Droit Alana ET' by the infamous 'Park Organiser', bred and exhibited by Richard Mowbray, this very correct bull went on to top the sale at 5700 gns, being knocked down to southern buyer Jonathan Harte in Co. Sligo.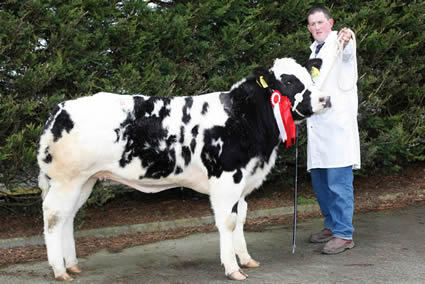 Champion Female 9 month old Woodview Ellie
The Reserve Supreme Champion rosette being awarded to 'Woodview Daran ET', from the Andrew Craig stable, a son of 'Ballygrange Alex, out of 'Woodview Barbie', being knocked down for 3200 gns and finding a new home in Co Tipperary.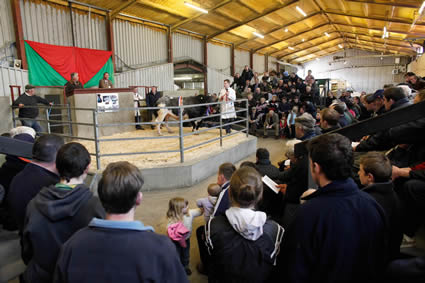 A Champion under the Hammer
The Female Championship going to a very sweet, 9 month old heifer 'Woodview Ellie', out of 'Woodview Carol', by 'Woodview Canter', being knocked down to a Co Tyrone purchaser for 2650gns.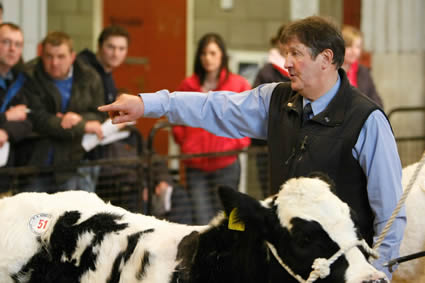 Judge Andy Woodburn, taking the job seriously
Auctioneer Willie Wilson commented 'There was a strong and even trade for quality, with the British type of genetics being highly sought after.'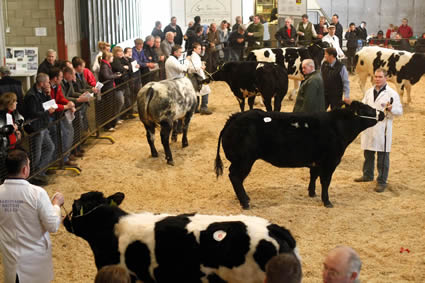 On with the Show, a packed ring
The sale commenced with a charity auction in aid of the 'Friends of Rumania' organised by Naomi Gregg, who is visiting a Romanian orphanage with her school in July (Ballybollan Prefix). An ewmbryo, donated by Diane and Mel Lucas being sold to Richard Simpson from Broughshane for 420 gns.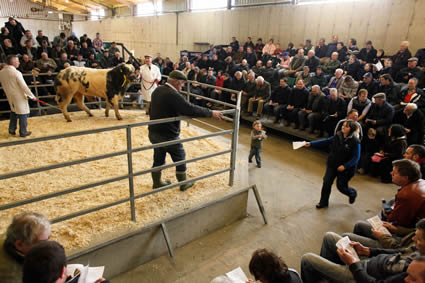 Another one sold at Moira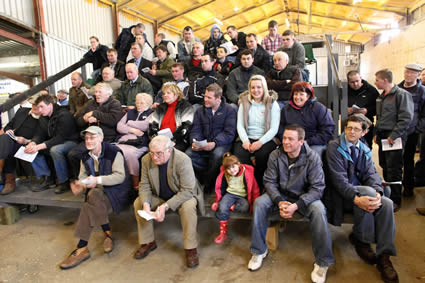 Keen bidders
Leading Prices
Lot 29 Droit Domino 5700gns
Lot 2 Littlederry Casper 4800gns
Lot 1 Ballydonaghy Champion 4600gns
Lot 7 Clougher Dominator 4200gns
Lot 8 Clougher Duke 4200gns
Lot 21 Scad Hill Dwyne 4200gns
Lot 20 Ballyhossett Darcy 4000gns

Price range
Bulls 5700gns to 1950gns
Females 3400gns to 1350gns

Averages
28 bulls £3414 (Spring 09 +£414)
15 maiden heifers £2,264 (Spring 09 +£44)
1 Cow and calf £2520
2 Recipients with calves £1759
1 Recipient carrying Embryo £1008
8 Embryos £252

Show Results: -
Class 1:
1st – Littlederry Casper ET
2nd – Ballydonaghy Champion
3rd – Ballee Danny

Class 2:
1st – Clougher Dominator ET
2nd – Meadowview Blues Daniel ET
3rd – Clougher Duke ET

Class 3:
1st – Woodview Daren ET
2nd – Woodview Dojo ET
3rd – Knockagh Daktari ET

Class 4:
1st – Scad Hill Dwyne ET
2nd – Knockagh Desperado ET
3rd – Knockagh Dean ET

Class 5:
1st – Droit Domino ET
2nd – Clougher Delboy ET
3rd – Ballyclough Del Boy

Class 6:
1st – Faughanvale Annette
2nd – lukeroyal Wannabee Star ET

Class 7:
1st – Lukeroyal Caroline ET

Class 8:
1st - Meadowview Blues Danielle ET
2nd - Drumlone Dotty
3rd - Moneynabane Duchess ET

Class 9:
1st - Woodview Ellie
2nd - Springbank Eurostar
3rd - Faughanvale Elaine ET

Male Champion - Lot 29 – 'Droit Domino ET'
Female Champion - Lot 51 – 'Woodview Ellie'
Reserve Supreme Champion - Lot 13 - Woodview Daran ET'
Supreme Champion - Lot 29 – Droit Domino ET'
Show and Sale generously sponsored by Provita Eurotech Ltd

Auctioneers: RA Noble & Co, Moira Pedigree Sales Arena t. 028 855 48242
Photographs: Columba O'Hare – Fotacol t. 07754 171130 fotacol@newry.info