Moira Sale
Saturday 24th October 2009
SALE AVERAGE BOOSTED FOR BLUES AT MOIRA
There was tremendous interest in the Northern Ireland Blue Cattle Clubs' inaugural show & sale at the Moira Sales Arena, where there was a near full clearance, with over two thirds of the purchases, finding homes in the Republic. Breeders were well pleased with the bull average being £320 up on last year, with the leading price of 4550gns going to "Woodview Collon ET" from Andrew Craig. Collon went home with Johathan Adams, Bellaghy, Co. Londonderry.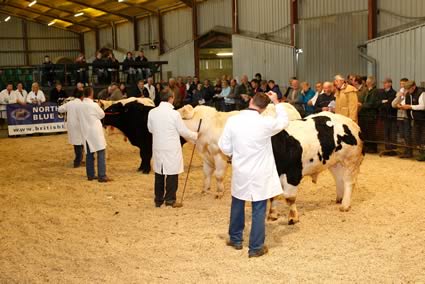 Judging Underway
The sale, organised by the Northern Ireland Blue Cattle Club, had invited Seamus Neary, from Kilkenny, to judge the show. His Supreme Champion being a May 08 born heifer, "Droit Dale ET", bred & exhibited by Richard Mowbray if Newtonstewart. This heifer was sired by "Visconti De St Fontaine" out of "Droit Amy ET". She was eventually knocked down, at a leading female price of 2,800gns to David Wharton, Birr, Co Offaly.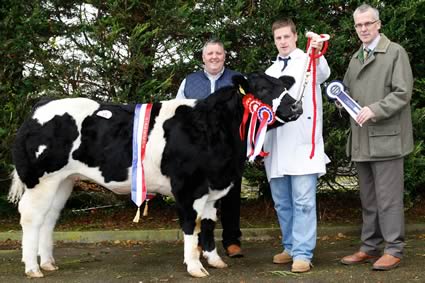 The Champion Female and Supreme Champion, Droit Dale, with breeder, Richard Mowbray & John Henning from Sponsors, Northern Bank
Reserve Champion was "Chatham Denver", out of the Jack & Anne Morrison stable. An April '08 born bull, by "Paulern Verdi", out of "Chatham Sarah", being sold to Robert Moore, Coleraine, Co Londonderry at 3,050gns.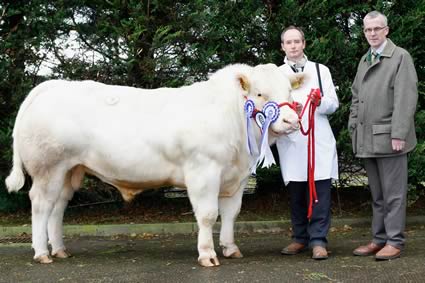 The Champion Male and Reserve Supreme, Chatham Denver, with David Morrison & John Henning from Sponsors, Northern Bank
In their respective classes, red rosette winners were "Lukeroyal Cowboy ET", a son of "Hazelwood Freshman" out of "Lukeroyal Tulip", knocked down to Kieran Mackin, Newry, for 2,020gns. "Blackford Charlie ET" from Harold McKee was sold to Patrick Mulhern, Co. Longford for 2,800gns, a son of "Oxcroft Lionheart" out of "Lukeroyal Tiara".

Andrew Craig's "Woodview Cash ET", a son of "Dafydd D'Ochain" out of "Woodview Witchy", sold to Michael Glynn, Kilwara, Co Galway for 3,580 gns.

"Chatham Charger" from Jack & Anne Morrison coming in at 3350gns being sold to Peter McKeog, Millisle.

Another bull at 3050gns was "Greenfield Dodger" from Basil Dougherty. This all black bull son of Dafydd D'Ochain sold to Lawrence Dorian, Dunleer, Co. Louth.

Coming on to the females, the other class winner being Sam Milliken's "Seygorry Cuttie", a Knockagh Viking daughter, out of Seygorry Violet.

Next in line was "Lukeroyal Cinderella" from Mel & Dianne Lucas, who sold for 1,800gns. This June 07 born heifer by "Twyning Ash Vaughan" and out of "Lukeroyal Wannabee Star", sold to Cyril Martin.

Two Recipients carrying embryos by "Woodview Solo" generated considerable interest, being sold for an average of £2520 each. There was also a steady trade for embryos.

Club Secretary, Harold McKee commented "There was a steady, even trade in these difficult times, with bull averages being over £320 up on a year ago. The Club and Society are indebted to Auctioneer, Michael Taaffe, for the very patient and professional way in which he conducted the sale on our behalf, maximising the full value of animals before him."
Show Results
Class 1:
1st – Lukeroyal Cowboy ET
2nd – Lukeroyal Chuck ET
Class 2:
1st – Blackford Charlie ET
2nd – Woodview Curry
3rd – Woodview Callum ET
Class 3:
1st – Greenfield Dodger
2nd – Woodview Cash ET
3rd – Greenfield Daredevil ET
Class 4:
1st – Chatham Denver
2nd – Hillview Doughty
3rd – Hillview Densel
Class 5:
1st – Seygorry Cuttie
2nd – Lukeroyal Cinderella ET
3rd – Lukeroyal Cassandra ET
Class 6:
1st – Droit Dale ET

Champion Male: Chatham Denver
Champion Female: Droit Dale ET
Supreme Champion: Droit Dale ET
Reserve Supreme: Chatham Denver

Leading Prices

Bulls: -
Lot 6 – Woodview Collon 4550gns
Lot 10 – Woodview Cash 3580gns
Lot 9 – Chatham Charger 3350gns
Lot 15 - Greenfield Dodger 3050gns
Lot 18 – Chatham Denver 3050gns

Females: -
Lot 28 – Droit Dale 2800gns
Lot 22 – Lukeroyal Cinderella 1800gns

Averages: -
16 bulls Ave £2792 ( +£320)
5 Females Ave £1816.60 (-£284)
2 Recips Ave £2520

Auctioneers: RA Noble & Co, Moira Pedigree Sales Arena t. 028 855 48242
Photographs: Columba O'Hare – Fotacol t. 07754 171130 fotacol@newry.info