Annual Autumn Show & Sale 2008

Tuesday 30th September and Wednesday 1st October 2008

SELECTIVE BIDS FOR QUALITY BLUES AT CARLISLE & LOCKERBIE
Due to Bluetongue movement restrictions the Border British Blue Club had to hold a two centre sale for their Nineteenth Annual Autumn Show & Sale, when auctioneers Harrison & Hetherington Ltd, Borderway Mart, Rosehill offered for sale a good selection of British Blue Cattle. Numbers entered were good, with members travelling the distance to support this annual event, with a lead call of 6,400gns and a further 10 bids of 4,000gns and above.
The show and sale was kindly sponsored by BBG (Class Prize Money), British Blue Cattle Society and Border Club (Advertising). Due to the two centre sale procedure, the trophies awarded will be retained for 6 months by the respective winners.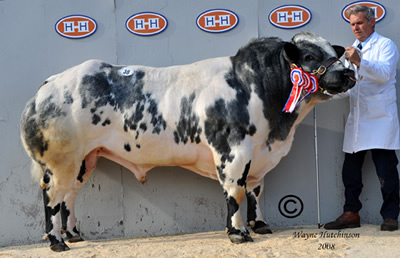 Carlisle champion, Gregmaur Bunnamohaun
sold for 6000gns.


The judge, Brian Hall, Ainstable Hall, Ainstable, Carlisle had the difficult task of judging the show. He commented "There were good strong bulls on show at Carlisle and Lockerbie and that there was a powerfull class of heifers at both venues".He awarded the Male and Overall Supreme Championship at Carlisle to Gregmaur Bunnamohaun, a March 2006 son of Gitan Du P'Tit Mayeur (IS) and out of their homebred cow Virginia by Affute. He was exhibited by Mr & Mrs D Gregory, Bosworth Lodge Farm, Lutterworth, Leicester. This exceptionally well muscled blue and white bull was sold to the judge for 6,000gns top price bull of the day at Carlisle.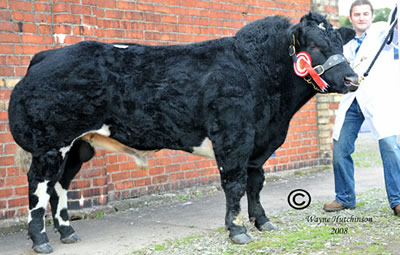 Lakeview Barrichello from Gary Beacom sold for 6000gns
at Lockerbie


Leading the way at Lockerbie was Gary Beacom, Lakeview House, Kesh, Co. Fermanagh, N. Ireland with Lakeview Barrichello, a November 2006 son of Dafydd D'Ochain and out of Knockagh Unanimous. Barrichello stood 1st in his class and was successfully purchased for 6,000gns by fellow breed enthusiast Graham Morgan, Cider Mill, Tillington, Herefordshire to join his Almeley herd.
Also hitting the high spots at Borderway was the 3rd prize winning bull Paulern Bristol ET, an exceptionally well muscled white bull from ER Hemmings, Hay Lane Farm, Nailsworth, Glos. This 2½ year old bull was knocked down for 4,800gns to B Williamson, Marsfield Farm, Bishop Auckland, Co. Durham.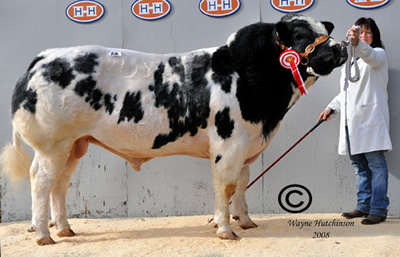 Black N Blue Challenger sold for 4400gns.


An AI son of Savant De Pierrecome (IS) was next in the price ratings. Black N Blue Challenger exhibited by Sally & Neil Lloyd, Stonycroft Farm, Luston, Leominster, Herefordshire was placed 1st in his class. This 21 month old blue and white bull is out their homebred cow Superstar. Challenger was successfully purchased by AJ & LM Geary, Yew Tree Farmhouse, Hanslope, Milton Keynes for 4,400gns.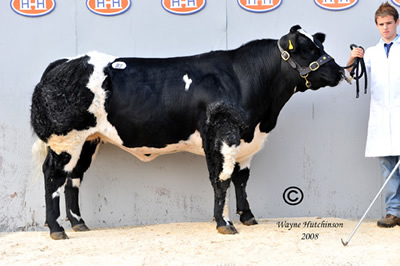 Maidenlands Crystal from JF & C Saunders, Ulverston
sold for 6400gns.


Leading the ladies and top price at Carlisle on 6,400gns was the 3rd prize and top price for JF & C Saunders' Maidenlands herd, from Maidenlands Tarn, Marton, Nr Ulverston, Cumbria for Maidenlands Crystal, a 20 month old daughter of Gitan Du P'Tit Mayeur (IS) and Force De Roupage. Crystal is a very powerful, black & white heifer who sold as a half share to Border Club members Kevin Watret, 25 Northfield Park, Annan and Andy Ryder, Newton Farm, Annanwater, Moffat, Dumfriesshire.
An AI daughter of Daffyd D'Ochain was next in the female price ratings at Borderway. Croftends Bonnie ET bred by JE Bellas & Son and exhibited by Anita Padfield, Brambles, Potter Heigham, Great Yarmouth, Norfolk was placed 2nd in her class. Bonnie is a tremendous nearly all black heifer who has won many 1st prizes and has been part of the herds successful 2007 & 2008 show team. She sold in calf to the reserve male and reserve supreme champion Piggots Artful Dodger who sold for 4,000gns to Messrs Allison, Lesserlinn, Lanark. Bonnie was knocked down to R Withers, Higher Tresawle Farm, Probus, Truro, Cornwall for 5,200gns.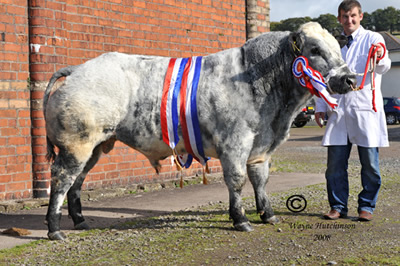 Champion at Lockerbie was Woodview Charlie ET


Taking the Supreme Championship at Lockerbie was a Dafydd D'Ochain son, Woodview Charlie ET, from Andrew Craig, Woodview, Co Londonderry. Charlie was no stranger to the show ring, having won 1st prize at Antrim Show during the summer.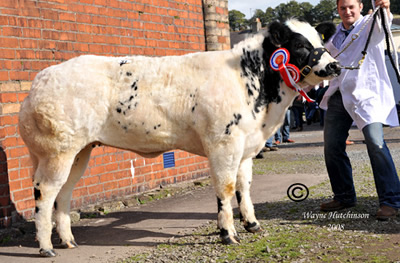 Female champion at Lockerbie was Lakeview Cracker from Gary Beacom, which sold for 5000gns.


The Female Championship at Lockerbie was awarded to Gary Beacom for his outstanding heifer Lakeview Cracker ET. This 15 month old heifer, by Gitan Du P'Tit Mayeur (IS) and out of a Seduisant bred daughter Woodview Uni, who was the top cow at Woodview Production sale 2006 when purchased for the top price of 6,800gns. Cracker ET sold for the joint top female price at Lockerbie of 5,000gns to JH & SM Mason, Keasden Head, Clapham, Lancaster. They were also presented with the 'Wilodge Perpetual Shield' for the Best Animal Opposite Sex to the Champion.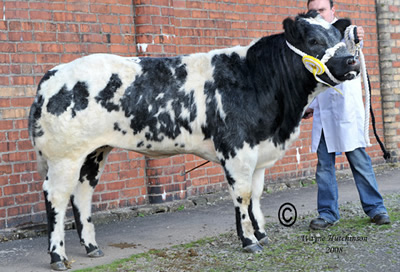 Lakeview Classic from Gary Beacom sold for 5000gns at the Lockerbie section of the sale.


Cracker's Full ET sister Lakeview Classic ET was next in the ring and sold for the joint top price of 5,000gns to DR Milburn, Wallend Farm, Greenhead, Brampton, Cumbria. Classic stood 3rd in her class.
Averages
LOCKERBIE Centre
9 Bulls £3,243.33
1 Served Heifer £2,415.00
5 Unserved Heifers £3,990.00
CARLISLE Centre
16 Bulls £3,606.09
3 Served Heifers £3,675.00
13 Unserved Heifers £2,810.77
3 Cows £2,747.50
2 Grade Registered Heifers £1,837.50
4 Recipients with calves £2,442.50
1 Recipient carrying embryo £1,680.00
Leading prices: -


LOCKERBIE
Bulls
JM Morrison & Son "Chatham Basil" 3,000gns to Claytons Partnership, Larkton Hall Farm, Hampton, Malpas, Cheshire. 5th in class 1
Alan Cleland's "Ballee Carl" 3,000gns to S Miller, Burnhead, Desford, Aberdeenshire. 3rd in class 2
Richard J Mowbray's "Droit Cliff ET" 3,000gns to I & E Glendinning, Newfield, Ruthwell, Dumfries. 2nd in class 2
Females
Richard J Mowbray's "Droit Bambi ET" 3,300gns to TR & EA Milburn, Wallend Farm, Greenhead, Brampton, Cumbria. 5th in class 5
Oliver McGuinness "Faughanvale Cindy ET" 3,200gns to WR & WW Jones, Henfache, Llanrhaeader, Oswestry, Shropshire. 2nd in class 5 and Reserve Female Champion.
CARLISLE
Bulls
Anita Padifield's "Piggots Artful Dodger" 4,000gns to RA & BEC Allison, Lesserlinn, Lanark. 2nd in class 7, Reserve Male & Reserve Supreme Champion
D & J Wyllie's "Tamhorn Captain ET" 4,000gns to R & MJ Lee, Harwood Shield, Steel, Hexham, Northumberland. 1st in class 9
R Partridge & Son Ltd "Kersey Broadside" 3,600gns to K Mason, Gawthorp Hall, Dent, Sedbergh, Cumbria. 2nd in class 8
R Partridge & Son Ltd "Kersey Captain" 3,600gns to HN Howard & Son, Chillingham Home Farm, Chatton, Alnwick, Northumberland. 4th in class 9
Females
JF & C Saunders' "Maidenlands Bauble ET 3,800gns to an undisclosed Buyer. 2nd in class 11
Miss C Williams t/a DA Williams "Wilodge Clinque ET" 3,600gns to G Jones, Sunnyside Farm, Astley Lane, Hadnall, Shrewsbury, Shropshire. 2nd in class 12 and Reserve Female Champion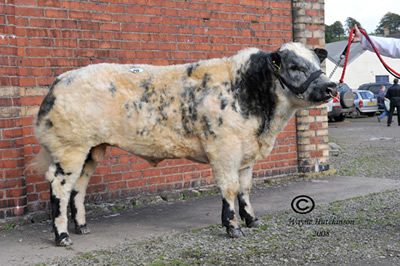 Clougher Concord sold for 4000gns at the Lockerbie sale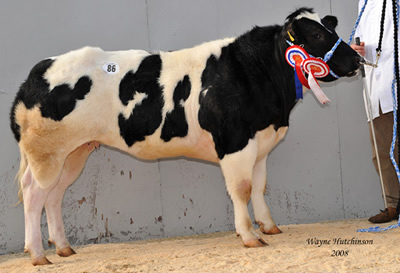 Cowden Chardonnay was the female champion at the Carlisle part of the sale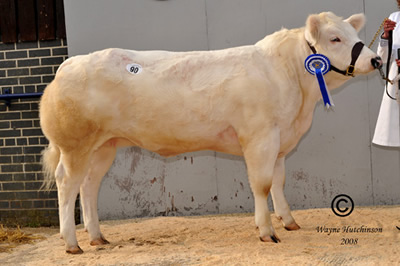 Wilodge Clinque from Christine Williams was the reserve female Champion and sold for 3600gns.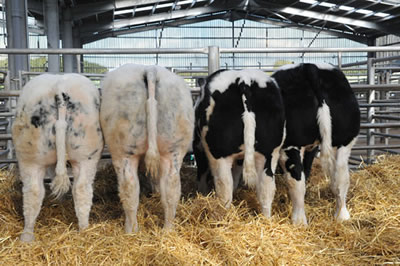 4 young cattle from RT & J Gorst