Carlisle Annual Spring Show & Sale 2008
Friday 16th & Saturday 17th May 2008


BRITISH BLUES SPRING TO THE FOREFRONT AT CARLISLE


British Blue breeders enjoyed a bumper day's trading at the Border British Blue Club's Eighteenth Annual Spring Show & Sale at Carlisle on Saturday 17 May 2008, when a new breed average for bulls of £5,302.50 was set, there was a lead call of 18,000gns and a further three bulls broke the five figure barrier!

There was tremendous demand for the 86 bulls offered, which saw averages jump £1,128.83 to level at £5,302.50. (The best of the beef breeds to date at Carlisle). There were only 2 bulls that left the sale ring unsold and 5 females; and 35 lots made 5,000gns or more.
Once again there was exceptionally strong demand for the intermediate bulls, which again reflected in the average of £5,759.56, with a very strong commercial trade throughout the day, with buyers bidding freely on animals which met their criteria, with the emphasis being growth and mobility. The females were also keenly sought after, with 35 maiden heifers sold to average a very respectable £3,546.

The show and sale was kindly sponsored by BBG (Class Prize Money), British Blue Cattle Society and Border Club (Advertising). BBG also gave £100 to the Supreme Champion and £50 to the Reserve Supreme Champion.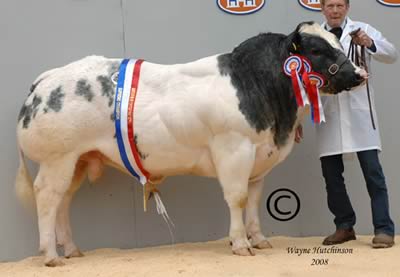 Westside Bob
The judge, Mr Geert De Paepe, President of BBG had the difficult task of judging the day prior to the sale. He awarded the Junior Male, Overall Male and Supreme Championship to Stephen Potter, Westside, Topcliffe, Thirsk with his single entry Westside Bob, who is half brother to Westside Baxter, who was Reserve Junior Champion Carlisle May 2007. Bob, a December 2006 born son of Blak du Baty D'Eprave and out of the homebred cow Sophie, was knocked down for 6,500gns to MMD McDermott, 7 Pollerton Road Upper, Carlow, Eire.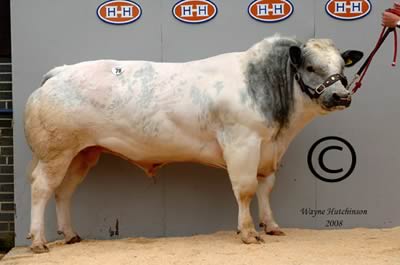 Greystone Bonzer
Top bid of the day however, came for the Coates Family, Rainscar Farm, Stainforth, Settle who have been breeding Blues consistently since they started breeding Blue cattle nearly two decades ago. Graham led his 5th prize winning bull into the ring and the bidding got under way for Greystone Bonzer a July 2006 son of their stock bull Adagio Du Stordeur and out of their homebred cow Velcro by Greystone Jackpot. This naturally born blue and white bull, was finally knocked down for 18,000gns to fellow breed enthusiasts Mark and Elaine Hartley of the Pendle herd who have been looking for a new stock bull and found what they required in Bonzer. The Coates family also take home the Border Club Special Trophy for the highest priced animal from a member of the Border Club.

Making their debut to Carlisle was the Nether Hall herd of David Kelly, Nether Hall Farms Ltd, Mansergh, Kirkby Lonsdale who provided the outstanding highlight of a buoyant Sale at Carlisle. Their tremendous line-up of Bringlee Volkawagon and Dafydd bred cattle with shape, muscle and growth saw Nether Hall – their team of 2 bulls and 4 heifers averaged a magnificent £8,872.50 apiece.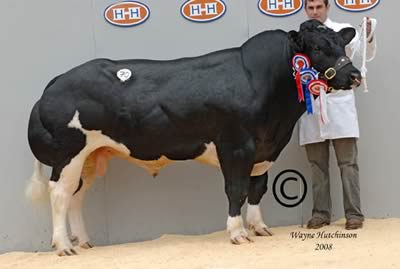 Nether Hall Buster ET
Second top price of the day 17,000gns and top price for Nether Hall Farms Ltd was their 22 month old bull Nether Hall Buster ET, an exceptional black bull by Bringlee Volkawagon and Kilboy Victoria flush, who was Intermediate Male, Reserve Overall Male and Reserve Supreme Champion and sold to JC Innes & Sons, Dunscroft, Huntly Aberdeen.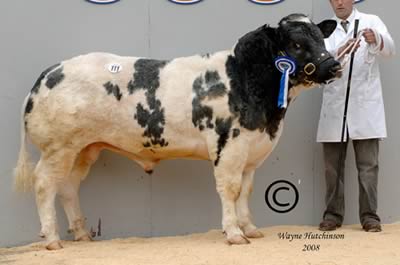 Nether Hall Costa
Nether Hall Farms also sold Nether Hall Costa a January 2007 son of Bringlee Volkawagon and out of Paulern Umi for 6,500gns to Sharplaw Farms, Hownam, Kelso. Costa stood 2nd in his class.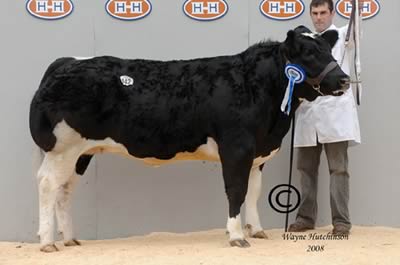 Nether Hall Brandy
Sharplaw Farms and A & GE Redhead, Bowsden Moor Farm, Berwick Upon Tweed bought a half share in the top priced female of the day, which was also from the Nether Hall stable. Nether Hall Brandy a 20 month old heifer sold at 9,000gns, she stood second in her class and is by Bringlee Volkawagon and out of Kilboy Victoria.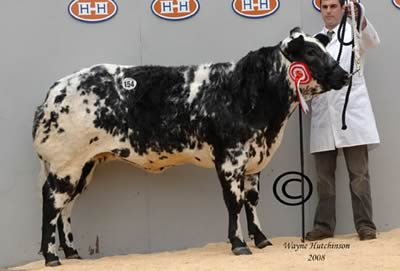 Nether Hall Clever Girl ET
Next in the female ratings on 8,500gns also from Nether Hall was another Volkawagon daughter – Nether Hall Clever Girl ET, a February 2007 daughter of the Zwierig ET VD Wildebeek flush. Clever Girl was keenly bid for but it was Pedigree breeders' AE Neachell & Son, Shrubbery Farm, Aldridge, Walsall who take her home to join their Cromwell herd.

Nether Hall Farms paid 11,500gns for Bringlee Volkawagon the Baron - Bringlee Sandy bred bull exactly three years ago at Carlisle. There was five Volkawagon progeny in the sale on Saturday that sold to average an exceptional £10,500.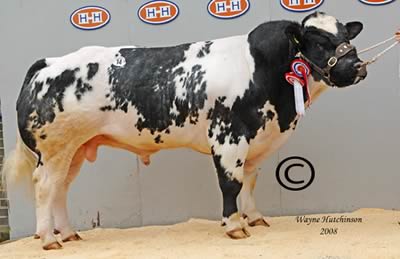 Croft Ends Bruno ET
The Senior Male Champion also reached the five figure mark when sold for 14,500gns for Border Club enthusiasts Jonathon and Andrew Bellas, Croft Ends Farm, Appleby In Westmorland. Croft Ends Bruno ET is no stranger to the show ring having won Junior Male Champion, Male and Reserve Breed Champion Royal Highland Show; Junior Male Champion at the Royal Show and Junior and Reserve Overall Male at the Great Yorkshire Show 2007. Bruno a 28 month old, exceptionally well muscled and mobile, black and white bull is from the Tintin De My and Clonberton Queen flush was knocked down to JB Bowness, The Bank, Crosby Ravensworth, Penrith.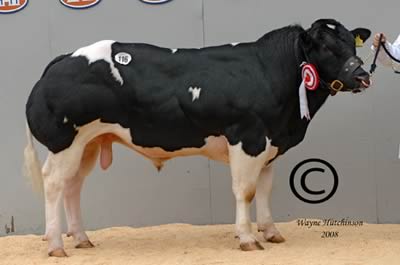 Bringlee Cajoleur ET
Also hitting the high spots at 11,000gns was the first prize bull from Graham Brindley's, Bringlee stable – Adderley, Market Drayton, Shropshire. Bringlee Cajoleur ET from the Cajoleur De Rettigny – Bringlee Sandy flush. This eye-catching 15 month old black and white bull is the first son to be offered for sale from this mating. Cajoleur is maternal brother to the 21,000gns Henlli Wishmaster, 11,500gns Bringlee Volkawagon, Bringlee Blackstar exported to Belgium and in the BBG stud, Bringlee Baroness exported to Eire and Bringlee Bronwen exported to Eire. Henry Ridley, Woodhall, Hesket New Market, Wigton was the successful buyer of this exceptionally well bred young bull.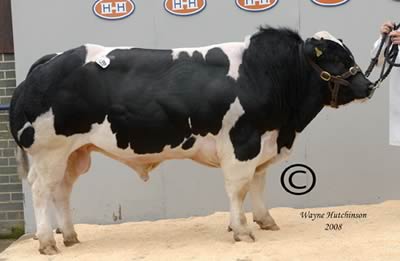 Betws Byron
A Gitan Du P'Tit Mayeur bred bull was next in the price ratings at 9,500gns for E & S Thomas, Seaview Herd, Cardigan. Betws Byron, a two year black and white bull out of Park Rose was bred by Gill & Rhys Bellis. Byron stood 2nd in his class was purchased by RA Cadzow, Inland Pasture, Berwick Upon Tweed.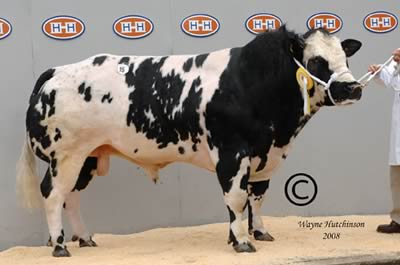 Stockmerle Boy Named Sue
There were four bulls sold for 9,000gns – the first through the ring was Stockmerle Boy Named Sue who stood 3rd in his class. This 28 month old son by Dafydd and out of Annanwater Vanity was bred and exhibited by Ron Barker, Stockstead Farm, Bewcastle, Carlisle. Boy Named Sue travels to Woodlands Hall Farm, Consett, Co. Durham.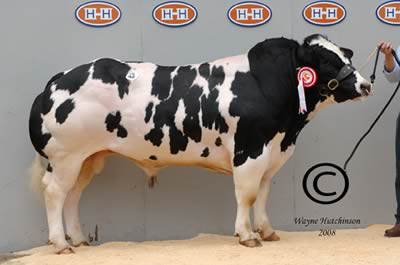 Bringlee Bouncer ET
Then came the Reserve Senior Male Champion Bringlee Bouncer ET bred by Graham Brindley. Bouncer a two year son of the Baron Du Bois Bauloye – Bringlee Sandy flush was successfully purchased by JH & SM Mason, Keasden Head, Clapham, Lancaster.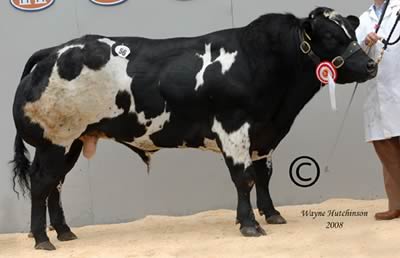 Lukeroyal Battle Axe ET
A few lots later the 1st prize winning bull Lukeroyal Battle Axe ET was the next bull to be knocked down for 9,000gns and the best for Mel & Diane Lucas, Antrim, N Ireland. This much admired black Dafydd son out of Croft Ulrensis, a black and white Ovatie daughter is in the top 1% for the breed and elite in the BQI scheme. Battle Axe joins the Penfro herd of GG Jenkins and Son, Nantyclun, Crymych, Dyfed.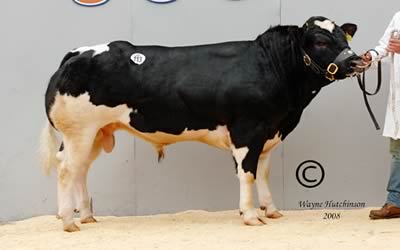 Kelowna Charnock
The last bull to reach the 9,000gns mark was 15 month old Kelowna Charnock, from Border Club chairman and secretary team – Claire & Steve Pattinson, Kinkry Hill Farm, Roadhead, Carlisle. Charnock a black and white bull who stood third in his class is by Bringlee Volkawagon and out of their fifth naturally calving cow Kelowna Renee. Charnock, an exceptionally well grown and mobile bull for his age is also entered for the Highland Show and was knocked down to Herries Farms, Bow House Farm, Glencaple, Dumfries.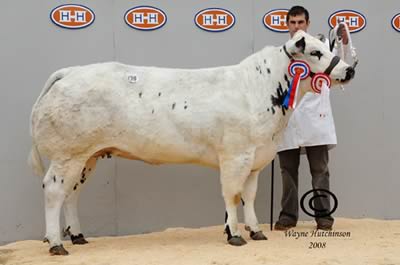 Nether Hall Betty Boo ET
The female championship was awarded to the aforementioned Nether Hall Farms Ltd for Nether Hall Betty Boo ET – from the Dafydd and Wood Hall Vicky flush. This senior maiden heifer was knocked down for 7,000gns to J Redmond, Knockendrane, Fenagh, Co Carlow, Eire. Nether Hall also takes home the Border Club challenge trophy for the best animal opposite sex to the champion.

Averages:
28 Senior Bulls £4,912.50 (plus £1,005.96)
34 Intermediate Bulls £5,759.56 (plus £809.98)
22 Junior Bulls £5,092.50 (plus £1,284.71)
84 Bulls £5,302.50 (plus £1,128.83)

1 Served Heifer £1,890.00
35 Maiden Heifers £3,546.00 (plus £642)
6 Cows served and/or suckling £3,850.00
4 Recipients with FOT calves £3,307.50
5 Recipients carrying embryos £2,127.00

Other leading prices: -
Bulls
AM & E Hartley's "Pendle Bulldozer ET" 8,500gns to M Bindloss & Son, Shap Abbey, Shap, Penrith, Cumbria. 1st in class 9 and Reserve Intermediate Male Champion

HR & WJ Maudsley's "Littlebank Bart ET" 8,200gns to JG & M Little, Greenhill Farm, Wigton, Cumbria. 4th in class 6

AM & E Hartley's "Pendle Bruce" 7,500gns to K Watret, 25 Northfield Park, Annan, Dumfriesshire. 1st in class 7

Martin Brothers' "Springhill Blower" 7,200gns to AR Robinson, Woodhall Farm, Bridekirk, Cockermouth, Cumbria. 4th in class 8

R & M Paterson's "Auchenlay Blue" 7,000gns to S Loughery, 184 Drumsurn Road, Limavady, Co.Londonderry, N.Ireland.

Females
AR & C Bethell's "Piggots Vavavoom" 6,500gns to AR Gibson, Fairview Farm, Evenwood Gate, Bishop Auckland, Co.Durham. 2nd in class 18.