Carlisle Annual Spring Show & Sale 2005
Saturday 21st May 2005
Supreme Champion takes the Breed Record to 21,000gns at Carlisle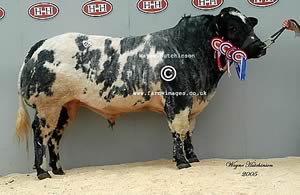 Auchenlay Vagabond ET
The Border Belgian Blue Club staged their Fifteenth Annual Spring Show & Sale at Carlisle, when auctioneers Harrison & Hetherington Ltd, Borderway Mart, Rosehill offered for sale one of the biggest and best entries of Belgian Blue Cattle ever seen at this centre. Following the national trend purchasers proved to be very quality selective when making their purchases, with only the top end of the bulls being in demand, the ringside was packed to capacity as buyers bid cautiously. 109 bulls sold to average £3,070.05.
The show and sale was kindly sponsored by BBG (Class Prize Money), Bank of Scotland (Championship Awards), British Blue Cattle Society and Border Club (Advertising).
The judge, a local suckled calf breeder, John Richardson, Ghyll House, Dufton, Appleby, Cumbria had the very difficult task of judging the show on Friday 20 May. He awarded the Junior Male, Overall Male and Supreme Championship to Auchenlay Vagabond ET, an October 2003 son of Park Organiser and his dam Codicote Rose is by a Battlesden sire. Vagabond was bred and exhibited by Perthshire breeders' R&M Paterson, Upper Auchenlay, Dunblane and sold as a half share to the judge, and R&N Barclay, Harestone Farm, Banchory, Kincardineshire for the new breed record of 21,000gns – 9,000gns more than the 12,000gns set at the same event last year.
Next at 11,500gns was the +14 EBV bull from regular consignor to Carlisle, Graham Brindley, The Lees, Market Drayton, Shropshire with his 1st prize winning bull Bringlee Volkawagon ET, a June 2003 son of Baron. Volkawagon follows his dams trait and is almost all black, his dam Bringlee Sandy ET is the reigning Female Champion at RASE and Breed Championat RWAS. He has been purchased as a joint venture between Netherhall Farms Ltd, Mansergh, Kirkby Lonsdale, Carnforth and Norbreck Genetics Ltd, Lancaster. Netherhall Farms will be using this high quality bull for use on both pedigree Belgian Blue and Limousin suckler cows. Norbreck Genetics Ltd have purchased a share in this high EBV sire as part of a £150,000 Investment Programme to sell semen from high genetic merit bulls both in the UK and to satisfy demand from overseas including sending semen back to Belgium.
Also hitting the high spots at 7,500gns was the 3rd prize senior bull from ER Hemmings, Hay Lane Farm, Nailsworth, Glos. Paulern Voltaire ET, an April 2003 son of Affute Du Ry Ossogne and out of their homebred Opticien bred daughter Millend ET. This high EBV bull left the sale ring unsold but later found his new home in Ross-shire for A&P Munro, Caplich Farm, Alness.
S&S Gibbons, Llwynbrain Farm, Hay-on-Wye, Herefordshire sold their single entry for 6,000gns to J Nelson & Sons, Bull & Cave Farm, Clapham, Lancaster. Black Mountain Velocity, is an April 2003 son of Heureux 7184 and out of Stoneridge Olivia.
The Intermediate Male and Reserve Overall Male Champion was next in the price ratings at 5,500gns. Shown by BK Ryder, Newton Farm, Annanwater, Moffat who sold a string of 13 cattle to average £3,610.38. Annanwater Vince, a July 2003 son of Affute Du Ry Ossogne and out of Tamhorn Romance ET was shown with great success in 2004 and to his credit was champion calf at Penrith show. Signing the cheque was BL & JE Griffiths, Lower Penygelly, Newton, Powys.
Just behind on 5,400gns was Brookfield Vanguard ET from the Brookfield stable of S&GA Potter, Westside, Topcliffe, Thirsk. This 5th prize winning, 23 month old, blue & white bull by Gib Van Het Negenbond and out of the 2003 RASE Supreme Champion Brookfield Rhanne travels to Morayshire for J&JD Anderson, Mayne Farm, Elgin.
An excellent show of females met a good trade throughout and even with a record entry of maiden heifers, 32 sold to average £2,165.63.
Leading the way at 6,000gns was the 1st prize cow and winner of the Border Belgian Blue Club Special Trophy for the top price animal owned by a member of the club Ridge Dean Rita ET, a February 1999 daughter of Visconti and the Park Daimler bred cow Ridge Dean Kosher. Rita is bred by Michele Wilde and was exhibited by Messrs MW Bousfield, Widewath, Helton, Penrith. She sold in-calf to the 11,000gns Netherwood Umpire to AE Neachell & Son, Shrubbery Farm, Daniels Lane, Aldridge, Staffs.
Also joining the Cromwell herd of AE Neachell & Son is the Female and Reserve Supreme Champion Annanwater Vixen ET, an April 2003 daughter of Baron and out of Annanwater Phoebe ET. She sells in-calf to the relatively new BBG bull Gitan Du P'Tit Mayeur. Vixen was bred and exhibited by BK Ryder and was champion calf out of 55 calves at the Border Club's calf show February 2004.
Messrs MW Bousfield sold another Ridge Dean Kosher daughter for 5,200gns. Ridge Dean Remy Martin ET, a February 1999 born daughter of Classique De St Lambert was also bred by Michele Wilde and sells in-calf to the aforementioned Netherwood Umpire. Securing the bid was Isle of Man enthusiasts A&S Jones, Leodest Farm, Kirk Andreas.
The recipients with ET Calves enjoyed spirited bidding peaking at 4,400gns for BK Ryder's Belgian Blue cross cow, carrying a Gitan embryo, with her nearly all black 6-month-old heifer ET calf at foot, Annanwater Wispa ET by Blak du Baty D'Eprave and out of Springfield Tinga. K Watret, 25 Northfield Park, Annan take the unit home.
Averages
32 Senior Bulls £3,255.00 (minus £611.74)
40 Intermediate Bulls £3,147.38 (minus £148.18)
37 Junior Bulls £2,826.49 (minus £587.23)
109 Bulls Overall £3,070.05 (minus £461.27)

3 Heifers in calf £3,780.00 (plus £1,155.00)
32 Heifers unserved £2,165.63 (minus £156.03)
9 Cows and Heifers served and/or suckling £3,838.33 (plus £1,090.83)
14 Recipients with FOT calves at foot £2,227.50 (minus £47.50)
Other leading prices: -
Bulls
K Belfield's "Boothlow Veron ET" 5,200gns to RA & MD Butler, Murrays Service Station, Newbury, Berks. 2nd in class 4.
BK Ryder's "Annanwater Waldo ET" 5,200gns to B Hall, Ainstable Hall, Ainstable, Carlisle. 1st in class 11 & Reserve Junior Male Champion.
Graham L Morgan's "Almeley Vulture" 4,900gns to JR&HH Thomas, Woodmore Farm, Chirbury, Montgomery. 1st in class 3.
Crowden & Irving's "Crackerjack Vanguard" 4,800gns to JC&J White, Rigg Farm, Lunedale, Middleton In Teesdale, Barnard Castle, Co. Durham. 1st in class 9.
GG&JM Jenkins & Sons "Penfro Vinnie" 4,700gns to Garrowby Estate Farms, Estate Office, Bugthorpe, York. 3rd in class 6.
JG Brindley's "Bringlee Valdemar ET" 4,600gns to W Weightman, Haining Law Farm, Seaton, Seaham, Co. Durham. 3rd in class 4.
AM& E Hartley's "Pendle Valley" 4,500gns to J&S Wareham, 1 Little Tottingworth Farm, Broadoak, Heathfield, E Sussex. 4th in class 4.
Females
Messrs MW Bousfield's "Widewath Verona ET" 4,700gns,to J & S Wareham, 1 Little Tottingworth Farm, Broadoak, Heathfield, E Sussex.
Messrs MW Bousfield's "Ridge Dean Rowena ET" 4,200gns,to J & S Wareham. 4th in class 16
Messrs MW Bousfield's "Widewath Virginia ET" 4,000gns to Cook & Colman, Broad Farm, Smallburgh, Norwich, Norfolk. 1st in class 14.
Messrs MW Bousfield's "Ridge Dean Rhonda" and her heifer calf at foot "Widewath April" 4,000gns to AG Kirton & Sons, Severn Lodge Farm, Kinlet, Worcs.
| | |
| --- | --- |
| | |
| Auchenlay Vagabond - 21,000gns | Championship Presentation |
| | |
| Bringlee Volkswagon - 11,500gns | Brookfield Vanguard - 5400gns |
| | |
| Annanwater Vince - 5500gns | Annanwater Vixen - 5500gns |
| | |
| Ridge Dean Rita - 6000gns | |