Annual Spring Show & Sale
Saturday 15th May 2004

Messrs Stoddart, Hill Side take the Breed Record to 12,000gns at Carlisle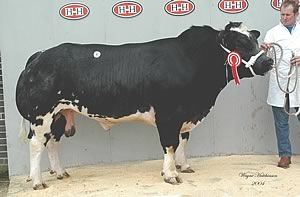 Park U Bouncer - 12,000gns.
The largest show of Belgian Blue Cattle in the UK, ever, went under the hammer on Saturday 15 May 2004, when auctioneers Harrison & Hetherington Ltd, Borderway Mart, Rosehill Carlisle, offered for sale 161 bulls at the Border Belgian Blue Club's Fourteenth Annual Spring Show & Sale, when 133 out of the 161 lots of bulls presented found new homes. Auctioneer David Dickinson commented that a packed ringside, keenly watched, as buyers bid freely on animals they had marked. Top bulls attracted spirited bidding with many animals changing hands above vendors' expectations, resulting in 23 bulls selling for 5,000gns and above, and 133 bulls averaging £3,531.32

The Breed Record was broken when Stephen Stoddart and his son Jacob, from Hill Side, Wigton came into the ring with their 1st prize winning bull Park U Bouncer, a March 2002 son of Greystone Poncho. This senior bull is no stranger to the show ring, having been shown at local shows with much success by the Stoddart Family last year, taking many championship rosettes home with him. U Bouncer, a dark coloured bull was bred by JO Adams & Son Ltd, Park House, Watford Village, Northampton and successfully purchased by RE Miller, West Farm, Aspatria, Carlisle.

The show and sale was kindly sponsored by BBG (Class Prize Money), Show Time (Championship Awards), British Blue Cattle Society and Border Club (Advertising).

The judge Christian Henquinent, De La Homme Herd, Belgium commented to Tony Jones (BBG Representative) after the show on Friday 14 May, that it had been one of the happiest days of his life. It was his first time in the UK, and the first time he has been asked to judge outside of Belgium. In anticipation, he thought he would see a few good bulls, a lot of mediocre bulls and some poor bulls. He got it totally wrong, what he saw was a lot of very high quality bulls and very few poor quality bulls. He tried to modify his style of judging to take into the fact that mobility is the prime requirement for a terminal sire in the UK. This did not detract from his champion, as he said afterwards he would not have been ashamed to enter that bull as his own breeding at Agribex. He did not say that it would have won but he would not be ashamed of it. Interesting point, however, is the fact that he was champion at Agribex with a bull that he had bred!

He awarded the Junior Male, Overall Male & Supreme Championship to Black N Blue Union Jack, an October 2002 son of Jiosco De Focant. His dam Ridge Dean Kip is a large scopy blue and white cow, purchased at the 'Wilde about Blues' Sale Carlisle August 2002 for 2,200gns. This was the first bull to be sold by Sally Lloyd, Stonycroft Farm, Luston, Leominster, Herefordshire whose herd was established in 1998. This black and white bull was bid to 9,000gns the second highest price of the days trading by J Nelson & Sons, Bull & Cave Farm, Clapham, Lancaster.

Next at 8,500gns was the 1st prize winner Lukeroyal Ulster Blackstar, this stylish, 23 month old black bull was bred and exhibited by Mel & Diane Lucas, 154 Sevenmile Straight, Antrim, N. Ireland. Ulster Blackstar is by one of Belgium's best AI bulls, As De Trefle Du Vanova, and out of Cloughanduff Ruth. M Bindloss & Son, Shap Abbey, Shap, Penrith were the triumphant buyers.The first lot to go through the ring Stowbeck Storm, started the days bidding at a spirited pace, and was finally knocked down for 7,000gns to BR Lawson, Buddle House Farm, Richmond, N Yorkshire. This 2nd prize winning bull is an April 2000 born bull by the renowned Philipper, and out of Stowbeck Lulu. Storm was bred by Chris Wilson, Skirwith Hall, Penrith and exhibited by AM & E Hartley, Parklands Bungalow, Roughlee, Nelson, Lancs. He has been used extensively on their small pedigree herd producing young stock that have proved themselves in the show ring last year.

Messrs Hartley, then went on and paid 6,500gns for the Reserve Senior Male Champion, Blue Stone Union Jack, an April 2002 born son of Baron, who was one of the top producing bulls in Belgium, and has a string of progeny who have sold for high prices to his credit. His dam Blue Stone Madona ET, is full sister to Blue Stone Mr Motivator, sire of Netherwood Umpire, record priced bull Carlisle May 2003, who sold for 11,000gns. Union Jack was bred and exhibited by T Dylan Rees, Llwynihirion, Brynberian, Crymych, Pembrokeshire.

Two other bulls came under the hammer for 6,500gns; the first was the second prize winning bull Widewath Upland, a two-year-old son of Ridge Dean Razz, and out of Ridge Dean Rhondda. Upland was the first of a string of good bulls to be offered for sale by Mark Bousfield, Widewath, Helton, Penrith who sold 5 bulls to average £4,252.50. Messrs Jones, Fronhir, Llanyre, Llandrindod Wells purchased Upland.

Signing the cheque for the second 6,500gns bull was DA Harrison, Anvil House, West Newton, Aspatria, Carlisle. This one, Penfro Ultra Sexy, was shown by GG & JM Jenkins & Sons, Nantyclun, Brynberian, Crymych, Pembrokeshire (who are the hosts of the British Blue Cattle Society's AGM on 27 May). Ultra Sexy is an April 2002 son of Opkapi Van Terbeck, and out of their homebred cow Keterina ET.

Also hitting the high spots was D & M Gregory, Bosworth Lodge Farm, Husbands Bosworth, Lutterworth, Leics who sold two bulls for 6,200gns, the first a Gib Van Het Negenbond son, Gregmaur Unique, who is out of a Hazelwood Freshman cow, Gregmaur Melissa. This exceptional seventeen-month-old bull was knocked down to the exhibitors of the new breed record bull, Messrs Stoddart, Hill Side, Wigton. Derek & Maureen then sold Gregmaur Valour, a January, 2003 bull by the renowned Hazelwood Freshman ET, and out of their homebred cow Rhodes. This blue grey bull travels to Warwickshire for AH Tarry-Smith, Red House Farm, Tachbrook, Leamington Spa.

A tremendous show of females sold to a top price of 4,200gns for the Female, Reserve Supreme Champion & winner of the Border Belgian Blue Club Special Trophy from BK Ryder's Annanwater unit at Moffat, Dumfriesshire. Douce De Fooz, a Belgium Imported heifer sold in-calf to the highly sought after Baron. She is by the widely used Seduisant, whose sons have sold to 10,000gns at Carlisle and out of Banquise ET De Fooz. She joins the Bramley herd of IGC Morris, Upper Duddlewick Hall, Stottesdon, Kidderminster, Worcs.

The first prize winner in the Junior Maiden Heifer class took the next top price of 4,000gns, Gregmaur Vanessa, a 14 month old daughter of Gregmaur Saber, a son of Affute is from the aforementioned Gregmaur Stable of Derek & Maureen Gregory. The successful bid came from J Allison & Sons, Sealhouses, Richmond, N Yorkshire.

Next at 3,900gns was the fifth prize winner in the Senior Maiden Heifer Class, Croft Urella ET, a May 2002 heifer by Wold Newton Icy knight, and out of Ovatie Van De Wolvendree. She was knocked down to G & R Bellis, Pantseiri Fawr, Glynarthen, Llandysul after being keenly sought after.

The recipients with ET Calves enjoyed spirited bidding peaking at 3,000gns for a black Limousin cow, in calf to a Belgian Blue bull, with her white 3-month-old male ET calf at foot, Crackley Bank Weetabra ET by Cubitus and out of Rawes Noyna ET. RM Fishwick & Son, Thornship Farm, Shap, Penrith take the unit home.
Averages
46 Senior Bulls £3,866.74 (plus £191.74)
44 Intermediate Bulls £3,295.56 (minus £455.03)
43 Junior Bulls £3.413.72 (plus £455.03)
133 Bulls Overall £3,531.32 (plus £161.45)

8 Heifers in calf £2,625.00 (n/c)
18 Heifers unserved £2,321.66 (plus £398.84)
6 Cows and Heifers served and/or suckling £2,747.50 (plus £643.46)
3 Recipients with FOT calves at foot £2,275.00 (n/c)
Other leading prices: -
BK Ryder's "Annanwater Upstart ET" 6,000gns to J Dent & Sons, Naby View, Lartington, Barnard Castle, Co. Durham.

DA William's "Wilodge Upstart ET" 5,800gns to L Raine & Sons, Coach & Horses, Spital, Bowes, Barnard Castle, Co. Durham. 2nd in class 8.

Nigel P Pritchard's "Norton Ullrick ET" 5,700gns to Messrs RA Cadzow, Inland Pasture, Berwick Upon Tweed, Northumberland. 4th in class 10

Messrs Coates' "Greystone Uranium" 5,600gns to Shepperton Plant Ltd, Bridge Farm, Thame Road, Blackthorn, Bicester.

M McKelvey's "Lochside Volta" 5,500gns to J Leiper & Sons, Black Heddon, Newcastle Upon Tyne. 1st in class 13.

BK Ryder's "Vedat Van Het Bareelhof" 5,500gns to B Hall, Ainstable Hall, Ainstable, Carlisle. 1st in class 2.

J Wyllie's "Tamhorn Tiger" 5,500gns to S & D Blaylock, Newbigging Farmhouse, Oxnam, Jedburgh, Roxburghshire. 1st in class 1, Senior Male & Reserve Overall Male Champion.

Graham Morgan's "Almeley Ulysses" 5,300gns to JM Hanson & Son, Home Farm, Eardisland, Leominster, Herefordshire. 3rd in class 2.

Andrew Craig's "Woodview Victor ET" 5,200gns to B Hall, Ainstable Hall, Ainstable, Carlisle.
BK Ryder's "Verbaal Van De Wolvendre" 5,200gns to Messrs Garside, Highfield Farm, Slaithwaite, Huddersfield. 1st in class 5.

BK Ryder's "Annanwater Vandyke ET" 5,200gns to T Forsyth, Isle Farm, Whithorn, Newton Stewart, Wigtownshire. 4th in class 13.

Michele Wilde's "Ridge Dean UJ ET" 5,200gns to JT Dixon & Sons, Halfpenny House Farm, Leyburn, N Yorkshire. 4th in class 9.
KH Twentyman's "Croft Ursula ET" 3,500gns, to J Dickinson, Springfield, Mosside Lane, Stalmine, Poulton Le Fylde.

KH Twentyman's "Croft Ularensis ET" 3,200gns, to MJ Lucas, 154 Sevenmile Straight, Antrim, Co. Antrim, N Ireland. 3rd in class 16.

BK Ryder's "Annanwater Unique" 3,000gns to K Hall, Greensyke, Coanwood, Haltwhistle, Northumberland.

BK Ryder's "Annanwater Ursula ET" 3,000gns to R Barker, Stockastead, Bewcastle, Carlisle, Cumbria.
| | |
| --- | --- |
| | |
| Champion Belgian Blue at the Carlisle sale came from Sally Lloyd with her fist ever Blue bull, Black n Blue Union Jack, which went on to sell for 9000gns | Lukeroyal Ulster Blackstar made 8500gns for Luke & Diane Lucas, Antrim, Northern Ireland |
| | |
| Setting the sale off at a good pace was Stowbeck Storm, a 4 year old bull from AM&E Hartley, and bred by J Wilson, Skirwith Farm, Penrith. He sold for 7000gns to Brian Lawson. | Reserve senior Champion, Blue Stone Union Jack from Dylan Rees, Pembrokeshire, made 6500gns. |
| | |
| Widewath Upland, out of a Rridge Dean purchased cow, made 6500gns for Mark Bousfield. | Annanwater Upstart made 6000gns for BK Ryder, Newton Farm, Moffat. |
| | |
| Champion Female, and reserve Overall champion at the Border Belgian Blue Club sale, is an imported in calf heifer, brought fowards by BK Ryder, Moffat. Douce De Fooz made 4200gns. | 3 month old bull calf, Crackley Bank Weetabra ET, made 3000gns. |
---