Wales & Borders British Blue Club Calf Show
Saturday 11th October 2008
Saturday 11th October 2008 was another extremely successful day for the Wales & Borders British Blue Club as they held their second Calf Show.

The judge, Mr Philip Halhead, of Norbreck Genetics, complimented the exhibitors on the outstanding quality of the 24 calves on show. He also gave a commentary explaining his reasons for placing the calves in a particular order. This was greatly appreciated by everyone and gave much food for thought.

The judge decided that females shone on a very damp, drizzly day and awarded both the Supreme Championship and Reserve Supreme to heifers.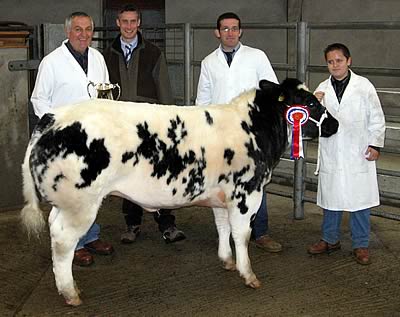 Judge Phil Halhead presenting the cup to Rhys Bellis, who had the Supreme Champion with Betws Donna
The Supreme and Female Champion was Betws Donna. Donna is an exceptional 8 month old heifer from Rhys & Gill Bellis, sired by Empire D'Ochain and out of Currare Primrose. This was the second time Rhys had won the calf show and meant he continues to hold the GT&E Feeds Sweetblends Perpetual Trophy for another year. This continues to be a very successful year for the Betws herd.

The Reserve Supreme and Reserve Champion Female was very sweet 4 month old Dragon Blues Dilys. She was bred and exhibited by Geraint and Kim Williams, who were showing cattle for the first time this season and must be very proud of their young herd. Dilys is out of Dundrod Sophie and sired by Bringlee Volkawagon.

The Champion male was also from Rhys & Gill Bellis, Betws Dustin a 9 month old Blak Du Baty calf out of Croft Urella.

Dragon Blues David completed another successful show for Geraint & Kim Williams when he took reserve male. He is a 5 month old son of Dafydd D'Ochain out of Hazelwood Petal.

Congratulations and thanks to everyone at the show who made the day a very enjoyable one for other competitors and visitors alike.

Results were as follows:

Class 1 Pedigree Male born between 11/10/07 and 10/04/08
1st Rhys & Gill Bellis - Betws Dustin
2nd Ceirian & Anna Jones – Penrheiol Blues Dynamite
3rd Dorian Jones of Peter Jones & Sons – Lucky Bllue Cei Bach
4th Geraint & Kim Williams – Dragon Blues Dancer
5th Rhys & Gill Bellis – Betws Dan
6th Rhys & Gill Bellis – Betws Daz
7th Geraint & Kim Williams – Dragon Blues Daniel
8th Geraint & Kim Williams – Dragon Blues Dominic
9th Geraint & Kim Williams – Dragon Blues Dazzler

Class 2 Pedigree male born between 11/04/08 and 10/10/08
1st Geraint & Kim Williams – Dragon Blues David
2nd Rhys Millichap – Rhymil Dizzee Rascal
3rd Colin & Sue Evans – Beili Dafydd

Class 4 Pedigree heifer born between 11/10/07 and 10/04/08
1st Rhys & Gill Bellis – Betws Donna
2nd Rhys & Gill Bellis – Betws Duchy
3rd Ceirian & Anna Jones – Penrheiol Blues Diesel
4th Nicky & Simon Davies – Lone Tree Dusty Black
5th Geraint & Kim Williams – Dragon Blues Donna
6th Rhys & Gill Bellis – Betws Dwyn
7th Alcwyn Davies – Lucky Blue Dwynwen

Class 5 Pedigree Female born between 11/04/08 and 10/10/08
1st Geraint & Kim Williams – Dragon Blues Dilys
2nd Rhys Millichap – Rhymil Davina
3rd Nicky & Simon Davies – Lone Tree Duffy

---