Royal Smithfield Club Championships 2010
"Blues" were again, amongst the top prizes at the Royal Smithfield Club Championships, at the East of England Stock Festival over the weekend.
Phil & Sharon Sellers, took the Reserve Supreme Championship with "Lady Big Bucks" who stood Supreme Champion at Countryside Live.
Reserve Supreme Crossbred Steer went to Elfed Williams with "Magic Man" who was expertly shown by Neil Lloyd.
Mr P Dawes won the Champion Continental Heifer with "Dinmore Elegance and also took the prize for the Best British Blue.
In the Lightweight heifer class, sired by a British Blue, Matthew Morris took 1st Prize with "Don't Push It"
Continental Heifer over 350kg & under 400kg – Mr. J Nisbet "Dance with me" a Limousin x British blue.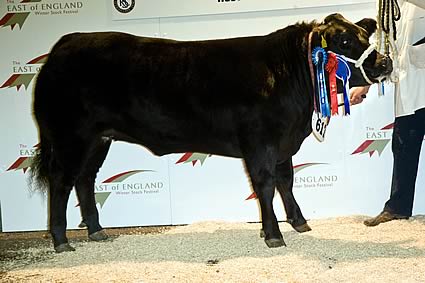 The reserve overall champion and the reserve heifer champion from this year's East of England Winter Stock Festival, which hosted the Smithfield Championships, was the 618kg Lady Big Bucks from Lincolnshire-based Phil and Sharon Sellers. This one is a British Blue cross bred by the Richardson family at Ghyll House, Cumbria, and was supreme champion at last month's Countryside Live, Harrogate. She is by Auchenlay Vagabond and cost some £8000 in the spring of this year when bought at Penrith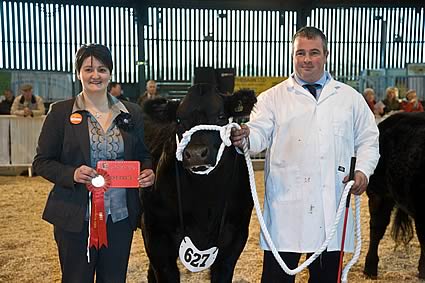 The reserve champion steer was also a British Blue cross, this time the 620kg Magic Man from Elfed Williams, Sennybridge, and shown by Neil Lloyd