STARS OF THE FUTURE
INAUGURAL SCOTTISH PEDIGREE CALF SHOW
5th November 2010
FORFAR MARKET
The inaugural pedigree calf show, STARS OF THE FUTURE, was held at the Forfar market NE Scotland on Friday 5th November with 250 calves entered consisting of the 5 main breeds; Charolais, Limousin, Simmental, Aberdeen Angus and finally British Blues.
The judge for the Blues was our very own Ted Haste who had the challenging task of selecting the winners for each class. In the end it was a very tough decision for Ted and in the end he opted for the two bull calves to become Overall Junior Champion and Overall Senior Champion.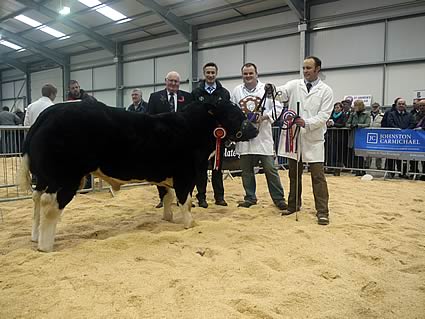 Ted Haste (judge) Philip Halhead (sponsor Norbreck Genetics) Jonathan Watson (Redhead & Watson) owner, Senior Male Champion : Tweedale Ebony (13/9/09) sire Blak Du Baty
The Senior Champion came from Redhead & Watson with their August born bull TWEEDDALE EBONY sired by Black Du Baty D'Eprave (IS). Reserve came from Messrs J & J Green with their August born heifer OXCROFT ELIZA sired by Netherhall Buster.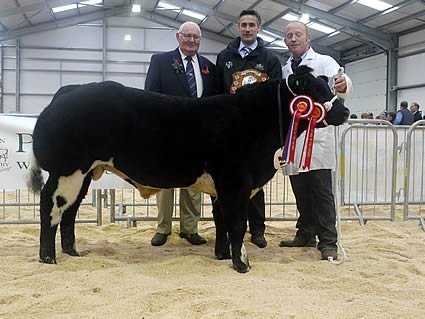 Ted Haste, Philip Halhead, Kevin Watret - owner, Junior Male Champion : Solwayview Firecracker (16/3/10) sire Gitan
The Junior Champion came from Kevin Watret and his March born bull SOLWAY VIEW FIRE CRACKER sired by Gitan Du Pjit Mayeur. Reserve came from Redhead & Watson with their March born heifer TWEEDDALE FLAIR sired by Solway View Antonio.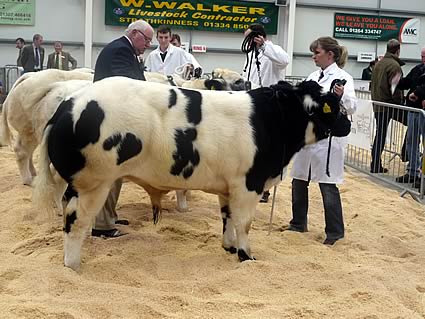 A&CS Comrie - Stonebyers Earl (13/11/09) sire Norbreck Black Beauty - Won 1st Prize Bull class 41
This was the second time Judge Ted Haste had been judging this week and he said that he thoroughly enjoyed himself, it was very hard picking the Champions but in the end the Champions went to two fantastic bulls; however all of the stock shown showed huge potential in the future and all look tremendous on show day.
The show has been such a great success that a date for next year has already been arranged – 19th November 2011 with the hopes that more cattle will turn up and plans to expand the breeds shown to include all of the cattle breeds including dairy. This is a show date that all farmers should be putting into their diary, as next year's show promises to be bigger and better than ever.
BRITISH BLUE CLASS RESULTS

CLASS 37 BULLS born 1st AUGUST 2009 to 15th SEPTEMBER 2009
1st 151 Redhead & Watson Tweeddale Ebony

CLASS 38 HEIFERS born 1st AUGUST 2009 to 15th SEPTEMBER 2009
1st 152 Messrs J & J Green Oxcroft Eliza

CLASS 40 HEIFERS born 16TH SEPTEMBER 2009 to 31st OCTOBER 2009
1st 153 Kevin Watret Solway View Eternal

CLASS 41 BULLS born 1st NOVEMBER 2009 to 31st DECEMBER 2009
1st 157 A & C. S Comrie Stonebyres Earl
2nd 156 D & J McKerrow Nochnary Eddie
3rd 159 Redhead & Watson Tweeddale Expert

CLASS 42 HEIFERS born 1st NOVEMBER 2009 to 31st DECEMBER 2009
1st 160 J. T. Wainwright & Sons Todhall Eve
2nd 163 Redhead & Watson Tweeddale Envy
3rd 162 A & C. S Comrie Stonebyres Estle

CLASS 43 BULLS born 1st JANUARY 2010 to 2nd FEBRUARY 2010
1st 168 M/S G. P. Smart & Son Smarts Field Marshall
2nd 165 Redhead & Watson Tweeddale First Foot
3rd 167 Messrs J & J Green Oxcroft Firestorm
CLASS 44 HEIFERS born 1st JANUARY 2010 to 2nd FEBRUARY 2010
1st 169 Messrs J & J Green Oxcroft Febe

CLASS 45 BULLS born 1st MARCH 2010 to 31st MARCH 2010
1st 171 Kevin Watret Solway View Fire Cracker
2nd 174 Redhead & Watson Tweeddale Flash
3rd 170 A & C. S Comrie Stonebyres Fergus

CLASS 46 HEIFERS born 1st MARCH 2010 to 31st MARCH 2010
1st 175 Redhead & Watson Tweeddale Flair

CLASS 47 BULLS born 1st APRIL 2010 ONWARDS
1st 176 M/S G. P Smart & Son Smarts Fastrac
2nd 178 Messrs J & J Green Oxcroft Fijord

CLASS 48 HEIFERS born 1st APRIL 2010 ONWARDS
1st 179 Messrs J & J Green Oxcroft Floria
2nd 181 A & C. S Comrie Stonebyres Fifi
3rd 180 Messrs J & J Green Oxcroft Forever Nymph

SENIOR MALE CHAMPION
TWEEDDALE EBONY REDHEAD & WATSON
BORN 13/09/2009 Sire: Black Du Baty D'Eprave (IS) Dam: Harestone Bramble

SENIOR FEMALE CHAMPION
OXCROFT ELIZA MESSRS J & J GREEN
BORN 10/08/2009 Sire: Netherhall Buster Dam: Oxcroft Another Nymph ET

OVERALL SENIOR CHAMPION
TWEEDDALE EBONY REDHEAD & WATSON
BORN 13/09/2009 Sire: Black Du Baty D'Eprave (IS) Dam: Harestone Bramble

JUNIOR MALE CHAMPION
SOLWAY VIEW FIRE CRACKER KEVIN WATRET
BORN 16/03/2010 Sire: Gitan Du Pjit Mayeur Dam: Annanwater Wispa ET

JUNIOR FEMALE CHAMPION
TWEEDDALE FLAIR REDHEAD & WATSON
BORN 21/03/10 Sire: Solway View Antonio Dam: Babylone De Bierwa ET

OVERALL JUNIOR CHAMPION
SOLWAY VIEW FIRE CRACKER KEVIN WATRET
BORN 16/03/2010 Sire: Gitan Du Pjit Mayeur Dam: Annanwater Wispa ET