Great Yorkshire Show 2007

Tuesday 10th - Thursday 12th July 2007
---

There was a tremendous show of Belgian Blue cattle for judge Graham Brindley who went on to see the Belgian Blue team win the Interbreed Group of four.
The senior bull entry was Ballygrange Vinney, who took the Male Champion honours and was part of the Interbreed winning group of four.
The young bull class was won by Croft Ends Bruno a Tin Tin de My son, described by Graham as having excellent top line and locomotion. In second place was D&J Wylie's Tamhorn Bill, a Dafydd D'Ochain son who stood out for the judge for his excellent muscle depth.
The Junior heifer class was very strong, with the winner coming from J E Bellas & Son with Croft Ends Black Beauty. This Dafydd D'Ochain daughter had already taken top honours at The RHS 07 and won female Champion at last week's RASE Show. Graham described her as being excellent through the hind quarters and loin and very much what a Belgian Blue should be". In a close second was Paul Walker's Crackley Bank Baroness - a heifer that earlier in the season took Junior Championship honours at Peterborough, Lincoln and Norfolk.
Overall Champion - Ridge Dean Another Bluey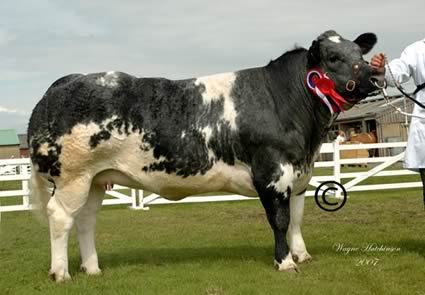 The senior heifer class really attracted the crowd's attention when CR Raine & Son brought forward Ridge Dean Another Bluey. It was a show debut for the Raine family and the heifer which they bought last May for 10,500gns. This Tamhorn Sumo daughter impressed Graham who described her as "a heifer with tremendous loin and hind quarters".
The cow class was won by the Crawford Brothers with their record breaking Radieuse De Haute Somme who showed great style, class and length.
With three generations of the Bellas family in the show ring it was fitting that they took the group of three honours. They also went on to win the best pair of animals by the same sire with their daughters of Dafydd D'Ochain.
Junior Champion of the day was inevitably going to the Bellas family too, and it was Croft Ends Black Beauty that took the junior honours – this stylish young heifer also went on to take Reserve Overall Champion.
For his Overall Champion, Graham Brindley selected Ridge Dean Another Bluey, who he described as "an outstanding heifer with great style and power."
(click on images to enlarge)



Croft Ends Black Beauty and Crackley Bank Baroness


Group of 3 winners - JE Bellas & Son




Neville Raine – showing for the first time and wining breed championship


Judge inspects Another Bluey




Dafydd D'Ochain daughters win the pairs


Champion - Ridge Dean Another Bluey
Results
Class 109 Belgian Blue Bull, born before 1 January 2006
1 Mr RA Wheelwright BALLYGRANGE VINNEY
Class 110 Belgian Blue Bull, born on or after 1 January 2006
1 J E Bellas & Son CROFT ENDS BRUNO ET
2 D & J Wylie Tamhorn BILL ET
3 G Boocock EDMONDS BARNEY ET
4 Mr M R Scott BESTHORPE BRAVA TWO ZERO
5 G Boocock EDMONDS BALOO ET
Class 111 Belgian Blue Heifer under 18 months
1 J E Bellas & Son CROFT ENDS BLACK BEAUTY ET
2 Mr P Walker CRACKLEY BANK BARRONESS
3 D & J Wylie Tamhorn BUTTERCUP ET
4 J E Bellas & Son CROFT ENDS BELLE ET
5 Mr B Newton CHESTNUTS BELINDA
Class 112 Belgian Blue Cattle Female over 18 months under 30 months
1 C R Raine & Son RIDGE Dean ANOTHER BLUEY
2 Whiteley and Courts FRANKS ANGEL ET
3 M J Dickens & H R Hayton ASBY ALISON
4 D A Williams WILLODGE A FLEUR
5 Mr R A Wheelright WELTON ANITA
Class 113 Belgian Blue Cow in calf or with calf at foot
1 Crawford Bros RADIEUSE DE HAUTE SOMME
2 Whiteley and Courts FRANKS ALKASELTZER
3 S & GA Potter TOISON
4 D & J Wylie ANNANWATER VINE ET
5 Crawford Bros WILODGE WAY TO GO
Class 114 Group of three
1 J E Bellas & Son
Class 115 Pair of animals by same sire
1 J E Bellas & Son DAFYDD D'OCHAIN
2 G Boocock GITAN DU P'TIT MAYEUR

Junior Champion: CROFT ENDS BLACK BEAUTY ET
Champion Male: BALLYGRANGE VINNEY
Reserve Champion Male: CROFT ENDS BRUNO ET
Champion Female: RIDGE Dean ANOTHER BLUEY
Reserve Champion Female: CROFT ENDS BLACK BEAUTY ET
Overall Champion: RIDGE Dean ANOTHER BLUEY
Reserve Overall Champion: BALLYGRANGE VINNEY