Bank of Ireland British Blue Young Bull Championship
The annual British Blue Young Bull Championship took place at Castlewellan Show. This popular competition was kindly sponsored by Bank of Ireland. This year it was confined to young Pedigree British Blue Bulls born on or after 1st October 2011 and before 30th June 2012 with qualifying taking place at various regional shows throughout Northern Ireland.
Many spectators at ring number 7 had a superb display of young bulls, signifying the great interest and much sought after title.
The much experienced and well known cattle Judge Jim Sloan from Kilkeel was accompanied in the ring by the Vice President of the Irish Show Association, Jim Harrison with representatives of the Bank of Ireland sponsors at ringside.
After close scrutiny, Jim's choice for The Young Bull Champion went to a fabulous bull Springhill Geronimo owned by Martin Bros from Newtownards. This October 2011 bull was sired by Gitan with dam Springhill Country Girl. His second choice was Knockagh Gypsy, a November 2011 bull sired by Lukeroyal Battle Axe with dam Lukeroyal Confetti owned by W J Ervine from Newtownabbey. His third choice was Bavan General owned by Trevor Dodds from Mayobridge. It was an October 2011 bull sired by Barbier with dam Omorga Whitney.
All exhibitors were presented with prizes sponsored by the Bank of Ireland and with rosettes supplied by the ISA. Commenting on the competition, Jim was highly impressed with the quality line-up and enjoyed the pleasant challenge.
Thanks to Bank of Ireland for their sponsorship, the Irish Show Association and the competitors, this prestigious event enjoyed great interest and success on the day.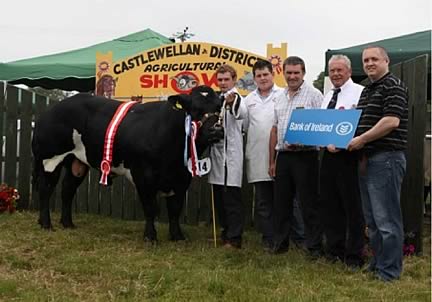 British Blue Champion Bull Springhill Geronimo with owner Sam Martin, Ryan Telford , ISA Jim Harrision, Judge Jim Sloan and sponsor Bank of Ireland Customer Sales Consultant Delcan Maginn.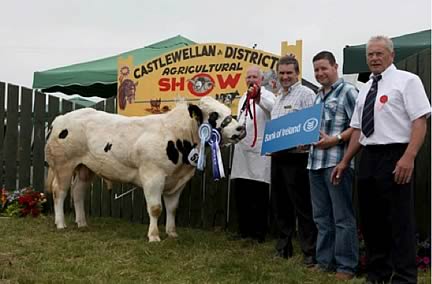 British Blue Reserve Champion Bull, Knochagh Gypsy with owner Jim Ervine, ISA Jim Harrison, sponsor Bank of Ireland Business Manager Damien McLaughin and Judge Jim Sloan.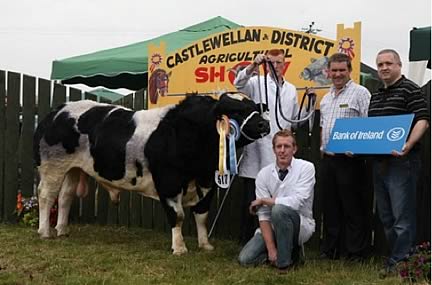 British Blue Second Reverse Champion Bavan General with Kenneth Dodds, ownerTrevor Dodds, ISA Jim Harrison and sponsor Bank of Ireland Customer Sales Consultant Delcan Maginn.