Dungannon Sale
Saturday 27th October 2007
There was a real buzz around the sale ring, at the start of the Northern Ireland Club sale of British Blues; the like of which had not been seen for many years.
Judge, Trevor Ashmore from Enniscorthy, Co Wexford put up "Springhill Alfie," bred by Martin Bros, as his male and Supreme Champion. Alfie, a son of Ridge Dean Physical and out of Springhill Umpire, was subsequently sold for 4,600 gns, to Tom Harrison, Portadown.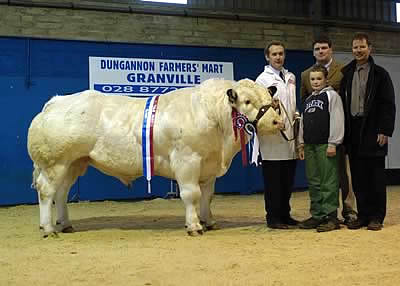 Springhill Alfie
Richard Simpson's, "Skerry View Abigil ET" a daughter of Osborne Van Terbeck out of Woodview Uno, was Champion Female and Reserve Supreme Champion. Following frantic bidding, Abigil found a new home with Brendan Mcquaid, Banbridge at 1,500gns.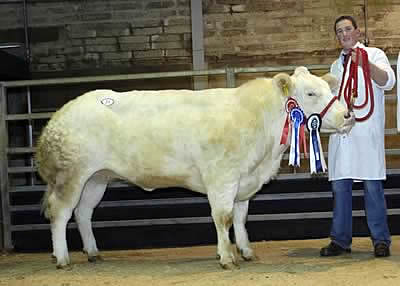 Skerry View Abigil ET
The Dungannon centre record was smashed, when "Chatham Adam," from Jack & Anne Morrison, was bid to 5,800gns, by Will Currie, Newtownards. Adam, a son of the Morrison stock bull, Lenborough Oliver, out of Chatham Racie, also demonstrated a 400 day weight EBV and a carcass yield index, in the top 25% of the breed.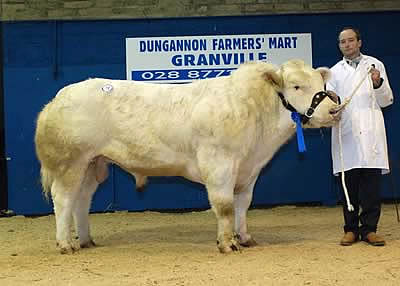 Chatham Adam
"Droit Artic ET," found a new home in Limavady, with James McCracken at 4,300gns. Artic, a son of Affute Du Ry Ossogne and out of Springfield Ulanda also boasted a top 10% EBV for 400 day growth.
Other Leading prices: -
Scad Hill Arnie ET, out of the Noel Gilchrist stable, a Dafydd D' Ochain son, out of Ballee Pauline, found a home with Francis Connon, Ballymena, at 3,700gns.
In the same bracket, "Chatham Brian" a son of Chatham Vincent, out of Chatham Sylvia, sold to David Dunn, Strabane, Co Tyrone, again for 3,700gns.
The Morrison family, also sold "Chatham Albert" for 3,600 gns, to Lesley Wilson, Doagh.
There was keen interest from Southern buyers, with a third of the lots, going south. One of the furthest to travel, was "Annaghone Buster" who sold to Michael Oregan Skibbereen, Co Cork.
Auctioneer, Trevor Wyllie commented that there was strong demand for quality stock, with size and stature.
photos by Alfie Shaw
click on images to enlarge

The Judge, Trevor Ashmore

Northern Ireland Club Secretary, Robert McCormick (right) and judge, Trevor Ashmore

Victor Chestnutt and Mel Lucas chewing the fat!

A keen interest in proceedings!

Supreme Champion "Springhill Alfie" from Martin Bros.

Reserve Champion - " Skerry View Abigil " with handler Stephen O'Kane

Richard Simpson & family, with reserve champion

A crowded ringside!

The highest priced animal, "Chatham Adam"
Show Results: -
Class 1: Bull born 27/4/05 – 2/10/05
1st Droit Artic ET (Lot 2)
2nd Scad Hill Arnie ET (Lot 6)
3rd Ballee Abel (Lot 32)
Class 2: Bull born 28/10/05 – 28/11/05
1st Springhill Alfie (Lot 43)
2nd Ballygan Amarillo (Lot 10)
3rd Chatham Albert (Lot 9)
Class 3: Bull born 1/12/05 – 24/12/05
1st Ballygan Andy (Lot 17)
2nd Chatham Adam (Lot 18)
3rd Woodview Adder ET (Lot 14)
Class 4: Bull born 1/12/06 – 5/2/06
1st Chatham Brian (Lot 22)
2nd Clougher Bravo ET (Lot 23)
Class 5: Bulls born 5/3/06 – 12/6/06
1st Annaghone Buster (Lot 26)
2nd Seygorry Benny (Lot 27)
3rd Artlone Bruno (Lot 24)
Class 6: Female born 6/6/05 – 4/11/05
1st Skerry View Abigil ET(Lot 31)
2nd Faughanvale Amy (Lot 29)
Class 7: Female born 5/4/06 – 16/5/06
1st Mountjoy Barbarella (Lot 36)
2nd Ballee Black Beauty (Lot 45)
3rd Hill View Bertha (Lot 33)
Class 8:
1st Faughanvale Viola (IE) (Lot 37)
Leading prices: -
Lot 18 5,800gns.
Lot 43 4,600gns.
Lot 2 4,300gns.
Lot 22 3,700gns.
Lot 6 3,700gns.
Lot 9 3,600gns.
Lot 10 3,400gns.
Lot 25 3,000gns.
Averages
25 Bulls - £2575
7 Females - £1357
Auctioneers: Dungannon Farmers Mart Ltd, 028 87722727