2011 HERD OF THE YEAR
Kilkeel Family Closamectin Herd of the Year Winners
James and Gloria Annett, Snowy Ridge, Kilkeel, Co Down have won the 2011 Closamectin British Blue Northern Ireland Herd of the Year competition with Mel and Diane Lucas, Antrim, taking the Reserve Championship with their Lukeroyal Herd.
The Annett and McCarthy family from Kilkeel, Co Down overall winners NI British Blue Herd of the Year, pictured with the Johnston Crystal Trophy with Harold McKee, club secretary, Marcus Scott from Norbrook and Ivan Gordon, Chairman, at the NI British Blue Herds presentation evening.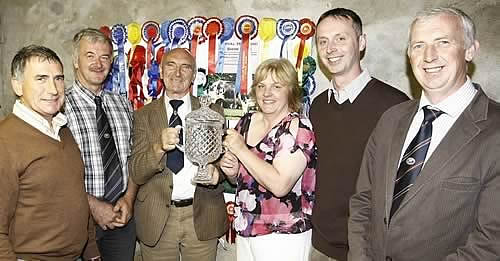 Founded in 2005 with two heifers purchased from Michele Wilde, Ridge Dean British Blues, Bedfordshire the Norbrook Ulster Blues Herd of the Year has already enjoyed a remarkable series of successes in show and sale rings, including selling Snowy Ridge Dynamite Jim for 5000gns in Carlisle last year.
Described by judge Sam Milliken of Coleraine as 'by far the most consistently high quality entry' the Snowy Ridge British Blue Herd exhibited winners at numerous local shows this summer, including Interbreed and Reserve Interbreed championships.
James and Gloria Annett, as ever with the assistance of their daughter Louise McCarthy and husband Leslie, also took the breed championship at Castlewellan Show, which has the second largest display of British Blues in the UK.
No females have been bought in since foundation heifers Ridge Dean Wandering Gem and Ridge dean Wisdom were acquired and flushed to produce a remarkable crop of calves sired by Springbank Blackstar bred by Corrina and Ivan Gordon of Kilkeel.
Class results in the Norbrook Herd of the Year competition were;
Large herd 1. Mel and Diane Lucas, 2. Jim Ervine, Knockagh, Newtownabbey, Co Antrim,
Medium herd 1. James and Gloria Annett, 2. Corrina and Ivan Gordon, Springbank, Kilkeel, 3. Johnny Young, Magheradroll, Ballynahinch, Co Down.
Small herd 1. Alan Cleland, Ballee, Downpatrick, Co Down, 2. Jim and Anne Marie Sloan, Ballygrange, Kilkeel, 3. Jason and Jennifer Edgar, Ballyhossett, Downpatrick.
Best bull, Alan Cleland, Ballee, Downpatrick, best heifer, James and Gloria Annett, Snowy Ridge, Kilkeel, best cow, Zara Chestnutt, Clougher, Bushmills, Co. Antrim.
Presenting the awards Marcus Scott, from sponsors Norbrook Laboratories, noted that from their head office in Newry, Co Down, where the company was founded over 40 years ago, Norbrook has grown to have manufacturing facilities on four continents. Indeed Norbrook is now the only large, home-grown British pharmaceutical company still based in the UK and exports to more than 120 countries.
Congratulating the winners Marcus added that, "Like the British Blue Cattle Society and its members the Norbrook team strives to produce the products demanded by an ever changing and innovative livestock sector."
click on thumbnails to enlarge
The cream of British Blue Cattle is on parade again for the Society export status show and sale on Sat, Nov 5, Guy Fawkes Day, in Moira Arena.